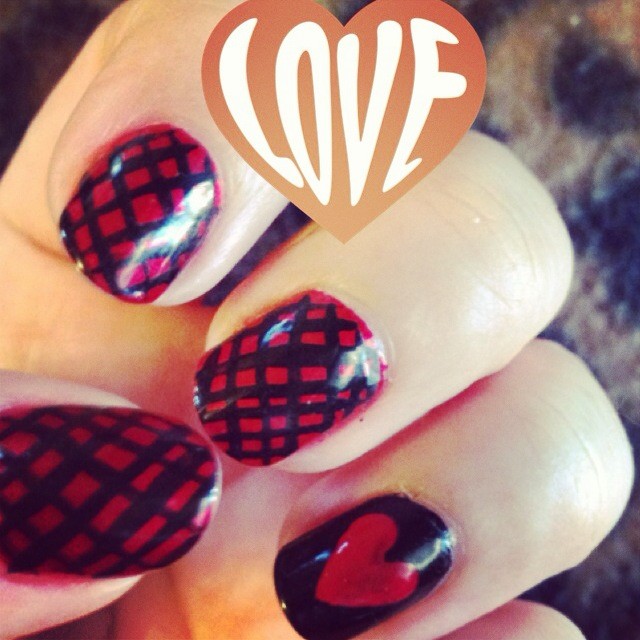 Recently, I took my Top Tier Media girls out for a day of pampering at my favorite cruelty free nail salon, Plush Beauty Bar in West Hollywood.
Plush Beauty Bar is my go to salon for nails (they use only cruelty free polishes from Zoya, CND and Gelish – no OPI or Essie) and nail art. Christa is a very talented nail artist who did my Valentine's Day nail art (above) and Sierra's classy Zoya and gold leaf mani (below). (Check out Plush Beauty Bar out on Instagram.) Tyna got her blog (We Heart This) colors in nail art form.
Our favorite blogger client Jess from DressJessXO, got her blog's pink XO message too. We love Jess because she's adorable, full of energy and because she gives us an excuse to go get our nails done! 🙂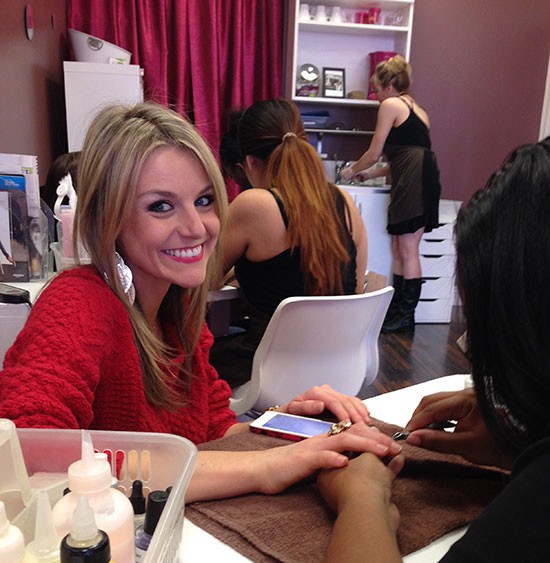 Be sure to make an appointment since they are often booked, and they don't rush with their clients, so you get their full attention while you're there. While we were there Olivia Wilde actually walked in – cute baby bump and all – and Jen had to turn her away because we had appointments! I am told that lots of celebs frequent Plush Beauty Bar – including Demi Moore.
Jen, the co-owner of Plush Beauty Bar, is the only person I will let touch my brows these days. I have gone to VERY well known and expensive places in Beverly Hills (who shall remain nameless) and Jen does a better job at a fraction of the price. She uses cruelty free wax, never double dips, and is so fast, she's almost painless. She is very good at detail and knows how to shape your brows to best frame your face.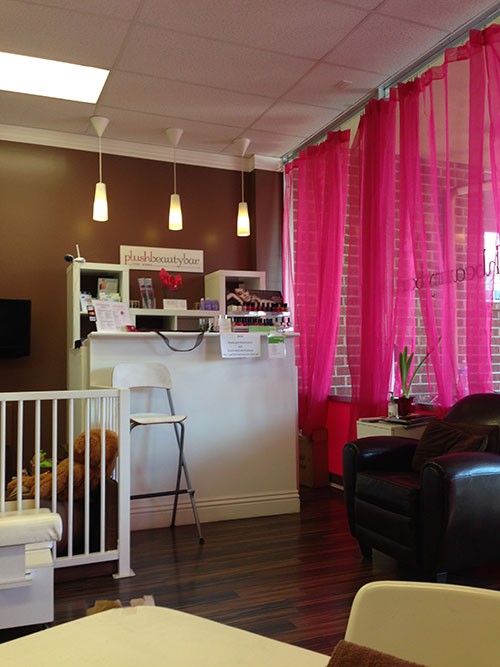 Plush Beauty Bar is also the perfect spot for moms. They have a play area with toys and a TV to entertain little ones while you get your services. Plush is a little hidden. It's in the same shopping center as Whole Foods on Fairfax and Santa Monica. You can call or make an appointment online.
Be sure to go see her to get your nails done, eyebrows waxed and bikni waxed before Valentine's Day!