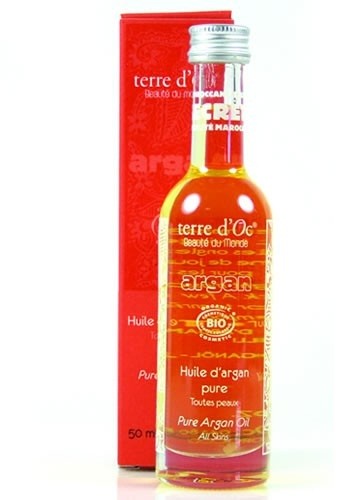 Written by Abi Mogge, Staff Writer
It's no secret that argan oil has been the darling of the beauty world for the past year or so. Touted for its superior revitalizing and moisturizing properties, it is showing up in products for hair, skin and body. French company, Terre d'oc uses argan oil cooperatively produced by a group of Berber women wanting to optimize their oil production and improve their socio-economic situation. Terre d'oc is committed to producing organic products for body and home, using ingredients sourced from sustainable practices.
I tried the pure argan oil and the moisturizing body milk with argan oil. The oil was recommended for use on hair, face, body and nails. I made a routine of massaging this into my nails every night before bed to see if it could salvage my weak, brittle nails. After a few weeks, I could tell that my nails felt stronger and smoother. Used alone or in combination with another lotion, this oil absorbs quickly and enhances the moisturizing benefits of any product. My hair is very fine and I don't like to put oil in it, but this would be perfect for someone with thick hair.