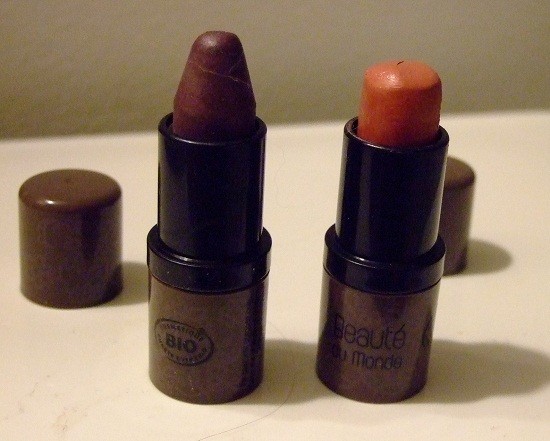 Written by: Abi Mogge, Staff Writer
I love products that combine beauty and function. The makeup line from Terre d'oc offers products that are both lovely and practical. I tried a rose colored lipstick and the prune (medium purple) eye kohl. They are cute and compact; basically the exact same packaging for both products and I loved their easy portability. (I loved it so much that I threw them both in my purse one day and ended up applying purple kohl to my lips in a hurry – you must always read the label!)
The lipstick shade was very pretty and feminine with a sweet, delicate scent which is such a nice change from some drugstore cosmetics. The argan oil and butter found in this formula helps the lipstick to glide on smoothly and moisturize.
The eye kohl comes in a stick formula, too. Enriched with sweet almond and pistachio oil, it glides on smoothly and blends well.  It gave a subtle definition and accent to my brown eyes.  I would recommend wearing it over primer if you have problems with creasing, as it is a creamy formula. The eye kohl is available in other colors, including brown, black and green.
I find the products of Terre d'oc to be both practical and elegant, elevating daily beauty rituals into something pampering and restorative both physically and sensually. Terre d'oc is certified as organic by ECOCERT, a French organic certification organization.  All of their products contain fair-trade certified ingredients and the company works closely with its suppliers, to ensure the quality of ingredients used.  They also use renewable resources in their packaging and design.
Terre d'oc products can also be purchase on Amazon, via phone order (see their facebook for contact info) or at one of their boutiques in NYC and Paris.