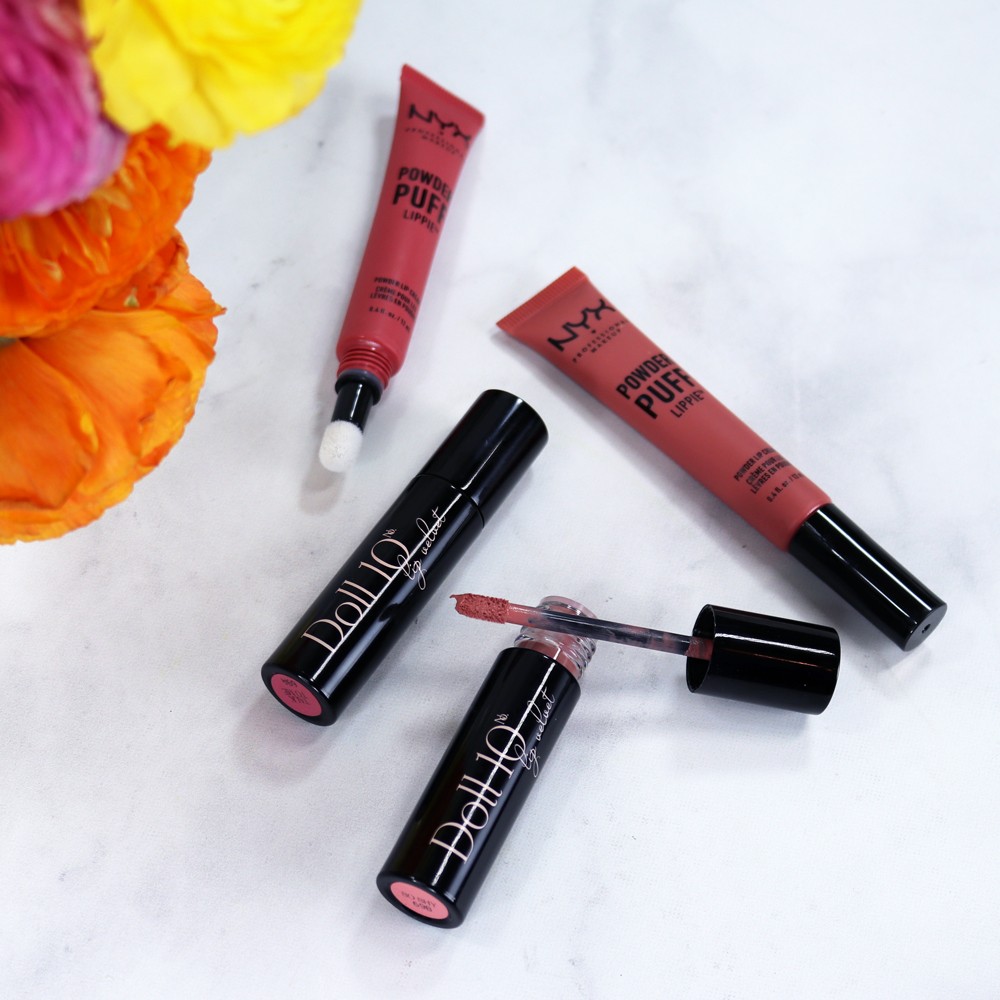 NARS Velvet Lip Glide Dupes – Best Cruelty Free Liquid Lipstick by NYX and Doll 10 Beauty
Question of the Week: What's your favorite brand of cruelty free liquid lipstick and why?
I used to be a huge fan of NARS Velvet Lip Glide, but now that it is no longer a cruelty free liquid lipstick (they are now selling in China), I found a couple of really nice dupes – Doll 10 Beauty's Lip Velvet and the new NYX Powder Puff Lippie Lip Cream. Both glide on like buttah, don't settle into any fine lines, are hydrating, and don't require a surgeon's precision to apply. They're not long wearing like the ones that you can't remove without oil, but that's fine with me. I don't wear those kinds of long wear liquid lipstick often, because they dry out my lips like crazy, and they tend to get crusty and come off only in the center of my lips, which looks gross if I'm not reapplying often.
The Lipstick League – week of 4.30.18
Please note that not all Lipstick League posts are cruelty free.
Blushing Noir – You NEED to check out the new Too Faced Natural Eyes Eyeshadow Palette. Without giving too much away just know that it's a one-and-done, day-to-night, safe to travel with palette that has shades that are wearable yet anything but boring.
My Beauty Bunny – has the deets on the new Physicians Formula Butter Collection Palettes – click for swatches!
Painted Ladies – How's about some gorgeous glow? Sheila has two Magical Jelly Highlighters from Nuest Cosmetics to share with you.
Phyrra – You NEED to try the new Makeup Geek Power Pigments! They have the best matte eyeshadow formula I've ever tried!
Slashed Beauty – Check out the brand new Physicians Formula Butter Palettes, here for a limited time and full of buttery, glowy goodness!
we heart this – It's sweet, whipped and deliciously rich. No, we're not talking about cake icing. We're talking about a Body Mousse…
Beautygeeks – gets as close to Instagram brows as she's ever been with the new Kat Von D 24-Hr Super Brow Long-Wear Pomade; a collection that includes scarlet, magenta, yellow and emerald green.
(Wondering what the Lipstick League is? Find out here.)
Blushing Noir is Currently Craving: The new Hourglass Veil Translucent Setting Powder. Sure, I have my HG, but that doesn't mean I stop craving something even better! I'm dying to know if this one is all that.