Low FODMAP Diet from Fody Plus my Paleo Tortilla Salad Recipe
Have you heard of the low FODMAP diet? I'm not actually on this diet (currently anyway!), but it's very similar to the gut health, paleo-style diet that I've been on since January. I was recently sent some low FODMAP packaged foods from a brand called Fody to test out.
What the heck are FODMAPS?
FODMAPs are short-chain carbohydrates found in commonly eaten foods such as pasta, bread, onions, garlic, beans, milk, apples, honey and mangoes. Instead of being properly digested and absorbed, FODMAPs travel through the gastrointestinal tract, drawing excess fluid into the small intestine and generating gas when they are fermented by bacteria in the large intestine. So basically, if you have tummy troubles after meals, or if you were diagnosed with IBS or SIBO, the low FODMAP diet is one you should try. It's similar to an elimination diet – very strict but meant to be temporary. You eliminate all the possible triggers, then slowly add them back one by one to see if they are problems for you. More info on all of that here.
Fody Foods
So, as I mentioned before, I'm personally dealing with auto-immune and inflammation issues – not so much digestive issues. But I have noticed since I've been off grains for four months, that if I have a cheat day with wheat, quinoa, or something similar (like I did for my birthday recently), my stomach blows up like a balloon! So maybe I had more digestive issues than I realized before I started the diet.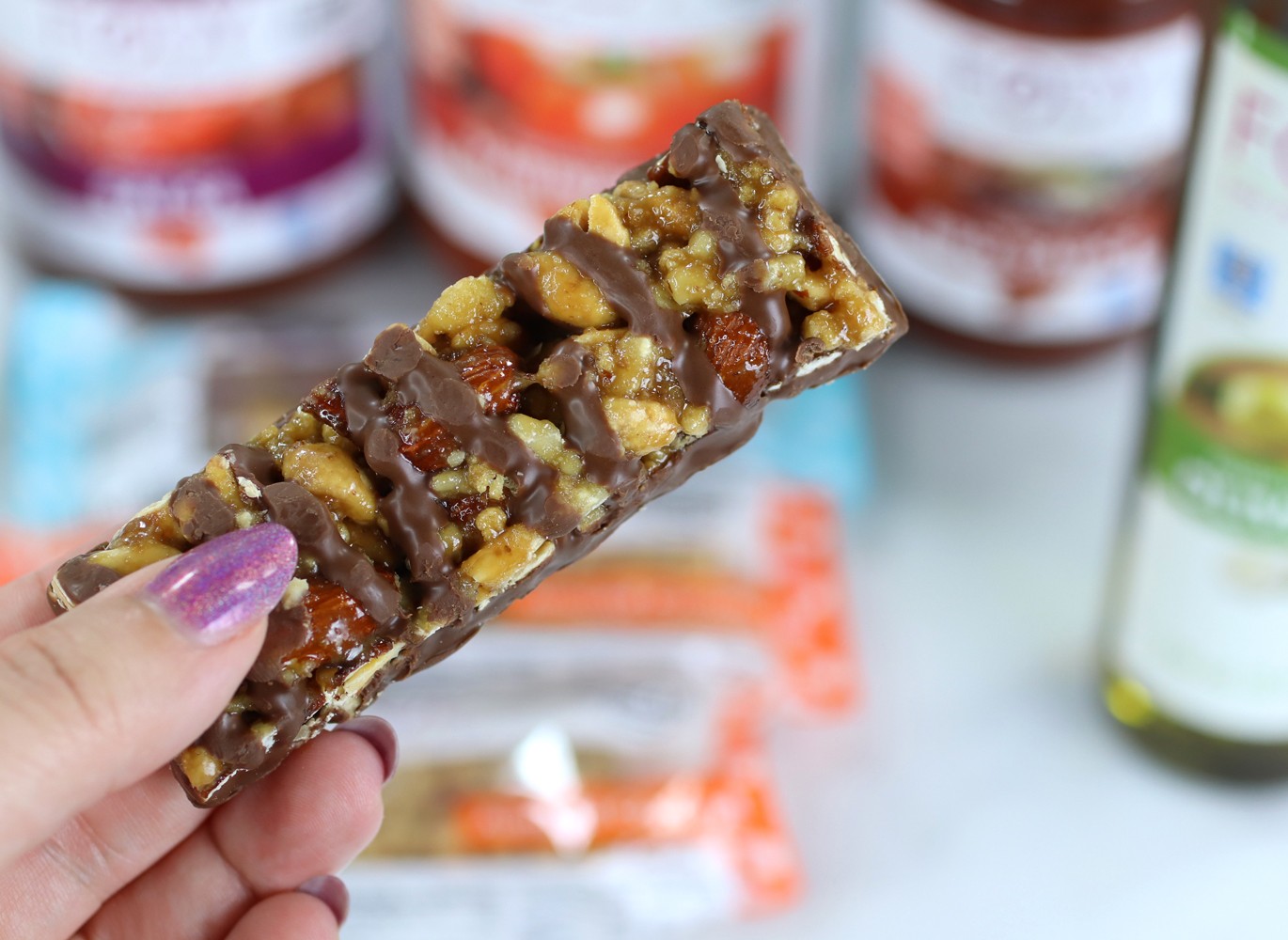 Fody has a line of low FODMAP foods that are a GODSEND if you're on a tricky diet and don't have time to make all your food from scratch. I know I sure as heck don't! They have salad dressing, sauces, salsa, seasonings, oils, soups, and snacks. I got to try out the BBQ sauce, salsa, garlic-infused olive oil (yum!), taco seasoning, lemon & herb seasoning, marinara sauce, and snack bars.
Everything I tried was delicious! I didn't miss the onions, gluten, lactose or garlic at all. For those of you who are vegan, many of the Fody products are vegan (with the exception of the chicken soup base and the snack bars that say they may contain milk or eggs). They are all lactose-free, gluten free and non-GMO. Check the ingredient lists to make sure each product works for your particular diet.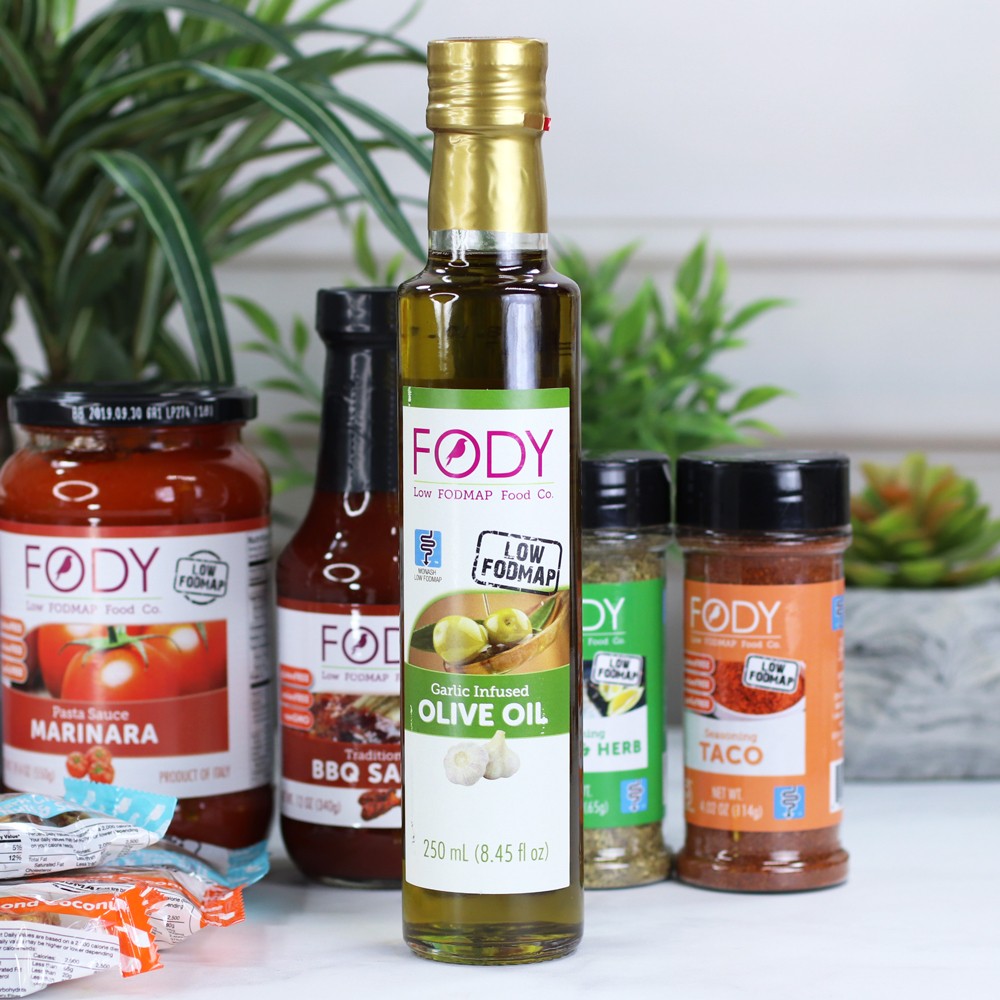 Most of the Fody foods are free from garlic, since fructans (the FODMAP in garlic) can be irritating to those with digestive problems. BUT, the garlic-infused olive oil is an exception. I was confused about this at first, but then I read that infusing olive oil with garlic negates the harmful effects that fructans can cause. That's because the fructans in garlic are water soluble but not oil soluble. Cool loophole, right? But apparently it's still hard to find an approved low FODMAP garlic infused olive oil, because brands don't always get it right (more on that here). Fody's olive oil is actually tested and certified low FODMAP by Monash University (the folks who came up with the low FODMAP diet in the first place)!
Low FODMAP Paleo Mexican Tortilla Salad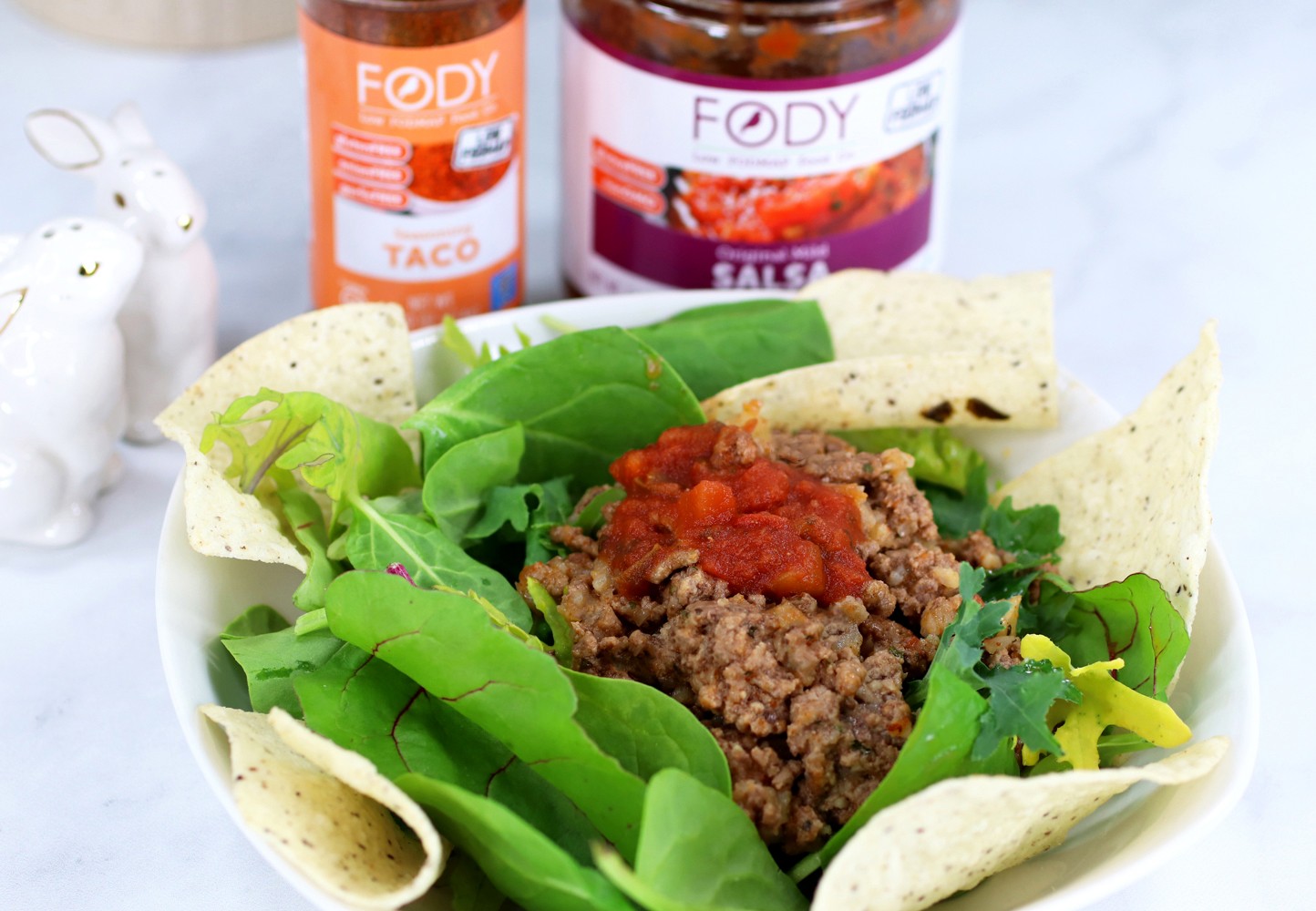 So, here's my quick and easy recipe for a delicious low FODMAP and paleo Mexican tortilla salad. I had this for lunch today! You can easily make this recipe vegan, keto, low-carb (omit the grain-free tortilla chips to save carbs), or adjust it for whichever diet you are on.
Ingredients:
Start by browning your meat or meat substitute with a teaspoon of olive oil in a large pan over medium high heat. Add an entire package of riced veggies (roughly 2 cups). Cook for another 5 minutes or so, or until veggies are warmed up. Add taco seasoning and stir in five teaspoons of salsa (add more or less to taste). Add 1 teaspoon lime juice, and finish with fresh or dried cilantro if you like. Serve over mixed greens and garnish with tortilla chips and additional salsa. Enjoy!
Fody products aren't sold anywhere near me in Los Angeles (yet!) but they can be found in some US stores, on their site, and on Amazon!