This is a two-part review. First, new My Beauty Bunny writer, Carly, will tell you about her experience with the classic Too Faced Better Than Sex Mascara. Then I'll share my experience with the new Better Than Sex Waterproof Mascara.
Carly's review: Too Faced Better Than Sex Mascara
As a girl with naturally long eyelashes, what I look for most in a mascara is its ability to volumize rather than its promise to lengthen. Mascara is one of those products that I don't go a day without – I use it to liven up my look and diminish the appearance of tired eyes. As an avid buyer of Too Faced cosmetics, I had tried almost each and every product of the company except for their mascara. That was until I was introduced to the best-selling Too Faced Better Than Sex Mascara.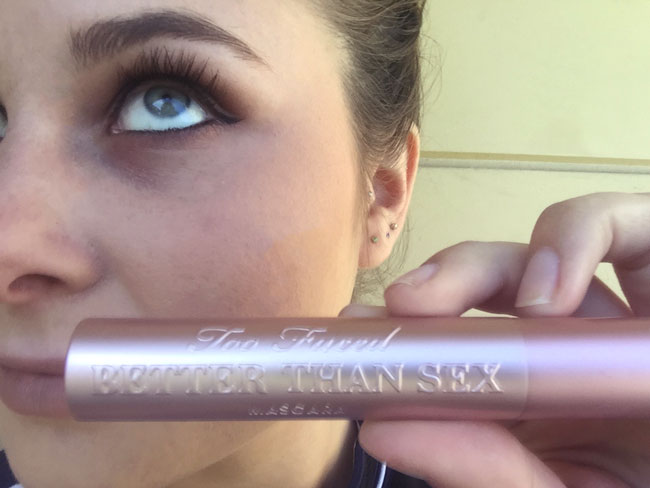 I will say that I usually go for the waterproof option when purchasing a mascara, but it is always nice to have a regular mascara on-hand when you want a more delicate alternative. Although the Better Than Sex Mascara is available in waterproof as well, I was excited to try something different than the usual. Since I wear mascara on a daily basis, I was able to test out this critically acclaimed product for several days before determining if it truly lives up to its name.
The mascara comes in a pink metal tube, which is certainly aesthetically pleasing among my array of beauty products. The brush of the mascara is full and sturdy, which allows the product to instantly add volume to lashes following application. I noticed that after one layer of an application on each eye, my lashes were much thicker and darker than before. I decided to add one more layer to each eye and was amazed at how bold my eyes looked – almost as if I were wearing false lashes.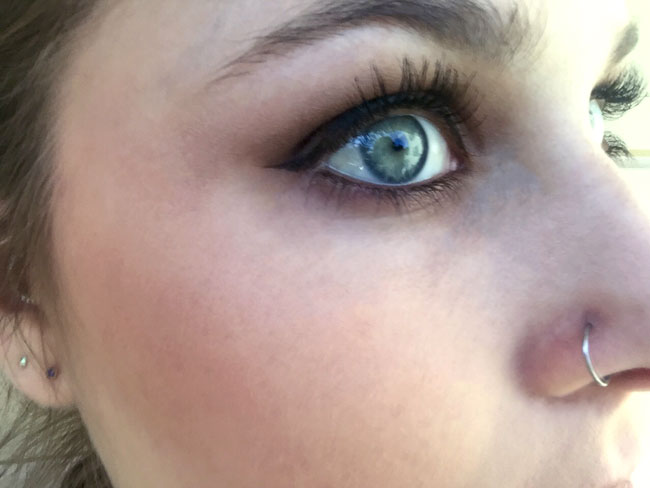 The biggest complaint I hear about mascara is clumping but fear not, Too Faced Better Than Sex Mascara does no such thing. After finishing my lashes, I did not need to go back and comb them out: definitely a plus in my book! Throughout the day, I did not find any mascara residue beneath my eyes or on my lids – my look stayed fresh for hours. When it came to removing the mascara, I had no trouble at all. It was effectively cleared away without needing to pull my lashes.
Verdict: I will keep coming back for more. Volume? Absolutely. Length? Unbelievable. Clumps or residue? Not a trace. Better than sex? You be the judge of that.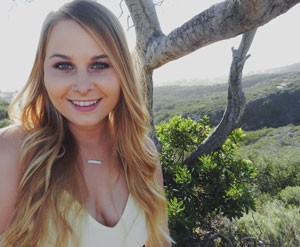 Jen's Review: Too Faced Better Than Sex Waterproof Mascara
The new Too Faced Better Than Sex Waterproof Mascara is perfect for the upcoming summer season. I don't wear waterproof mascara on a daily basis, but it's perfect for workouts, vacation, poolside hangouts or those summer weddings (come on – you know you get teary-eyed!). My lashes are short and stubby at the moment because I've had lash extensions on for too long. I'm giving them a rest, so I really need all the help I can get right now!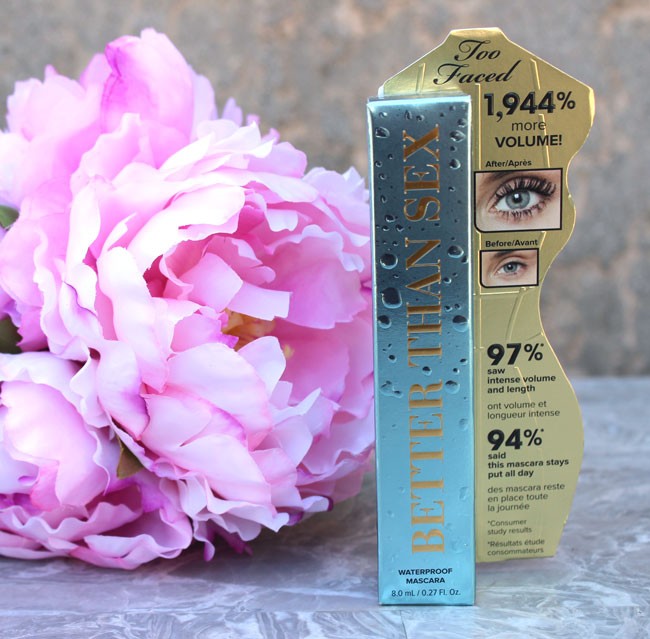 I really liked the raised "raindrops" on the exterior and interior packaging. Too Faced never fails to disappoint on adorable-ness factor!
I found that the Better Than Sex waterproof mascara  really works – no smudging or smearing, even after watching a sad movie! My only complaint with this (and ALL waterproof mascaras that I've tried) is that they tend to be thick, and because the ingredients are heavy, my lashes don't curl as much as I'd like. They also tend to clump more than their non-waterproof counterparts. HOWEVER, our video reviewer, Roxette, had a completely different experience. Possibly because she hasn't lost a lot of lashes from extensions. I always think it's interesting to see how a product works for different people. Check out Roxy's video review here.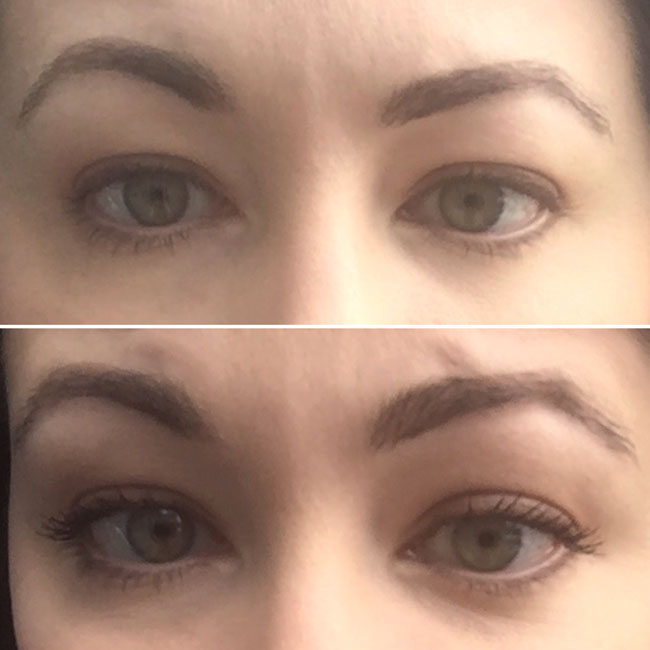 Sorry for the quality of my before and after (above). I'm having some issues with my camera right now. I hope you can see how much the mascara volumized, darkened and lengthened my lashes!
Despite the heaviness of Too Faced Better Than Sex waterproof mascara, I'd still recommend this mascara if you'll be hot tubbing it or going to the beach or pool this summer, or even if you (like some of my friends), have allergies or watery eyes and just need your mascara to stay! I'd advise using an oil-based makeup remover when you're ready to remove the waterproof mascara (unless you have eyelash extensions, but you shouldn't be putting waterproof mascara on those anyway!). Don't pull or tug on your lashes. You can try Too Faced's Mascara Melt Off (I haven't tried it yet, but I'd like to!).
P.S. I'm jealous of Carly's naturally long lashes – wow! 🙂