I'm not much of a reviewer when it comes to facial skin care. I love washing my face with creams, oils, or exfoliation products because it makes me feel so clean! My face seems to love it too…up until about the fifth day when I start to break out like crazy! L (it's not fun, as I'm sure many of you have experienced.)
So, I have sensitive skin and it made me nervous to try this new brand–to me anyway– called The Body Shop. But, you never know til you try, right? So, I was brave and put myself out there.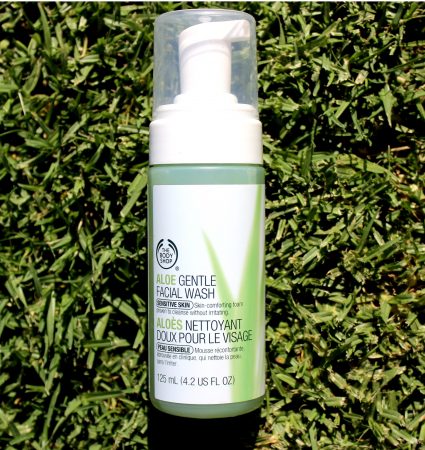 The Aloe Gentle Facial Wash was the first product I tried from The Body Shop. It comes in a 4.2 ounce pump bottle. In the bottle, the wash appears in a liquid state. After the facial wash goes through the pump, it turns into a foam. Apply the foam to your face and slowly work it into a lather. The face wash is smooth and very gentle, after all, it's meant for sensitive skin. I liked it, but what made me fall in love with it is that…
It's preservative-free, fragrance-free, color-free and soap-free yet is still able to remove my eye makeup and leave my skin feel fresh, not dry and tight! It's a miraculous potion in a bottle! Oh, not to mention, my very own sensitive skin can use it day after day after day and hasn't had any issues with breaking out. Finally something that allows me to get clean without having to sacrifice my acne-free skin.
If you have sensitive skin, I highly recommend The Body Shop's Aloe Gentle Facial Wash.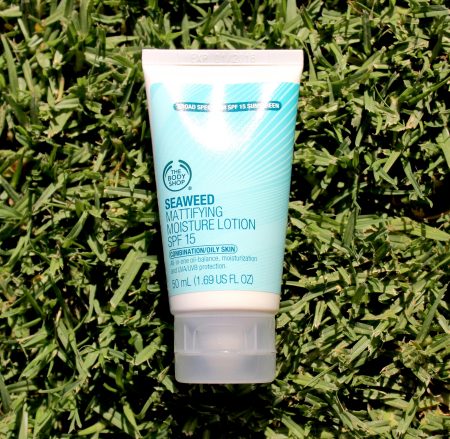 The other wonderful product I found on The Body Shop's site was the Seaweed Mattifying Moisturizing Lotion SPF 15.
The lotion comes in a 1.69 ounce bottle. The compact size makes it great for traveling or for carrying around in your purse for handy application. I found it best to use the lotion on my face right after showering in the morning. Putting it on before applying my makeup really helped set a flawless foundation for the rest of my morning routine. The lotion is creamy, but doesn't feel slimy. It's the perfect consistency for your face to feel hydrated, but not look greasy. The only thing I think people might not like about this facial lotion is that it definitely smells like a sunscreen. Personally, I love that smell because I was a summer lifeguard for years and it brings me back to those relaxing, high school summer nostalgia.
This was my first try of anything from The Body Shop. I was surprised with the results and I will be sure to check out what else they have to offer, as should you! (only if you want, I'm not trying to be bossy–just helpful 🙂 )
Sierra Weltha  enjoys coffee, writing, beauty and fashion, health tips, non-profit organizations, thrift shopping, and more coffee. Be sure to follow her journey on Twitter and Instagram under the handle @sierraweltha