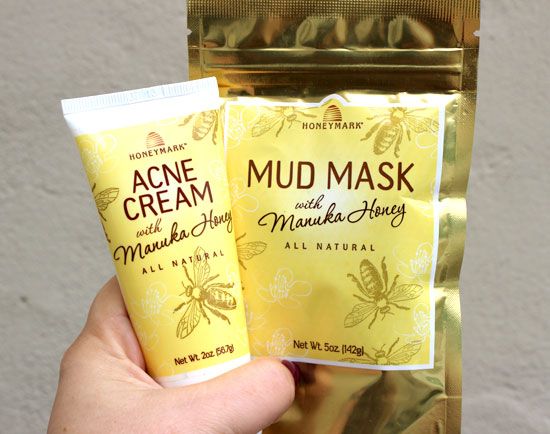 You may have heard that honey is a good moisturizing ingredient for skin, but have you heard of manuka honey and its extra dose of antibacterial properties? Manuka honey hails from New Zealand, and to get quality honey is not cheap! I think I spent $17 the last time I bought a small bottle at the local health food store (Erewhon in LA). And I didn't even buy the most expensive one! Manuka honey comes from bees who harvest nectar from the flowers of the manuka plant. This honey contains more vitamins, minerals, antioxidants and amino acids than other types of honey, making it an incredibly valuable resource.
I recently tried some products from Honeymark, a company that sells manuka honey products for eating and for putting on your skin!
In regards to the cruelty free status of these products, this is what Honeymark had to say:
The most reputable honey products are not subject to animal testing and contain no animal ingredients. Production causes no harm to nature so consumers can shop worry-free whether purchasing honey as a sweetener, honey-based beauty treatments, or first aid products that include the substance. Honeymark products are not tested on animals.
I tried the Acne Cream and the Mud Mask. Let's start with the Mud Mask. It's made with actual Dead Sea mud, high quality manuka honey and lavender. Dead Sea mud is actually one of the most beneficial types of mud in the world. It has a high density of both salts and minerals, which are ideal for keeping skin feeling healthy and young-looking. The Honeymark Mud Mask comes in a 5 oz packet for $29.95. The mud mask made my skin tingle a little bit, and after leaving it on for only 5 minutes or so (you can leave it on up to 15 minutes), my skin felt soft, clean and glowy! But, here's the only drawback: I can't stand the smell. It smells like mud, but it specifically reminds me of the mud I used to play in when I was a kid. We used to catch crawfish in the ditches on our 3 acre country property. Yep – I was born in redneck-ville, Louisiana. So maybe the scent is just a personal issue for me, and maybe it won't bug you at all. I also have a VERY strong sense of smell. I can't really detect the lavender scent over the Dead Sea mud smell. The results are fabulous. So, if this isn't an issue for it, I strongly urge you to try it. I'm also considering adding my own essential oils to the mix.
The Honeymark Acne Cream ($24.95) is a winner. It's made with manuka honey and several soothing ingredients like aloe, borage oil, evening primrose oil, hyaluronic acid, meadowsweet flower and witch hazel. BUT, don't be fooled – it also has 2% salicylic acid, so this stuff is no joke! It feels like a cream you should put all over your face because it's so moisturizing, but I quickly realized my sensitive, combination skin didn't need that much. When I followed directions and put it only on my acne-prone areas (chin, nose, forehead), it worked really well to clear up acne and unclog pores. It didn't dry out my skin either – no flaking or peeling.
I definitely want to try more products from this brand. They have all kinds of fun stuff!