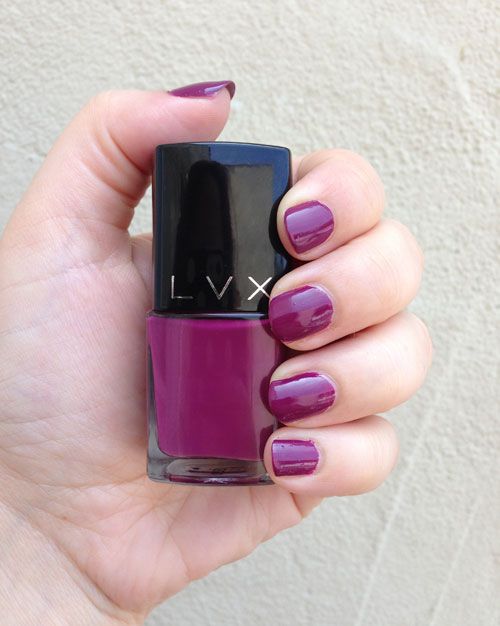 Time for a new Makeup Wars! This time we all picked our favorite purple nail polish. I chose Chambord by LVX. It's a gorgeous plum wine shade. It even got the nod of approval from my boyfriend. Trust me – he's honest about liking or NOT liking the colors I choose!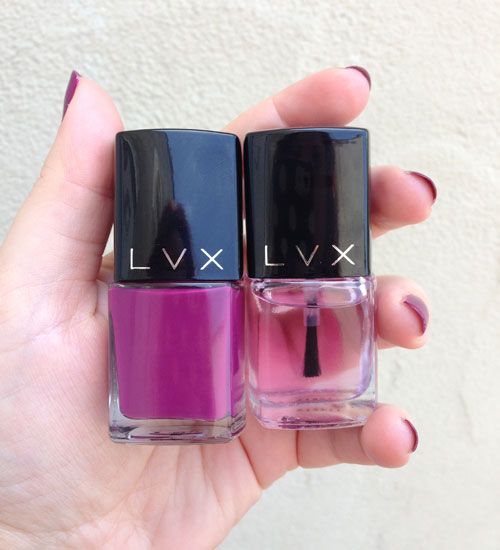 In this pic, I used the LVX 3 in 1 Treatment as a base coat and a top coat.
The 3 in 1 Treatment provides an intensive treatment and are meant to help nails become noticeably stronger within 2 weeks. I haven't tried it long enough to tell you if this is true or not! But, I will keep you posted.
The treatment contains horsetail, a healing herb rich in nutrients and high in silica, proven to help natural nails grow faster and stronger. Note: I'm not sure if this is when taken internally (as in a supplement) or as a topical treament.
As a base coat this treatment prepares the nail surface for optimum nail lacquer application and contains incredible adhesion properties that improve nail lacquer wear. Lastly as a top coat, the 3 in 1 provides an extremely high shine finish and maximizes the wear characteristics of nail lacquer. As a strengthener only, apply treatment to a clean and dry nail 2-3 times a week for approximately 2 weeks. This intensive treatment will deliver results within 2 weeks of regular use and help promote the growth of strong and healthy nails.
Check out the other "pretty purple polishes" my beauty blogger friends chose: