Cooper the Pooper: What You Need to Know About Living with a House Rabbit.
On My Beauty Bunny, we mainly talk about beauty, fashion and health, but here's something some of you might be interested in – how to live with a real bunny! And look at that little crown – what a cutie! Written by Andrea Angel, Cooper the Pooper's mom!
It was summer of 2010 when the idea of getting my fiancé a pet rabbit to accompany him until we got married, popped into my head. We had been dating long distance for about a year and we still had 8 months until our wedding and for me to move in with him. Although he was not 100% sure about getting a rabbit, the idea had already rooted itself inside my head.
Weeks passed and a friend posted on Facebook a photo of Hercules, her pet Netherland Dwarf Rabbit – she was selling him. Immediately I fell in love with this Thumper look-alike and mentioned it to my fiancé, John. He was hesitant about caring for a rabbit because he knew how extremely delicate they are from previous experiences as a child. Being persistent worked out for me; I promised I would care for him and potty train him before moving "Hercules" in with him. I contacted my friend, but unfortunately a single father had bought Hercules for his daughter already.
Not even a week later, I received a Facebook message from this father asking me if I was still interested in Hercules. He realized that a rabbit is no pet for a child, he was too delicate to be handled by his daughter and realized that rabbits don't interact with humans as a dog would. Two days later I met him at my friend's house ready to bring Hercules home with me!
I had no idea what I was getting myself into, all I knew was that Hercules was adorable. I brought him home in a small cage, with cat litter, a bag of hay and "gourmet" pellets from the pet store. Hercules lived with me for months up to our wedding and our move to Orlando where my fiancé lived.
Within these months my fiancé and I changed Hercules' name to Cooper; we both wanted a name that related to us, since we both drove MINI Coopers John suggested "Cooper". In these months Cooper never ate hay, although it was always available to him; he would only eat the "gourmet" pellets from the pet store. I would try to mix vegetables in with his pellets but he always snubbed them away; I knew from common knowledge that rabbits liked vegetables but Cooper never ate them. His main diet was "gourmet" pellets which, unbeknownst to me, were high in sugar. Since the day I brought Cooper home I would have to give him butt baths, I would wake up in the morning and find a pile of poop stuck to his bum. After weeks of daily butt baths I realized that something was wrong so I googled "rabbit's soft poop", what google taught me was that rabbits produce "cecotropes" which are produced in the rabbit's digestive tract called cecum. These cecotropes are packed with bacteria and fungi that provide essential nutrients and help protect your rabbit from potentially harmful pathogens. Normally rabbits eat these poops but Cooper wasn't, that's why I had to give him daily butt baths. I thought to myself "I guess Cooper just doesn't like to eat his poop" and I never gave it another thought!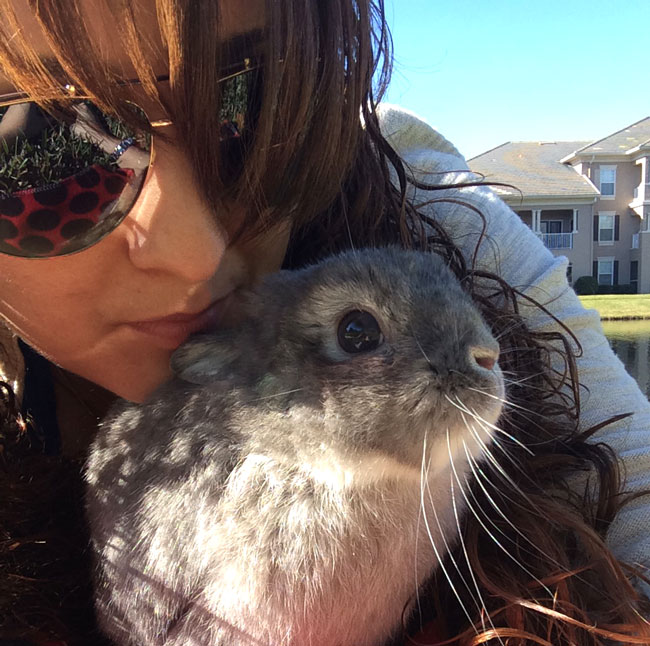 It wasn't until late August 2011 that I realized I had no knowledge of what, when or how to properly care for a rabbit!
After being married in February of 2011 and having found employment in Orlando in June of the same year, I was more at ease in my new city and decided that it was time for some distraction; I downloaded Instagram! Little did I know that my life was about to change forever. I started using hashtags like #rabbit, #bunny, #conejo (rabbit in Spanish) and little by little I gained followers; mostly from Singapore and Japan. Through them I learned a new hashtag #usagi (rabbit in Japanese) and I started using it and gaining more followers. Oh, by the way Cooper's insta account is instagram.com/cooperthepooper. That's right, it's his account not, mine, I rarely share personal photos of my daily life; it's all about Mr. Pooper or how some of his followers call him, Coopie or the Coop!
Now, before I continue I would like to share why Cooper is known as "Cooper the Pooper". Before I got married and moved to Orlando, FL, Cooper and I lived with my sister and her dog Mateo, a Springer/Cocker mix. Cooper and Mateo love each other and lived in harmony, unfortunately Cooper did not like the fact that his auntie's bed smelled like a doggy and didn't have his scent. Cooper's revenge? Pooping on his auntie's bed every time he had a chance, which was always because Cooper would roam free once we were home. The act of marking his auntie's bed with his scent earned him the moniker of Cooper the Pooper by his aunt Carolina! HA!
Ok, now back to how my life was about to change. Months after joining Instagram, I met more and more people from around the world with vast knowledge of proper rabbit care. These kind people started sending us hay and pellets from as far as Japan, everyone was aware of my daily struggles with Cooper and his butt baths; they were trying to help me get him healthy. I had storage containers filled with varies hays from around the world along with samples and samples of pellets. Unfortunately nothing worked. His vet had him on probiotics to help with his gut flora, but still no luck, we would have good and bad days. It wasn't until January 2014 that we received great advice from a rabbit rescue owner. She took a look at Cooper's pellet bag and immediately pointed out how high in sugar it was. Remember, the "cecotropes" that Cooper wasn't eating? Well, he didn't eat them because they were not healthy due to such high sugar intake!
This kind and very knowledgeable lady instructed me how to change his diet by mixing in healthy pellets in with his "gourmet" pellets. This is something that I had tried in earlier years, but Cooper was reluctant to eat them, he would go without food all day because he would not eat them. Not this time though, the planets must have been aligned, there was a full moon or something; because Cooper gave in and started eating the healthy pellets. Just in time too because the "gourmet" pellets were being discontinued; that's how bad they must have been!
Due to my struggles with Cooper's diet, or should I say pickiness, I started a blog in 2013; cooper-the-pooper.blogspot.com. I had gathered such incredible information through the past years and had learned so much about caring for Cooper that I knew I had to share all this information with others. Through Instagram I met several other bunny parents with the same struggles as myself, I would always get asked to share a photo/video of how I washed Cooper's bum. Fortunately for me, Cooper is extremely docile and allows me to carry him without hesitation. I shared photos and shared step-by-step instructions on how to wash a rabbit's butt.
Through the years my blog has become a go-to source for many that have found me on Instagram or who have met me through my Facebook group,  Bunnies Worldwide. By creating this group, it allowed the bunny parents to help each other out in situations when our vet's offices are already closed. We've been able to ease each others' worries because we've all been through difficult situations with our rabbits.
The Internet is an amazing place to find anything and everything that you may need, unfortunately, the media doesn't always transmit the useful information. We constantly see articles published and shared by thousands about how cute and wonderful this and that rabbit is. Bunny parents love and hate these articles, it's wonderful to spread the word about how wonderful and fulfilling it is to have a house rabbit, but it is worrisome seeing everyone commenting on how they are going to go out and buy a rabbit because the rabbit in the article is so cute and they want one just like it. No! It's not just sugar and spice and everything nice when it comes to a house rabbit. There is so much to learn before bringing one home, starting with ADOPTING not supporting breeders nor purchasing a rabbit from a pet store. Most rabbits sold at pet stores are weaned extremely early from their mothers and end up getting sick because they are fed the incorrect diet. There are phases to their diet just like for humans whilst growing up, but unfortunately most pet stores don't have the knowledge and misinform their customers. There are thousands of rabbits at shelters around the world due to the lack of education most have when it comes to house rabbits.
These reasons and many more are why I created my blog, the Facebook group and why I am adamant about pushing all this information into everyone's faces when asked about rabbits. Living with Cooper has been the most amazing, learning experience of my life. It has opened up so many doors for me and I have met such wonderful people through this journey; the journey of learning the proper way to care for a house rabbit.
Cooper the Pooper is my life, and yes, I believe I have placed him on a pedestal; but he has rightfully earned his way up there. My husband and I love Cooper very much, we have learned so much and to this day, we are still learning more and more about how to care for him. Our lives with him have and will continue to be a learning adventure that I, through the magic of Instagram, document on a daily basis and love sharing it with the world!
Here are the links to Andrea's and Cooper's blog, Facebook page and Cooper's Instagram account.