It Cosmetics Bye Bye Under Eye Concealing Pot Review and Swatches – Hit or Miss?
I've been a big fan of cruelty free brand, It Cosmetics, for a long time (note that their parent company is not cruelty free). Their brand new concealer has finally become available at Ulta. The new Bye Bye Under Eye Concealing Pot has been getting a lot of love from the beauty community. But does it live up to the hype?
The Bye Bye Under Eye Concealing Pot is being billed as a multi-tasking, skin tightening and healing concealer for undereye circles as well as dark spots on the face. It's similar to the tried and true Bye Bye Under Eye concealer that you know and love, but it's a more moisturizing version.
The Bye Bye Under Eye Concealing Pot comes in six shades, and the formula has collagen (from fish – not vegetarian), peptides and caffeine (green coffee extract). I LOVE caffeine in any type of makeup or skincare because it has the power to instantly tighten and firm up loose skin. With all of these anti-aging ingredients, caffeine for firming, and a more hydrating formula, this seems like the perfect undereye concealer – especially for those of us who are over 35!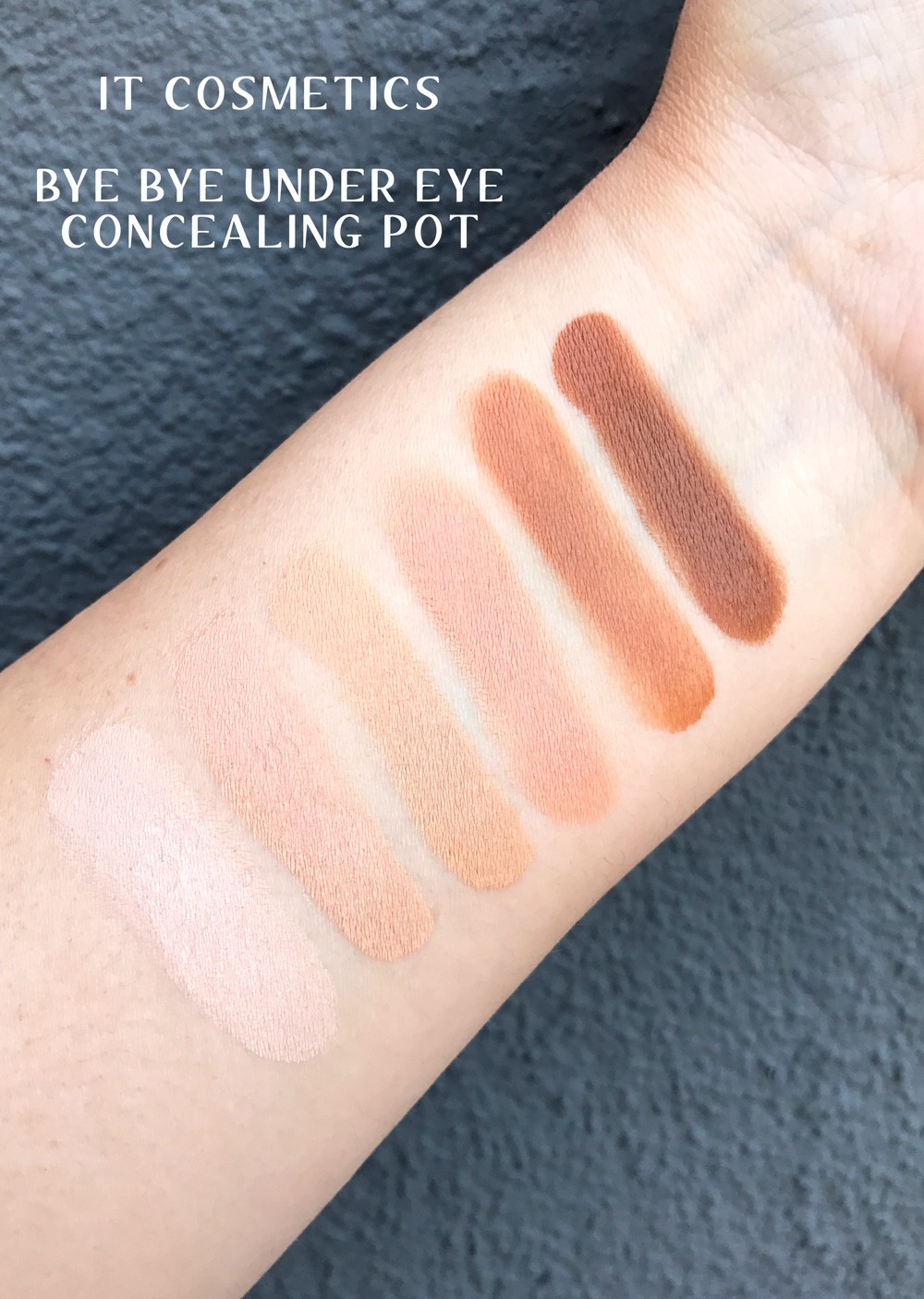 I tried the lightest shade (Light) under my eyes. I tried blending it out several ways – with my fingers, with a Beauty Blender, and with a small brush. I REALLY wanted to love the new Bye Bye Under Eye Concealing Pot, but every time I tried it, it creased up within minutes of application. I have combination skin, but the skin under my eyes tends to be pretty dry, so I don't necessarily think it was the oiliness of my skin that caused it to crease. The two lighter shades were also a bit too pink for me – I need more yellow for my skin tone, and to counteract the dark circles.
Several of my beauty blogging buddies said this formula was perfect for them, and actually didn't crease on them at all! They told me they love this concealer – more than the original version.
So all that being said, if you're not vegetarian (and the marine collagen doesn't bother you), and you have very dry or mature/dry skin, this may be your holy grail. OR if you're young and don't have any undereye wrinkles yet (I hate you – but whatever!), this might be a great preventative measure for you. Unfortunately for me, and as much as I wanted to love it, it's just not going to work. However, I do love their new Bye Bye Breakout Concealer. It has acne-fighting ingredients, and it's perfect for the spots on my chin that need covering. More on that in a future beauty review!