My Cruelty Free Nighttime Beauty Ritual
I don't know about you guys, but I can't go to sleep without my nighttime beauty rituals. They help me prepare my brain, to let it know that it's about to be sleepy time. And yes, I still need a melatonin pill or two to sleep, but the rituals definitely help that racing hamster in my brain (AKA anxiety and stress) to stop running! Today I want to share some super fab products that I've been working in to my cruelty free nighttime beauty ritual.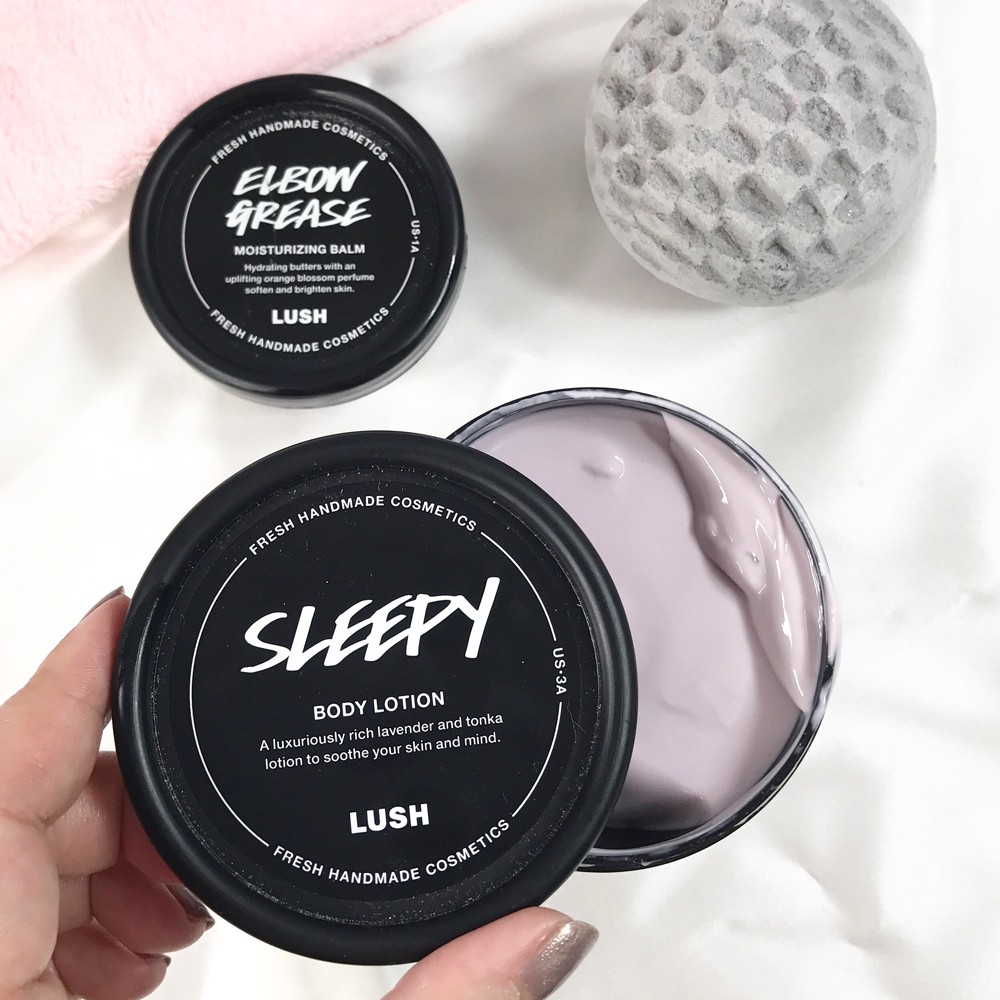 First, if I have time, I like to take a relaxing bath. A bath tub without a bath bomb is like a violin with no strings – useless! Gotta have a bath bomb, and my favorite bath bombs come from Lush. Pictured is the Metamorphosis bath bomb. Don't be fooled by the grey outer layer – when you soak, it turns orange, pink, yellow and green! It has a spicy scent that men and women will love (black pepper and myrrh – sounds weird, but it works).
After my bath, I slather on cruelty free body moisturizer. I have been using Lush Sleepy body lotion lately, and OMG! This stuff makes my skin softer than I thought humanly possible. I can't stop making my fiancé feel how soft my legs are (it's apparently no longer weird to him because I do stuff like this a lot!). It's vegan and it smells lovely (lavender mixed with vanilla and sweet cocoa butter), and I actually think this is one of those universal scents that most people will like. I wish it came in a pump, but you guys know Lush loves their recyclable pots, so I doubt that will be happening anytime soon.
For my elbows, feet and knees, I usually require something SUPER hydrating. I love Lush Elbow Grease (also vegan), because it has coconut oil, soybean oil, cupuacu butter, murumuru butter AND illipe butter! Plus, it has a neroli and orange citrusy scent that I can't get enough of. It's a melt, so it's an oil blend that works best right before bed. Apparently, you can also put this on tattoos to protect them and make the colors pop!
Now my favorite part – skincare! I can't remember the last time I've gone to bed with makeup on, but I can remember the last time I've gone to bed without brushing my teeth! It's not often, but you can tell where my loyalties lie – skin over teeth! (Cue the monkey with his hands over his eyes emoji!)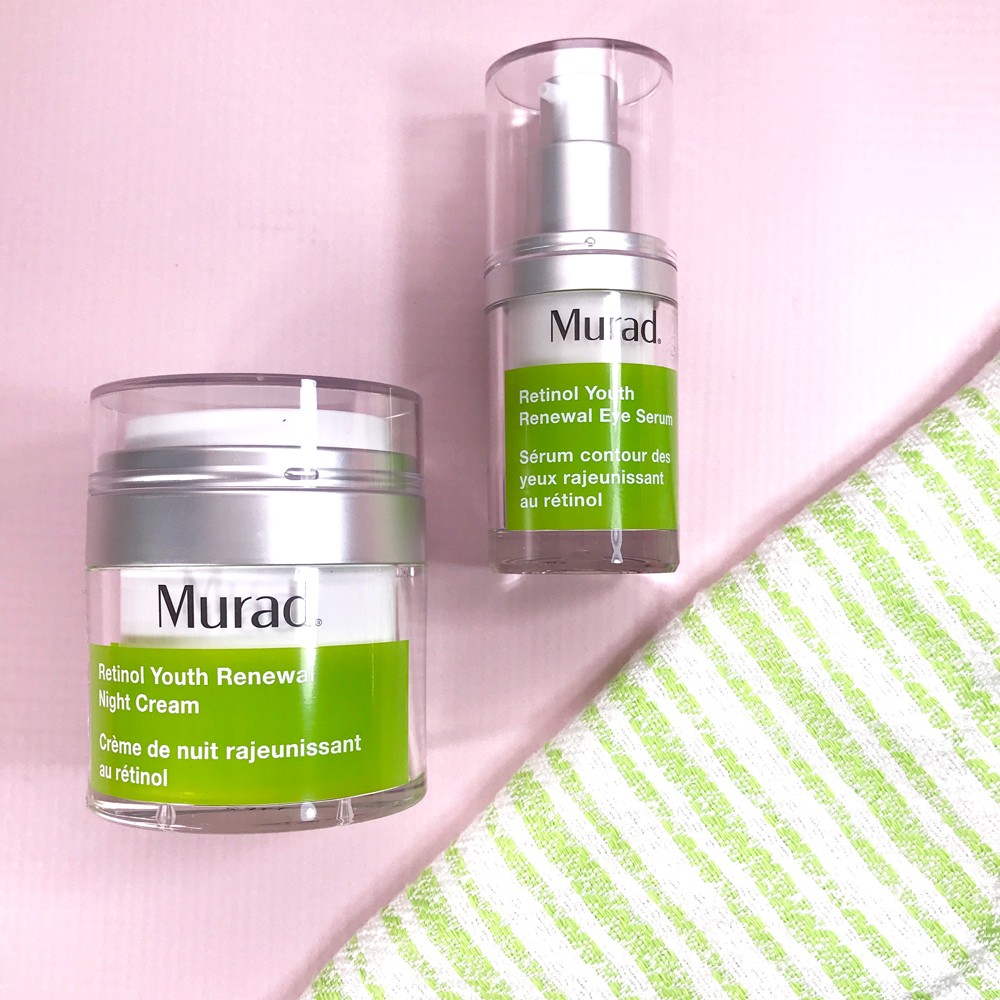 I start with a thorough cleansing and/or micellar water toning. Then I use my acne treatments. After that, I apply moisturizer and undereye cream. Lately I have been loving the Murad Retinol Youth Renewal Night Cream and Eye Serum. Here's why: I saw my grandma recently, and asked her how she had such amazing skin (she's in her 80s). She told me that she has been using prescription Retin A for the past 25 years or so. Her skin is as smooth as a baby's butt. Obviously, at her age, she has wrinkles, but her skin looks amazing, and it GLOWS. I have tried prescription Retin A and similar products in the past, but they make my sensitive skin red, irritated and angry. They are way too harsh for me. But Retinol, which like Retin A, also comes from Vitamin A, is a non-prescription strength version that my skin can handle.
The Murad Retinol Youth Renewal Night Cream is ultra-hydrating, but doesn't aggravate my adult acne. It has a fast-acting retinoid, a time-released retinoid and a retinol booster to treat fine lines and discoloration. It also includes hydrating shea butter, swertia flower extract (for anti-aging – firmness and elasticity), and peptide-filled red algae extract and kelp.
The Murad Retinol Youth Renewal Eye Serum is made with similar ingredients, but it's very thin (hydrating but not thick). That is a GOOD thing if you have a tendency to get millia (those little white bumps) under your eyes. I seriously think I mention this in every eye cream review, but it's very important to me. For me, a good eye cream has to be non-pore-clogging and have a major anti-aging component, like Murad's cruelty free retinol cream does. You need something serious, like retinol, if you want to fight those crow's feet and undereye wrinkles. The peptides from the red algae also help to brighten undereye circles. This eye serum is pretty damn close to perfection. The only thing I would add if I could make the perfect undereye cream would be caffeine (to tighten and de-puff). But I'm not a chemist, so maybe those ingredients don't mix well together – if you know, leave me a comment – I'm curious.
Bottom line: if you're going to spend some dough on a night cream or eye cream, make sure it has a good anti-aging component – like retinol or an alpha hydroxy acid (glycolic acid, lactic acid, etc.). If it's just a hydrating moisturizer without any anti-aging ingredients, you won't be getting wrinkle treatment and prevention. So don't spend a lot of money on a formula unless it has something that will give you bang for your buck. And don't go to bed without it!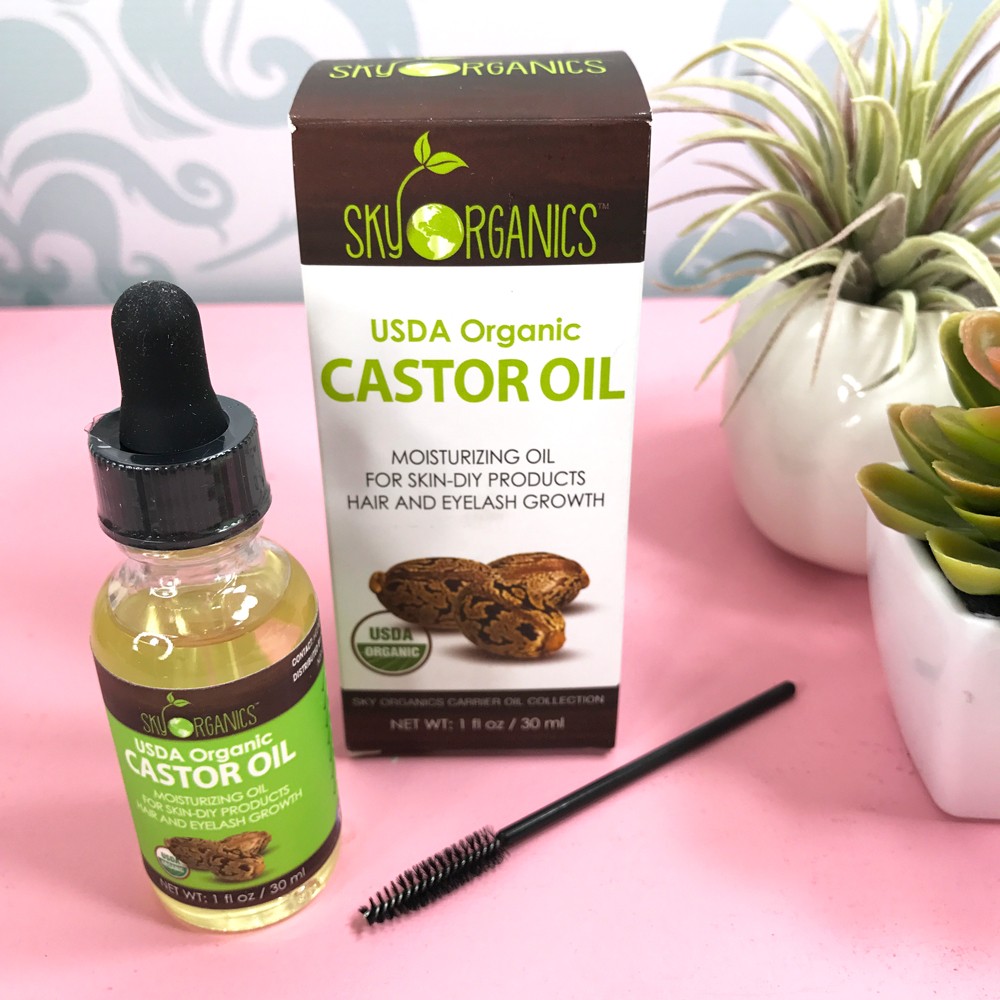 The second part of my nighttime beauty ritual is a relatively new one for me, but it's something I learned from fellow beauty bloggers – castor oil for eyebrow growth! I love my thick brows, but I have a few sparse spots. I plan on getting a microblading touch up at some point, but for now I'm using a DIY method to grow eyebrows. I have been using castor oil to encourage my brows to grow. You can use your own castor oil, or try the one I use from Sky Organics. It's cold-pressed and hexane-free, and it comes with applicators that you can use to brush it into your brows or on your lash line if you want to grow longer lashes (I can't do that because I have lash extensions). You can also use castor oil as a moisturizer for dry skin, and as a cuticle oil.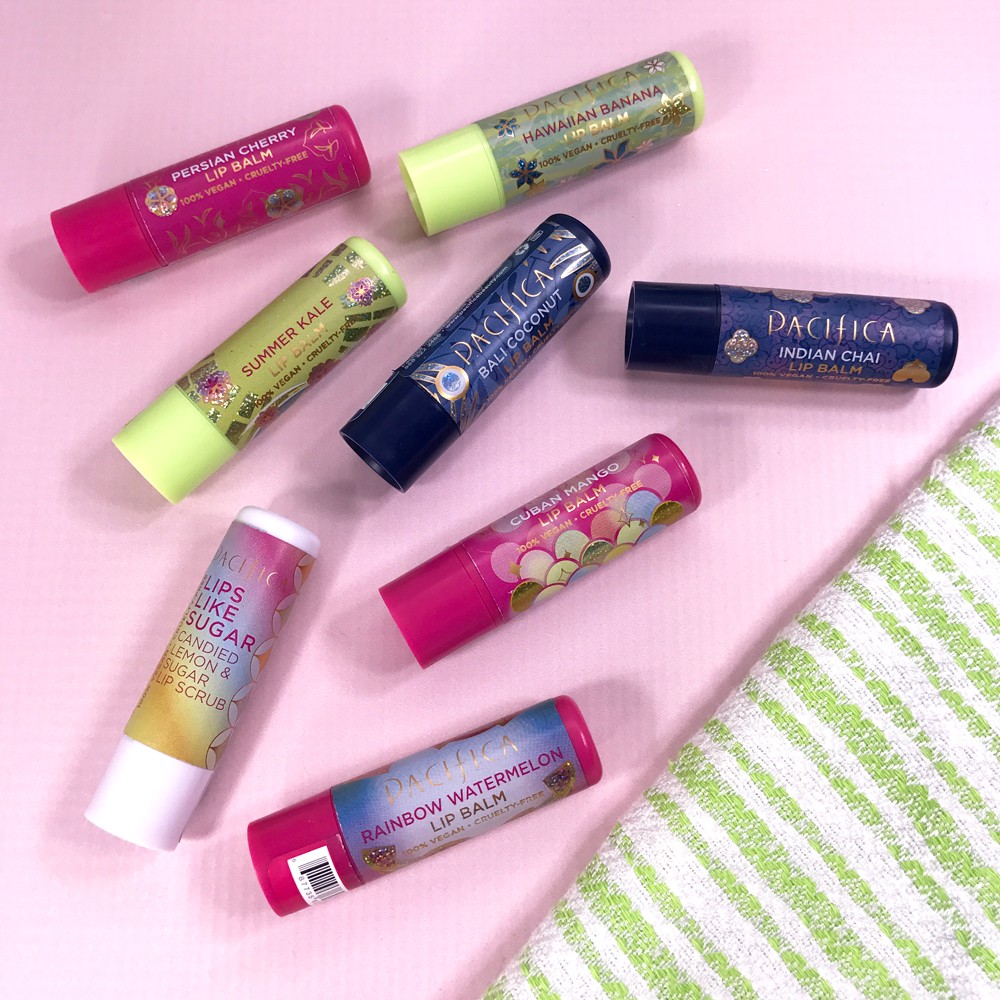 And finally – lip balm. I cannot live with my lip balm. I use it a lot during the day, but I never go without it at night. I also never go to bed without kissing my fiancé, Gregg, goodnight, and I love it when he licks his lips and goes "Mmmm what is THAT?" Pacifica recently came out with a line of ADORABLE and heavenly-scented vegan lip balms, and I am just going nuts over them. They are super moisturizing with jojoba oil, coconut oil and almond oil. They come in the cutest packaging (all of Pacifica's packaging is on point), they're only $4.99 at Ulta, and the scents…OMG you guys the scents.
Summer Kale (it has a sweet floral flavor – don't worry – it's not like sniffing kale)
Bali Coconut
Indian Chai (my favorite fall drink)
Hawaiian Banana (I have been obsessed with banana scents lately)
Cuban Mango
Persian Cherry
Rainbow Watermelon (OMG watermelon!)
Lips Like Sugar – a sugary lemon scented lip scrub (and a reference to a classic '80s song!)
Yassss Echo and the Bunnymen! Okay – on that note – gotta stop writing and do my beauty rituals so I can go to bed! Sweet dreams!