I was recently introduced to this GORGEOUS apothecary style skincare, body and perfume brand called Klarif. If you take a second to check out their website, I think you can immediately get a sense of their vibe. It's sexy, dark, and has a vintage feel. It reminds me of Australian brand, Aesop (who hasn't replied to the cruelty free community, so we still don't know if they are cruelty free) and a little like Kiehls (which is sold in China and not cruelty free). Luckily, Klarif, is an American brand that is 100% cruelty free, vegan and Leaping Bunny certified! Yay!
Klarif is called "Original Father's Recipe Cosmetics" which at first led me to believe the line is intended for men. I wanted to try them anyway because I tend to like earthier scents, but it turns out to NOT be the case. The brand was created in 2002 by Mr. Klarif for his son. When his son was a baby, he had terribly itchy, inflamed skin from a condition called atopic dermatitis. Mr. Klarif used his molecular biology background to create healing remedies to soothe his baby's skin. Since then, Klarif has grown rapidly, received a lot of love from makeup artists and celebrities, and is now in many countries, with stand-alone brick and mortar stores as well as their online shop!
Mr. Klarif used sea kelp, fermented herbs and his proprietary formulation, Maat: Mitochondrial Activator Adenosine Triphosphate, to create lotions and potions that would quickly heal and promote collagen and elastin in the skin. Klarif's "miracle elixir" is at the heart of all the products. It's made in small batches – black cumin seed oil infused with organic herbs and spices that has been fermented for months.
When I first saw the Klarif website, I showed my fiancé, Gregg, and he just said, "Oh yeah, that looks like your kind of products!" I was lucky enough to test out several Klarif products, and I want to share my favorites with you today.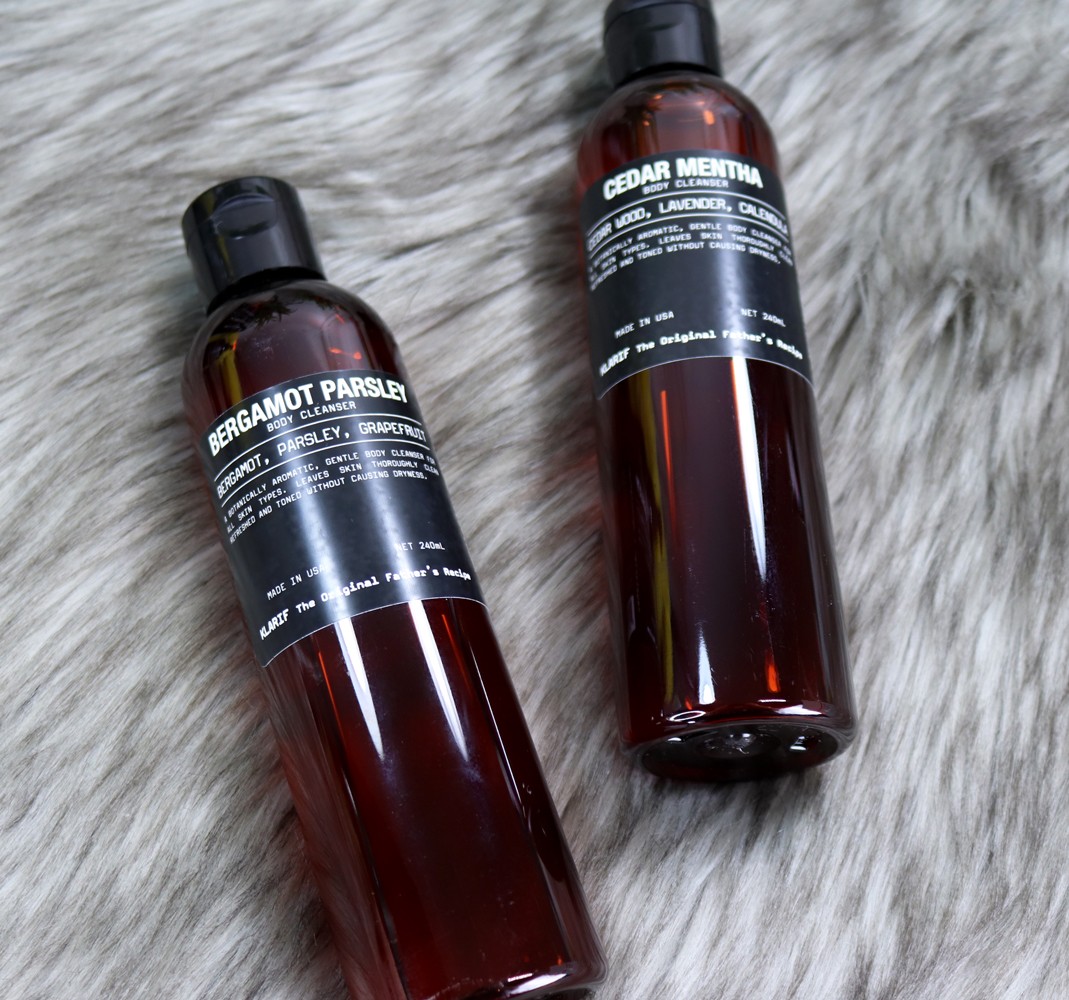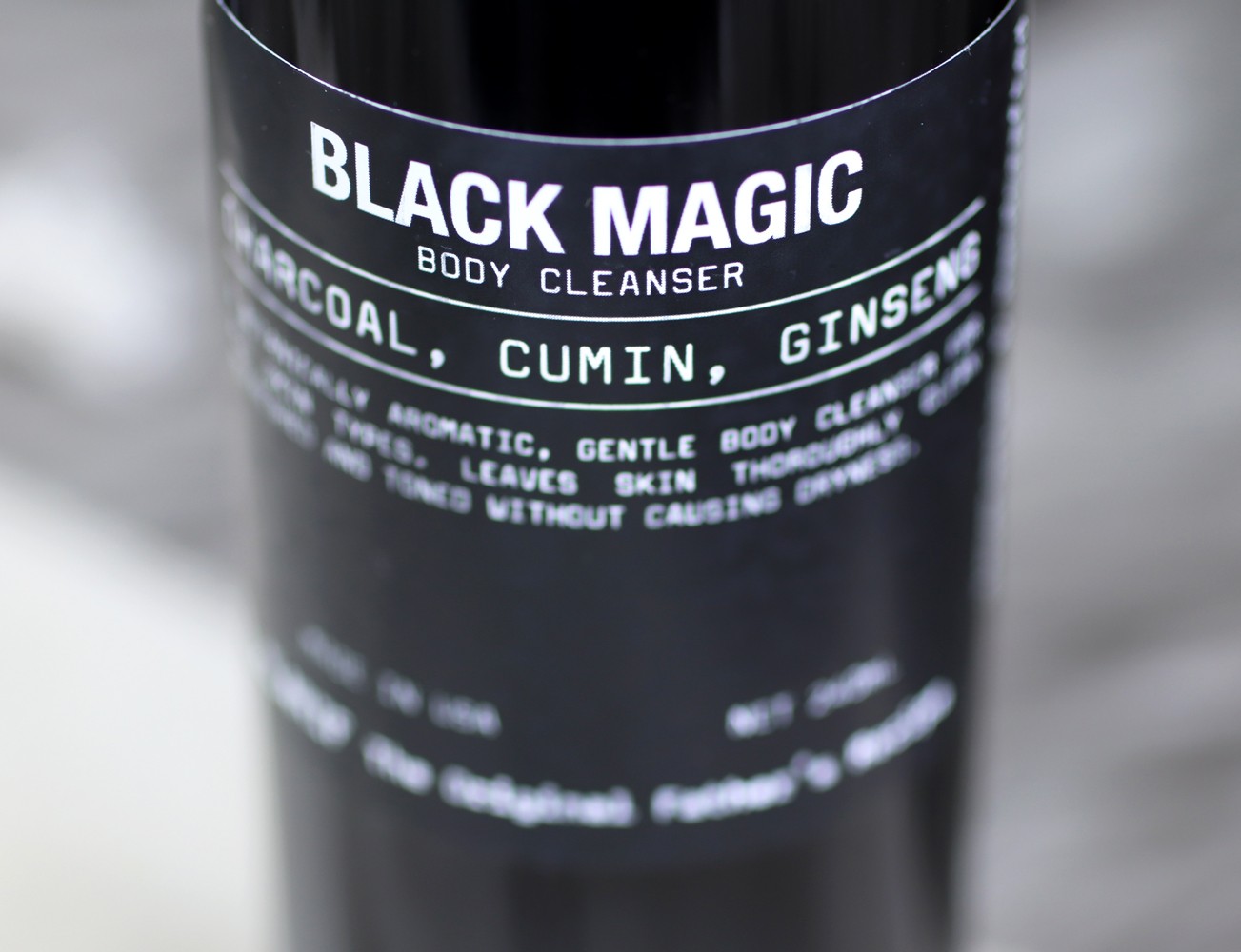 First we need to talk about the cruelty free and vegan body cleansers. When I saw that they had blends with my favorite scent, bergamot, I may or may not have squealed out loud. Luckily I work from home, so I only scared my dog for a second! I tried a few of the body washes, but the Bergamot Parsley Body Cleanser was by far my favorite. Scents are so personal and mostly based on past experiences, but this scent smells like a super clean, hipster hotel (think the Ace Hotel in downtown Los Angeles, which is one of my favorite places in LA). When I smell it, I instantly think of a sexy spa or indoor pool at a fancy, hip hotel. And no it doesn't smell like chlorine or anything weird or pool-related. That's just my association. I don't even know why because the Ace doesn't have a spa like the one I'm picturing! Anyway – the Klarif body cleansers are made with the fermented enzymes from the black cumin seed concoction that I mentioned above. They are infused with organic herbs – this one has bergamot, parsley and anise. I also tried Black Magic (activated charcoal, rosemary, cedwarwood and mint – great for acne prone skin) and Cendar Mentha (cedarwood, spearmint and rose). They are all really nice, and I can say that I'm a huge fan. They are a little bit pricey at $19 for 8 oz, but the amazing scent and natural ingredients are worth it to me. I will be buying more of this cruelty free body wash when I run out!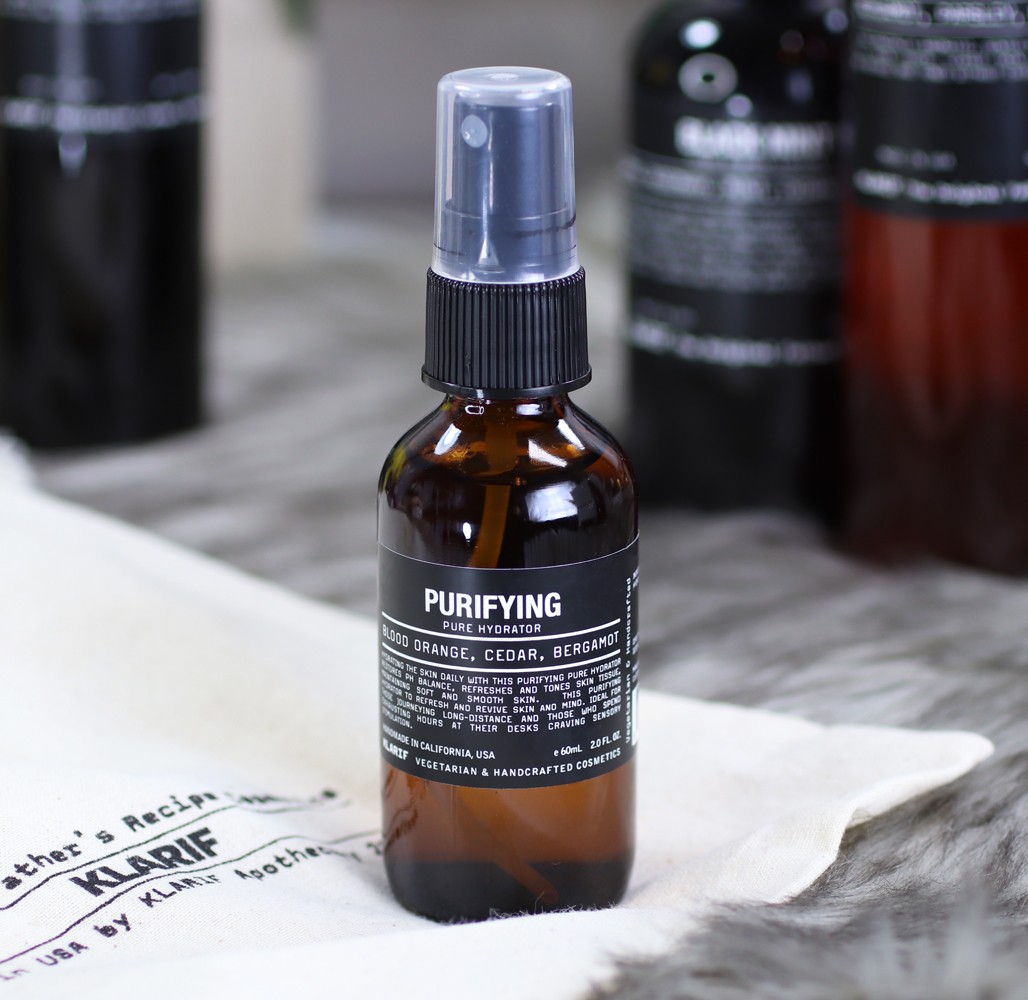 Since you already know I'm obsessed with bergamot, it should come as no surprise that I'm crazy for Klarif's vegan Purifying Hydrator Orange toner. It's made with blood orange hydrosol, cedwarwood hydrosol and bergamot hydrosol. When I spritz it on my skin, I'm instantly in heaven. It smells SO good, and it helps to tone my skin and control oil, while restoring pH and moisture. There's also a rose scent that I need to try next. You can spritz directly on to your face, or on to a cotton round to get a deeper clean. I personally prefer to use it spritzed directly on my face after cleansing.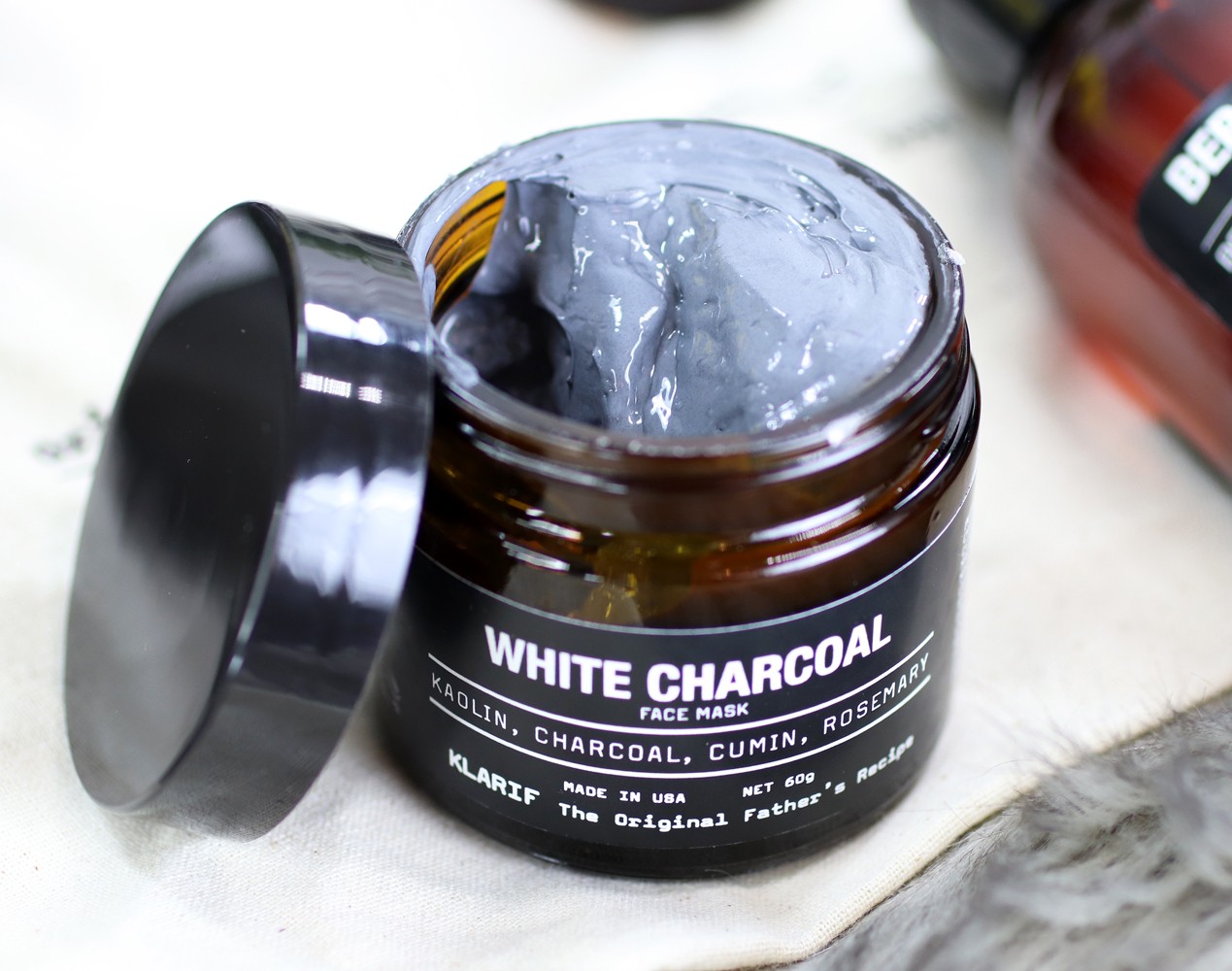 Everyone is obsessed with activated charcoal these days – it's in face masks, toothpaste, and other products. Charcoal absorbs oil, dirt and other unwanted particles and then safely escorts them off the premises (so to speak). I first tried activated charcoal as a health supplement in my 20s. If you have tummy troubles, it works like magic. But, it works SO well, that you don't want to take it with other drugs or supplements, or it can absorb those too. So the idea of using charcoal in skincare is pretty much the same concept – mopping up all the bad stuff and rinsing it off. The Klarif White Charcoal Face Mask is made with kaolin clay, white clay, charcoal powder, zinc, magnesium, copper, black cumin, rosemary, tea tree, mint, and many other natural ingredients, which makes for a great clarifying, vegan face mask. The seaweed ferment that is in a lot of the Klarif products did make me pause, since I've been avoiding seaweed in my skincare because it can be an acne trigger. That being said, it really depends on the TYPE of seaweed and the AMOUNT of seaweed. And so far my experience with the Klarif face masks, is that they leave my skin feeling super soft and clean, and I haven't seen any new breakouts. I use it in the shower with slightly damp skin. It doesn't get hard and crack like other clay masks do, and it doesn't leave my skin feeling dry. My skin feels soft and supple after I use them. Oh and contrary to what you might be thinking, the white charcoal face mask is not actually white – it's a dark grey color.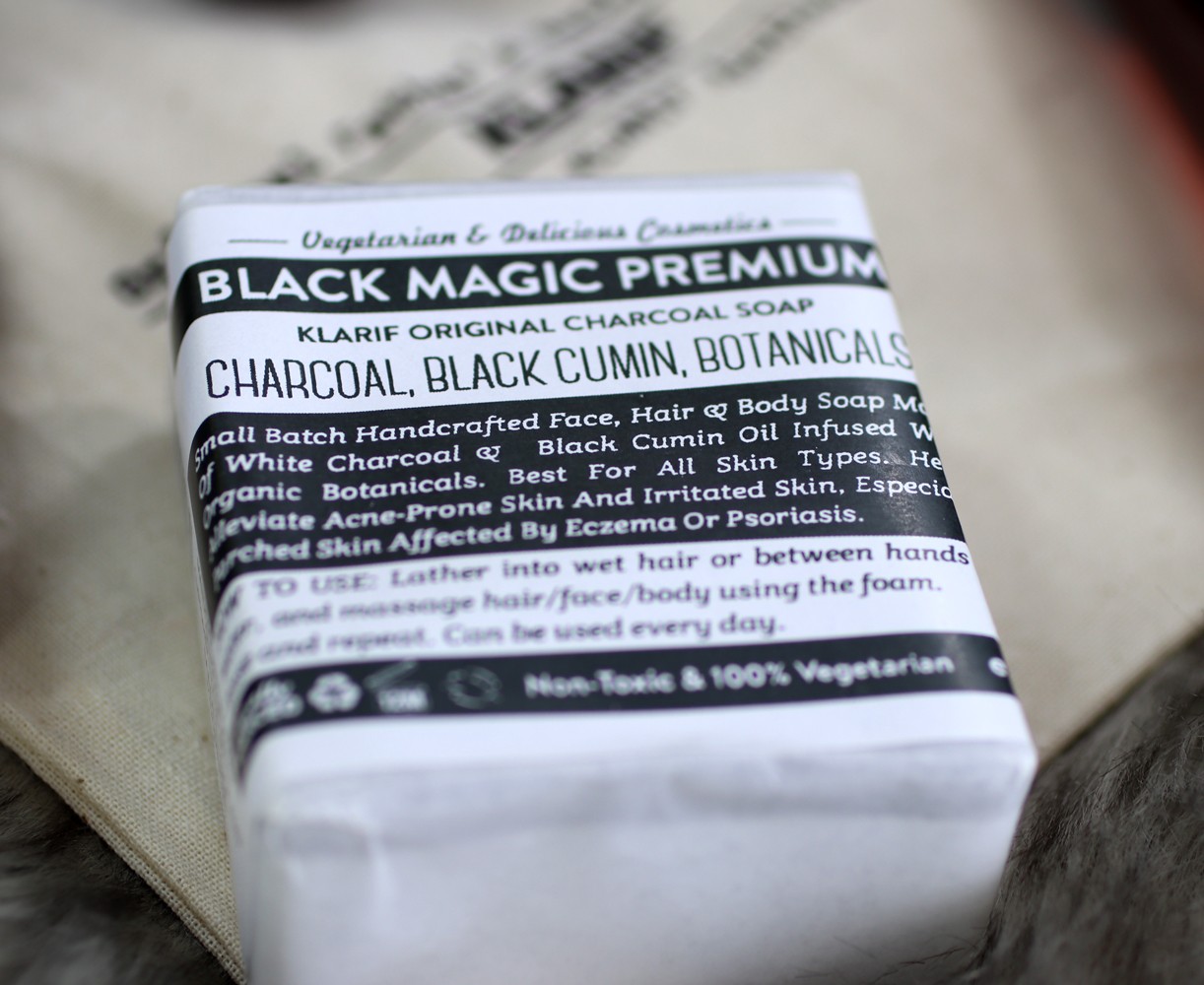 If you're into the charcoal craze, don't miss the Black Magic soap. It's a square-shaped bar soap that you can use on your face, body and hair. It's made with white charcoal, black cumin oil, hemp seed oil and other herbs that can help with acne, eczema, psoriasis and rosacea. It has SO many ingredients, that I can't list them all here. Take a look at the Klarif website and you'll see all kinds of natural extracts in this wonderful vegan soap!
Klarif has several locations that are semi-close to where I live in Los Angeles (Brea, Newport Beach, Anaheim, Mission Viejo, Santa Ana and Temecula), and they seem to be growing fast! I really want to get out to one of these locations soon so I can try more products. I especially want to sniff their perfumes – they're made with rose and vetiver – two of my favorite scents!
Have you tried any Klarif bath and body products? If you could try one product from the line, what would be the first thing you'd try?
All Klarif products are now being formulated to be 100% vegan. I've been told that the old stock of hair conditioners contain silk, but are being reformulated. Everything else is already vegan!