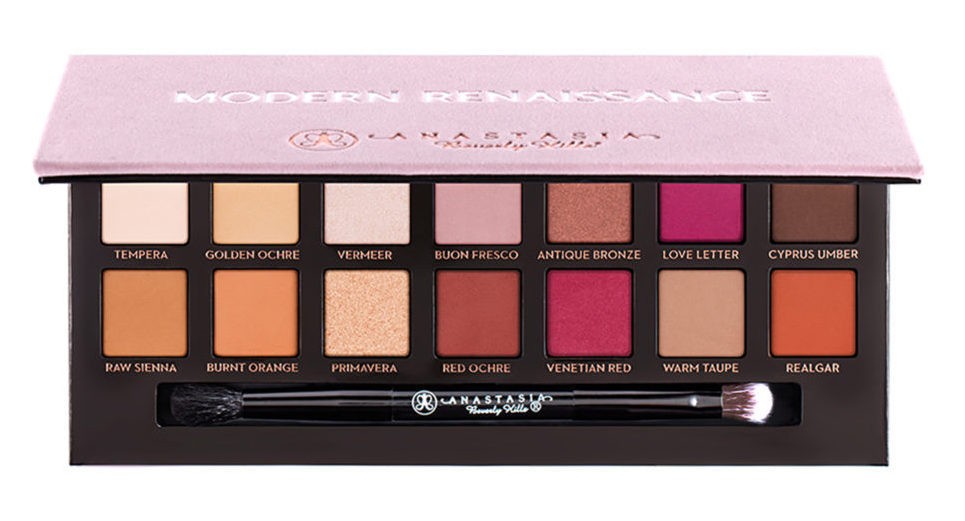 The Lipstick League – week of 2.13.17
Question of the Week: Name a popular, well-loved beauty product that you have yet to try (and tell us why you haven't tried it).
Everyone is always raving about the Anastasia Beverly Hills Modern Renaissance Palette but I haven't snagged one yet! It has such a beautiful selection of warm colors ranging from subtle and natural to bold and unexpected. I love that it includes both matte and metallic shades. My favorite palettes are the ones that include EVERY shade needed to create a variety of looks (including base and transition shades) and this one definitely fits the bill. I don't have a good reason for not trying it yet but I will be picking one up soon!
Note: Not all Lipstick League posts are cruelty free.
My Beauty Bunny – The new NYX Pin Up Pout Lipsticks are just my speed! They are super creamy and pigmented.
Nouveau Cheap – Adorable packaging aside, is the TONYMOLY Magic Food Strawberry Mushroom Sugar Scrub a good facial exfoliator? Here's my verdict.
Phyrra – Sometimes, things just don't work out. I'm keepin' it real and sharing my latest round of Disappointing Beauty Products. Find out what let me down!
Prime Beauty – is helping Lavanila celebrate 10 years! Read her review of some of the brands iconic products!
we heart this – Check out how much drama can you get with a $10 eye shadow palette. (Spoiler alert: very much drama.)
Beauty Junkies Unite – Amber discovered a shampoo and conditioner that will make you want to sniff your hair all day. See what they are! (They're good ones.)
Blushing Noir – It's not often Brooke steps out of her neutral/basic smokey eye comfort zone to pop on a little color – but the ColourPop x Amanda Steele Weekend Warrior Eyeshadow Palette is so stunning it inspired her to do just that!
EauMG – It's Rose Week on EauMG! I've spent the week reviewing 6 fragrances that display different aspects of rose perfumes.
fanserviced-b – Fed up with my husband's dubious gifts on special occasions, I shared some NSFW thoughts on what I planned to eye and buy on Valentine's Day.
Gouldylox – Am I the only one who is noticing this eyeliner trend? Get the look for yourself; it couldn't be easier!
(Wondering what the Lipstick League is? Find out here.)
My Beauty Bunny is Currently Craving: The new Tarte Rainforest of the Sea Skin Twinkle Lighting Palette Vol II, because sometimes we just need a little shimmer and sparkle, right?