NARS Banc de Sable Highlighter Palette Review and Swatches!
Sad update – June 2017 – NARS is no longer cruelty free – the company has decided to sell in China, a country that requires animal testing. Click here for details.
Highlighters are EVERYWHERE these days! Contouring has had its day (not that anyone has stopped highlighting but I guess we've stopped talking about it so much!) and now highlighting and strobing are taking front seats. You might be thinking – do I need another highlighting palette? Well, if it's from NARS, you just might.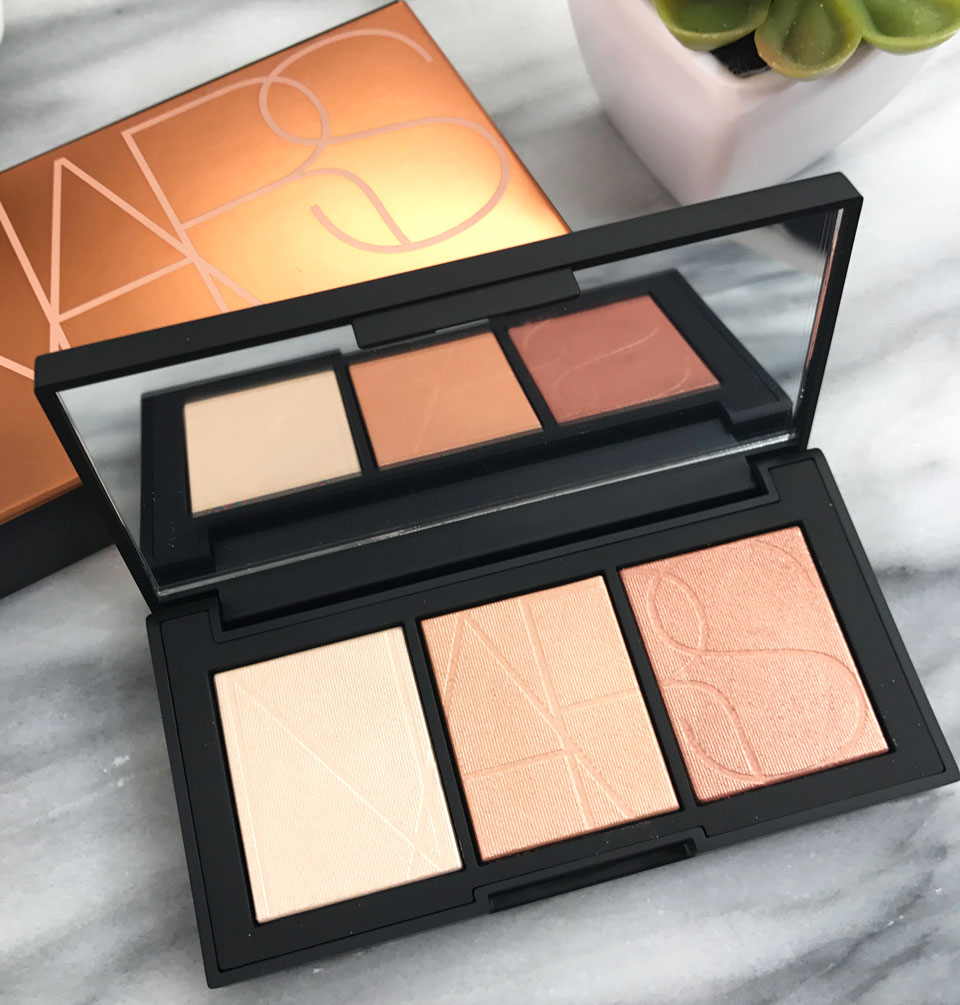 The limited edition NARS Banc de Sable Highlighter Palette has three shades that are all on the warmer side. Rivage is described as a "glistening pearl". It's definitely my favorite pale-girl shade, and I love that it's super pigmented and shimmery, but slightly warm, so it looks a little more natural on my yellow-toned skin. Salé is described as a "shimmery peach champagne" – it's more on the bronzy side, and I'll definitely be taking this one on vacation with me. It will look beautiful with a tan. Embruns is a metallic rose gold. It's definitely too dark for me to ever use it as a highlighter. It would be perfection on darker skin, or (as I'm planning to try) as a shimmery bronzer on tanned skin.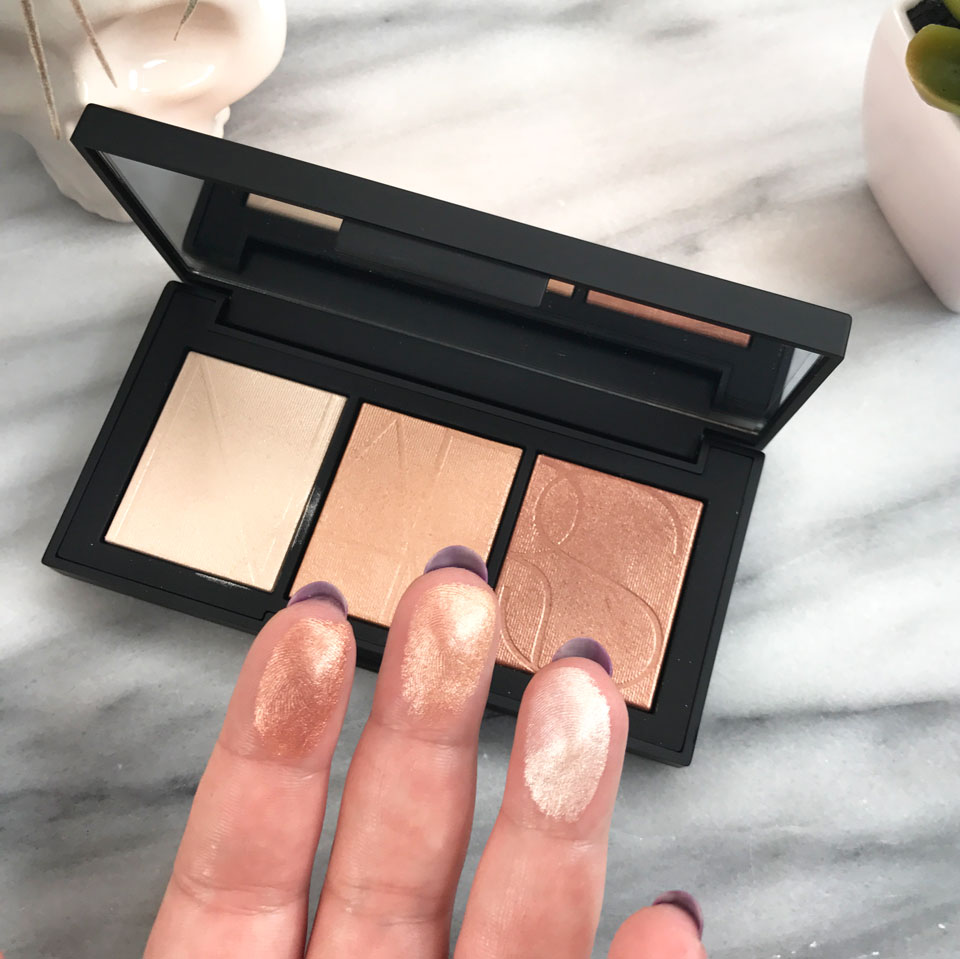 The shimmer and almost metallic finish is no joke. The formula is a happy medium between dry and super buttery. As you can see, I picked up plenty of pigment with my fingertips. The cool thing is that you can use these highlighters wet without messing up the palette. When you wet them, they turn into full blast "highlight to the gods" worthy shimmers! I don't need that much shimmer in my life because my oily skin makes it's own! So dry is perfect for me – I apply with my fingers to get a bit more product on the tops of my cheekbones, under my brows, and on the tip of my nose.
Here are some NARS Banc de Sable swatches dry and wet – in direct sunlight – so you can see that glow!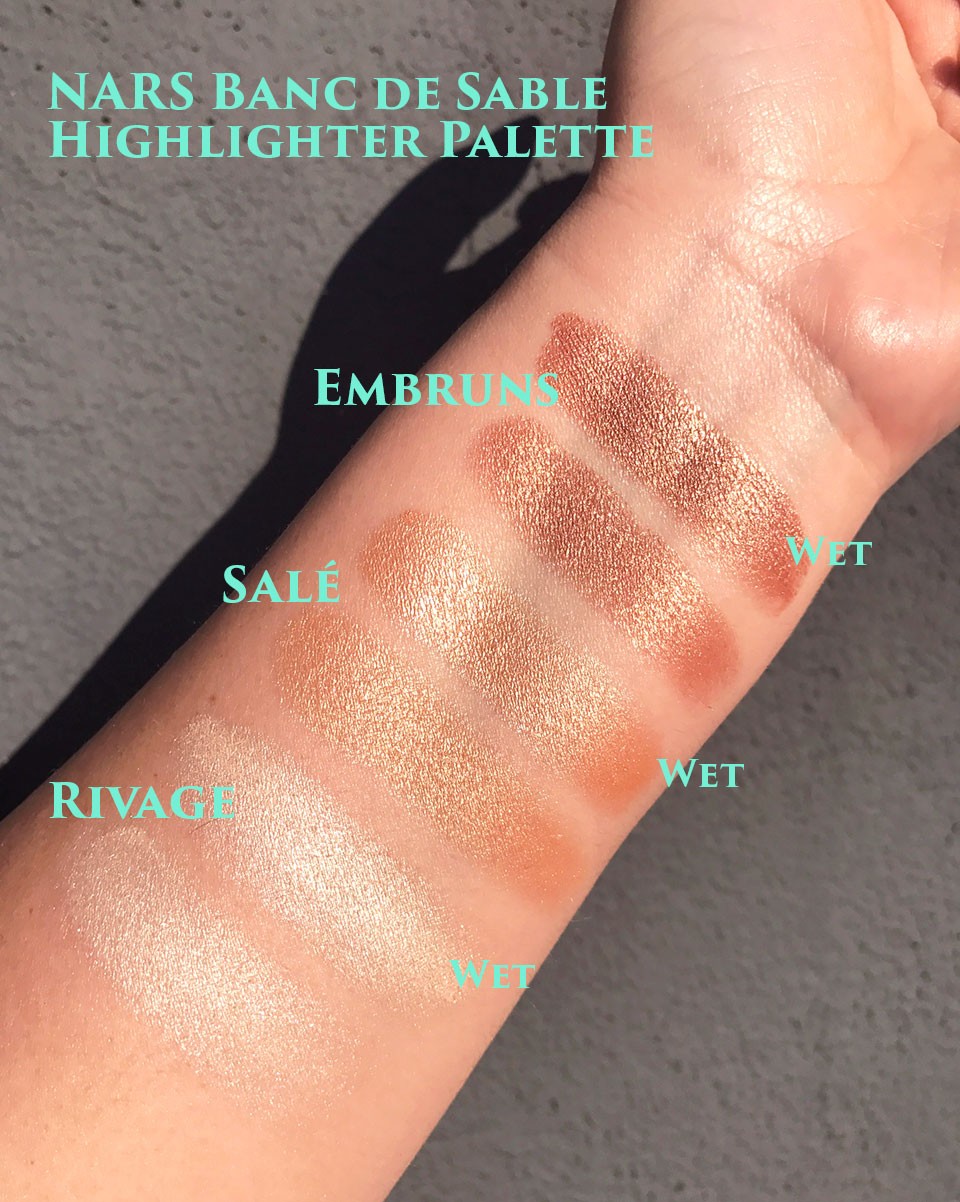 And here's how they look in indirect light:
I have also been using this palette as eyeshadow. Who said you can only use these on your face? They are perfect for eyes too. The warm, earthy shades make perfect eyeshadow colors – alone or as a standout highlight under your brows or in the center of your finished eye looks.
I have to say – this is one of my favorite highlight palettes so far (and I've tried plenty). I'm definitely keeping this in heavy rotation, and I plan to bring it on my trip to Hawaii next month! You can find the Banc de Sable highlighter palette at Sephora, but hurry – it's a limited edition item.