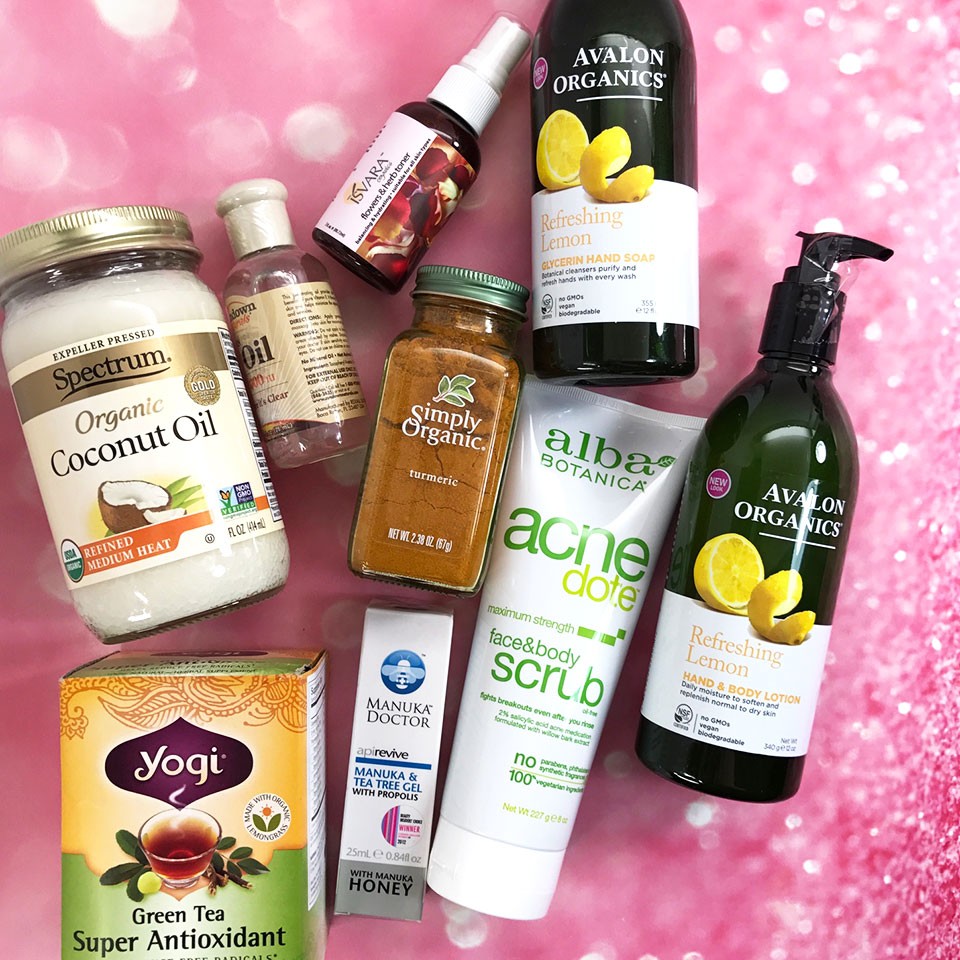 DIY Face Mask and iHerb Haul!
(This blog post is written in collaboration with iHerb. All opinions are my own. And I have lots of them!)
I have been shopping online at iHerb.com for what feels like forever! Many, many years. Mainly because they have a huge selection and their prices are really good. I told you guys recently about my fool-proof immune system booster (as I mentioned in the article – I often buy the Cat's Claw at iHerb!). Today I want to share a recent haul and something you can make in your kitchen – a DIY face mask.
I did some shopping in the beauty section of iHerb to restock some of my faves and try a couple of new cruelty free products. First, I got the Avalon Organics Refreshing Lemon Hand & Body Lotion and Glycerin Hand Soap. I LOVE the scent of sugared lemons! Not only do these smell amazing, they are made with 70% organic content, including natural lemon, lime, orange and grapefruit essential oils, aloe, chamomile, calendula and plant lipids to moisturize skin. They are made with no parabens, harsh preservatives, synthetic colors or fragrances, phthalates, sodium lauryl or laureth sulfate.
Next, I picked up Alba Botanica Acnedote Face & Body Scrub. This scrub is one of my all time favorites. It's perfect for my acne-prone face and back, but it's also great for removing rough, dry spots on other areas of my body. The active ingredient is 2% salicylic acid, which helps to fight acne and remove dry skin. Walnut shell powder gives it the healthy scrub action, and licorice root helps to brighten old acne marks. Because of the high aloe vera content, it doesn't make my skin feel dry like other acne washes do. The added peppermint oil gives it a nice cooling sensation. I have sensitive skin and this scrub is perfect – no reactions at all!
I wanted to try something new, so I got the Manuka Doctor Aperivive Manuka and Tea Tree Gel. You guys know I'm obsessed with the anti-microbial properties of manuka honey (second best thing to come out of New Zealand since Flight of the Conchords!). Well, this gel is a really nice, non-sticky blend of manuka honey, propolis and tea tree oil, which makes for the ideal natural acne spot treatment. Applying honey directly to your skin at night would make for one sticky pillow in the morning – not good!
I also chose the Isavara Organics Flowers & Herb Toner, because, as the name suggests, it's literally just witch hazel mixed with flowers and herbs! You can't get much more natural than that! It's made with organic rose petals, organic chamomile flowers, organic lavender flowers, organic linden leaf and flowers, jasmine flowers, and geranium, frankincense, myrrh and lemon essential oils. It smells lovely, and it's super hydrating and calming to my skin. It's nice to spritz on throughout the day for a pick me up, or right after cleansing and before moisturizing morning and night.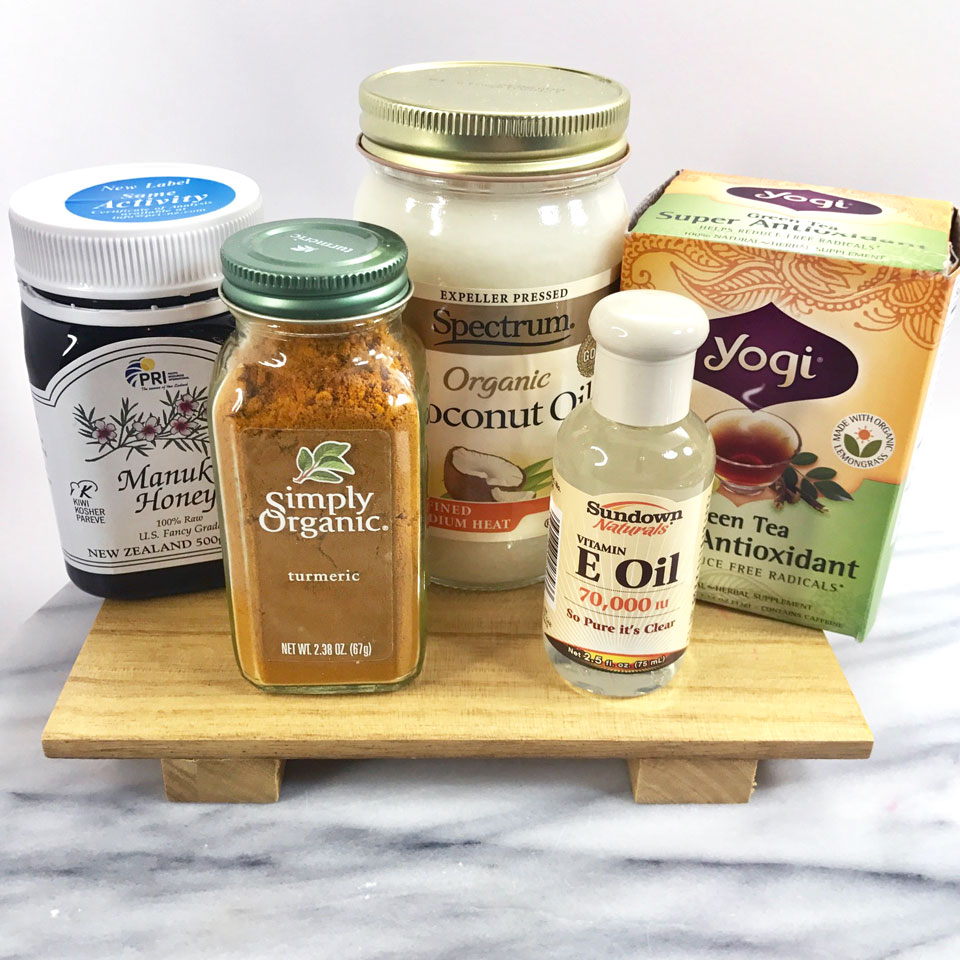 So now, let's move on to the DIY face mask! Making your own natural beauty products is fun, and it's a great way to save money and avoid the toxic stuff that shows up in a lot of beauty products. You can find these ingredients and other food items (organic, without GMOs, paraben-free, toxin-free) at iHerb.com.
This face mask is easy to make, and it is perfect for all skin types – from super oily, sensitive and acne-prone (like mine) to dry, mature or damaged skin.
Ingredients:
Green Tea
Manuka honey (optional)
Vitamin E oil
Coconut oil
Turmeric (optional)
Instructions:
First heat about 1/4 cup of water to near boiling (I use a 900 watt microwave and heat for about 2 minutes).
Add a green tea bag to your cup of water. I like Yogi Tea Green Tea Super Antioxidant for drinking of course, but it's also perfect for this facial mask recipe because it's got added herbs that are full of antioxidants and other nutrients (grapeseed extract, amla extract, jasmine, burdock root, dandelion, irish  moss, alfalfa leaf, lemongrass and licorice root). I love the licorice root for brightening and reducing the look of red and brown spots.
Let it steep for about 60 seconds and then add a tablespoon of manuka honey. This is optional if you're vegan or allergic to honey. I love PRI manuka honey in my tea, and it's also perfect for hydrating skin and killing bacteria. This ingredient is perfect for acne-sufferers like myself.
Next, add a tablespoon of coconut oil (I'm using Spectrum organic coconut oil). I think everyone knows how great coconut oil is for all skin types. It helps with dry or oily skin, and doesn't clog pores – especially if you use it as a rinse-off mask instead of a moisturizer. If your skin is over-producing sebum because you keep drying it out with acne medication, this will help! It's also a natural bacteria killer.
Next, add a teaspoon of Vitamin E oil. I'm using a very concentrated version – Sundown Naturals Vitamin E Oil 70,000 IU. Because it's so concentrated, it has major skin healing and moisturizing properties. But it's also very sticky (like honey), so dissolving it in your face mask will help it apply easily (I also use it as a spot treatment at night to heal acne spots). There's no mineral oil or anything in the Sundown Naturals Vit E oil – just pure Vitamin E!
Finally, add a teaspoon of turmeric. I'm using Simply Organic Turmeric, which is organic (hence the name!) and very inexpensive. So, here's the deal with turmeric – it's a great antioxidant and is really great at reducing inflammation (which is a major issue for those with acne). BUT – it will stain! You want to be careful not to get it on any clothing or nice towels. And it will stain your face unless you follow the mask with a good face wash or scrub. It's so good for your skin, but if you have to go somewhere right after your mask, you might want to save it for cooking instead!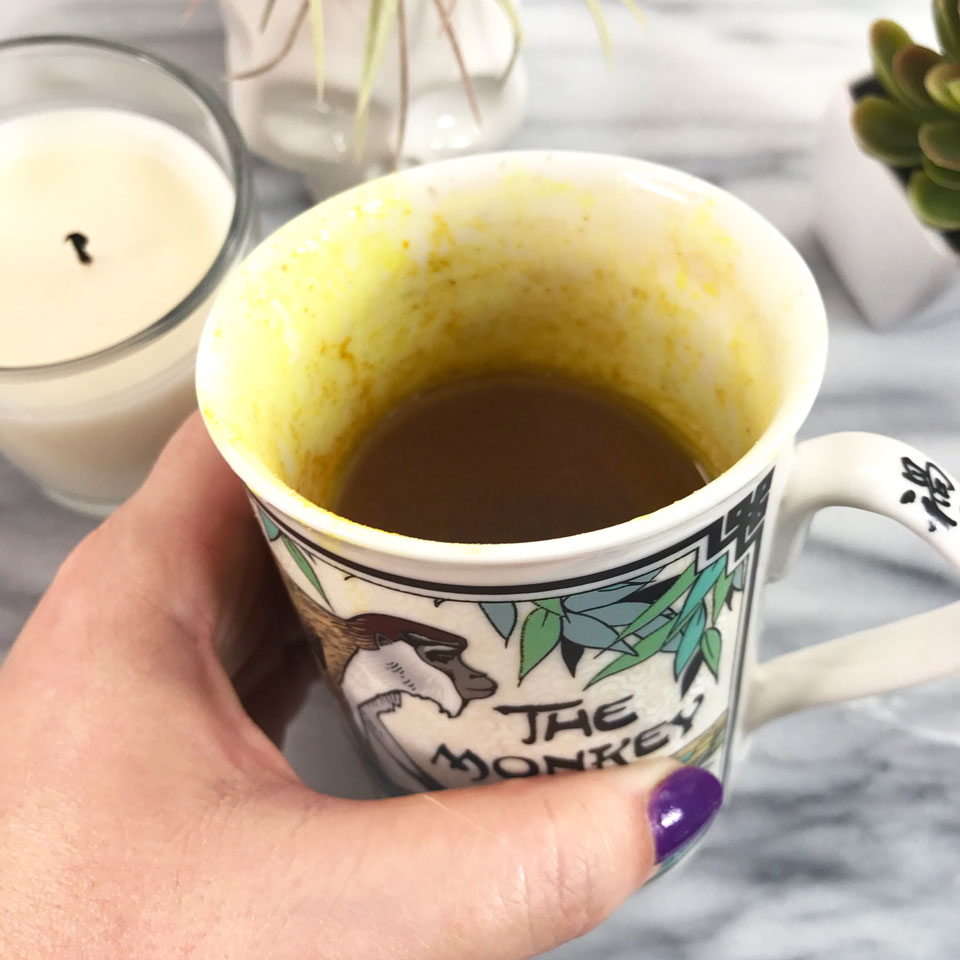 When you're done mixing all the ingredients, let it cool for an hour or two. Don't put it in the fridge, or it could harden up and then you'd need to heat it up again. It's not going to be pretty, but your skin will thank you for it! You may have to add more of the thicker ingredients (honey, coconut oil, Vit E oil) if it's too watery. Mine came out as a sort of watery paste that I was able to apply with my fingertips. I left mine on during my workout for about 45 minutes (mostly to test it for you guys – to make sure it wouldn't stain my face and make me yellow forever!), but you only need to leave it on for 15 minutes or so. And voila! Happy skin face mask!
You can pick up all these products and mask ingredients at iHerb.com. As I mentioned before, I've been a customer for YEARS and I find that they pretty much always have what I'm looking for. They sell over 35,000 products, so I mean – if you need it, they most likely have it! Plus, they ship to over 160 countries. iHerb is also a Google trusted store and you can talk to customer service in 10 different languages. Pretty impressive! If you're a new customer, click here to get $5 0ff your first order.
Want more? We have plenty more DIY recipes for ya!
DIY Skin Scrub Recipes for Dry Skin 
DIY Face Mask Recipes for Dry Skin