Cruelty Free Natural Skincare by Nyakio
I appreciate when brands take the initiative to use natural ingredients into their products instead of going mostly synthetic. For ages, people have found treasures that come straight from the earth that work so effectively that they are passed down through the ages to be used by each generation. Nyakio is a new brand on the market that prides itself on it's hand-made products using ethically & sustainably sourced natural ingredients from around the globe.
All Nyakio products are cruelty free, and made without sulfates, parabens or petroleum based ingredients. Each featured ingredient in each product was carefully chosen by the founder (Nyakio Kamoche Greico) because of their long standing history of use in different cultures found in China, Kenya, Mali and Egypt.  Since I've always been a fan of going back to to basics, I gladly accepted the opportunity to try out some of their goodies and see if they fit the bill for my skincare routine.
A very important part of my skincare routine is exfoliation. I do it on the daily! My skin loves a good scrub and NEEDS it so that 1) it readily absorbs other products well and 2) feels smooth to the touch. My lips are always fluctuating from perfectly moisturized to flaky mess, so a good lip scrub was in order. The Nyakio Lip Polish uses crushed kenyan coffee in castor oil and shea butter to exfoliate and smooth while leaving lips hydrated. I just squeeze some right onto my lips and mash together for a minute or so, wipe and voila. Flake free lips ready for liquid lipstick application!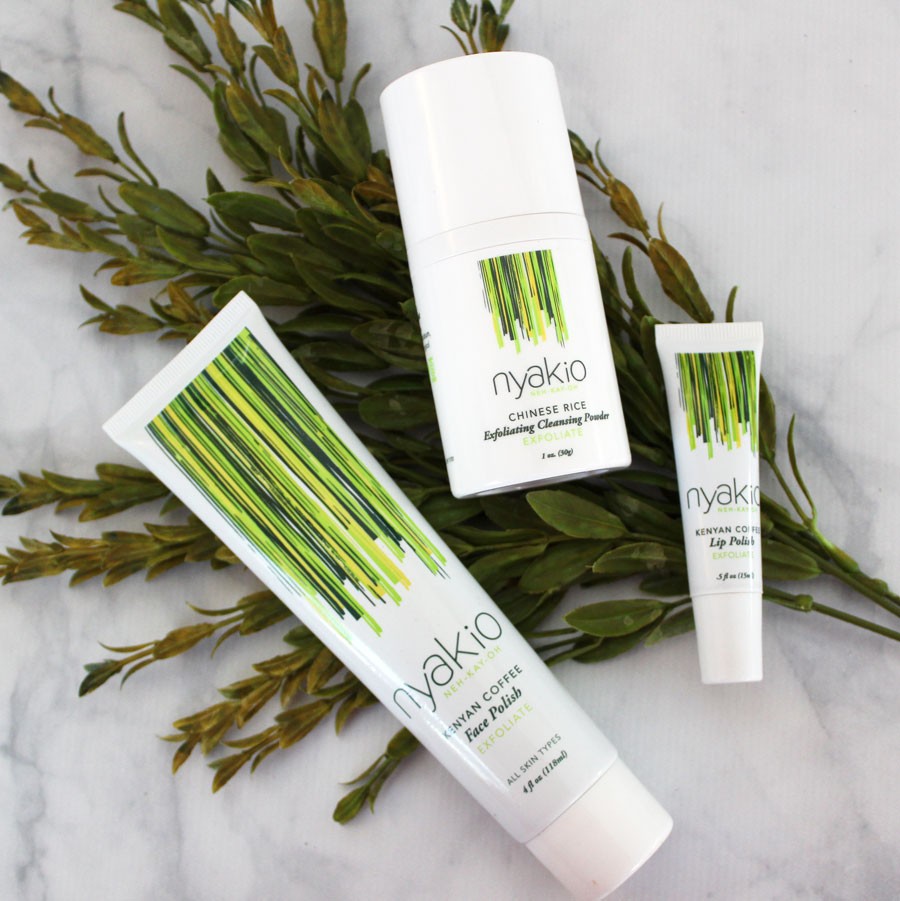 I also got two different types of facial exfoliators. I was actually surprised how I felt about each of these because the one I thought I wouldn't be as excited about, was the one I reach for the most! I really love those exfoliating powders that you can use with water or mix into your cleanser and NyaKio has one; their Exfoliating Cleansing powder. I found this one provided mild exfoliation and probably would be better for those with sensitive skin. The granules are a bit fine for my taste and I ended up using the Nyakio Kenyan Coffee Face Polish much more in the mornings. This one is more of a jelly paste that gives a good scrub! It says to use only 3-4 times a week but I been using it every morning and really like it!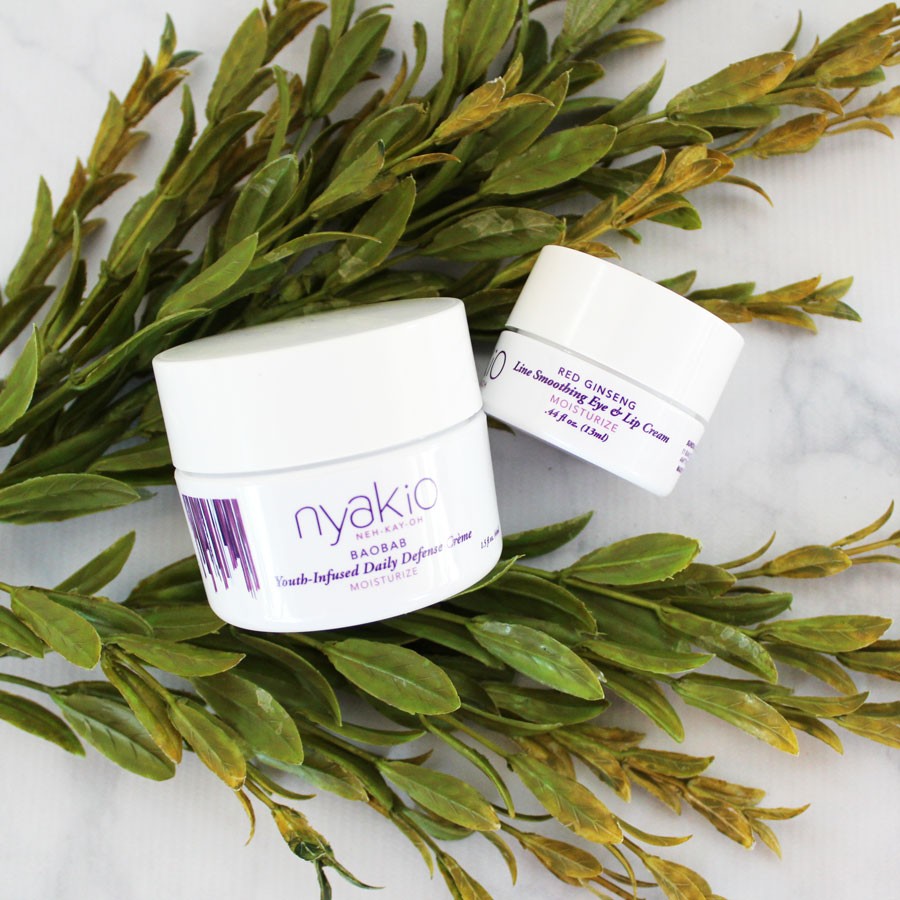 After exfoliating and applying serums and oils, I always follow moisturizers. Nyakio Youth-Infused Daily Defense creme is lightweight in feel, but rich in omegas derived from the superfruit baobab tree. I use so little of this creme but feel like my skin is deeply hydrated with such a small around. I like to use this creme in the mornings while in the PM I give my lips and eye area a bit more attention and care with the Line Smoothing Eye & Lip Creme. I like that it's a creme that can be used on the lips since I feel like it stays better. I use such a little amount that this jar will last me quite a bit of time so you definitely get more bang for your buck.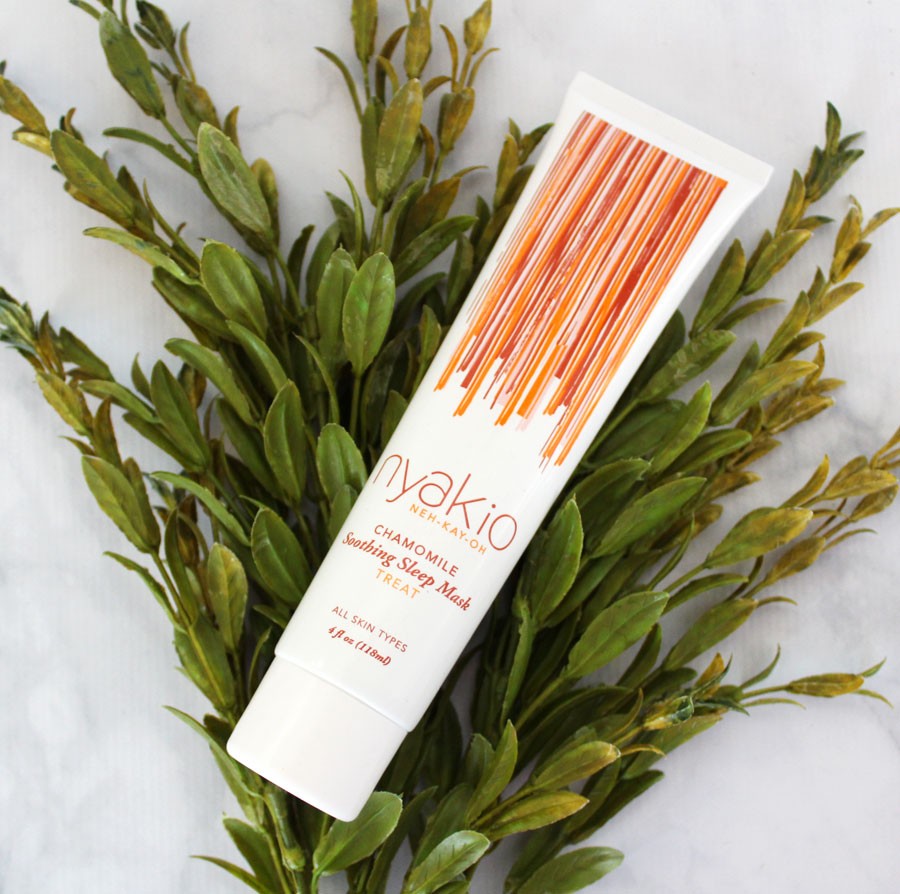 I've heard about sleeping masks but never tried one so I was excited that Nyakio has a Chamomile Soothing Sleep mask that I can try. I used chamomile based products for my baby when she was little to soothe her skin so I knew this was a great option when I did a good scrub one night. Chamomile, Calendula and Aloe vera leave your skin feeling extra soft and hydrated by the morning. I love that this mask didn't feel heavy and leave you feeling like you had a traditional mask on. You just apply like a moisturizer and go on about your business.
Out of everything I'd say that the Kenyan Coffee Face Polish and Chamomile Soothing Sleep mask are repeat purchase contenders. They were the two items I used the most, even though I always keep several options handy.
You can find the entire Nyakio line available via ULTA stores and ULTA online. The products are mid-range in price, listing between $22-$50 depending on the product. To find out more about the brand you can follow them on Facebook or Instagram.