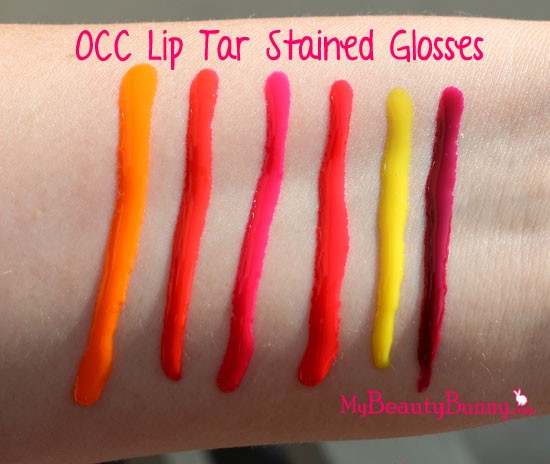 Obsessive Compulsive Cosmetics is one of my all-time favorite cruelty free brands. Not only are they cruelty free and vegan – they are PROUD of it! Every product announces their animal-friendly status – right on the front (prime real estate for a beauty product).
Now, you guys know I'm addicted to Lip Tars. The new OCC Lip Tar Stained Glosses are going to be a huge hit for a lot of people, but I still prefer the opaque finish of a regular Lip Tar. I'm the only person I know who doesn't love lip glosses in general. As you can probably imagine, these glosses have much more pigment than traditional glosses. They have some stain action, so you can wear them sheer, or pile on the color. They offer a lot more moisture than a traditional Lip Tar, so I am going to experiment with layering them over Lip Tars and other lipsticks.
Each Stained Gloss comes in a little pouch with a how-to guide and an application brush. You don't NEED the brush, but it does help – especially with the darker/more pigmented colors.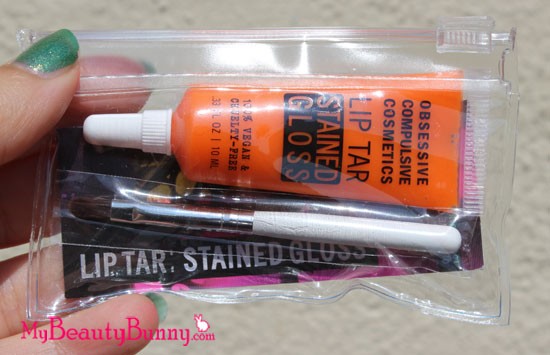 Here are the colors and lip swatches:
Androgyne – sheer, bright orange
Jealous – sheer, bright coral
New Wave – bright, blue-toned pink
Meta – bright true red
Voyeur – sheer yellow
Rhythm Box – bright plum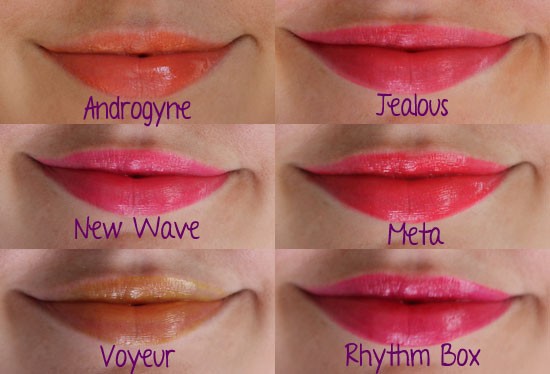 I love orange lippies, so I'll probably wear Androgyne alone or over another color. Out of the pinks/reds, Meta is my fave. It seems to have the most pigment and the most warmth of all the shades. Rhythm Box is not a color I'd normally wear, but I think I can rock it. Voyeur pretty much makes me look like I have jaundice. Like many OCC creations, I think this one is meant to be mixed with other colors. I think it could look cool layered over a gold lipstick.
What do you think? Would you buy these? Which is your fave?