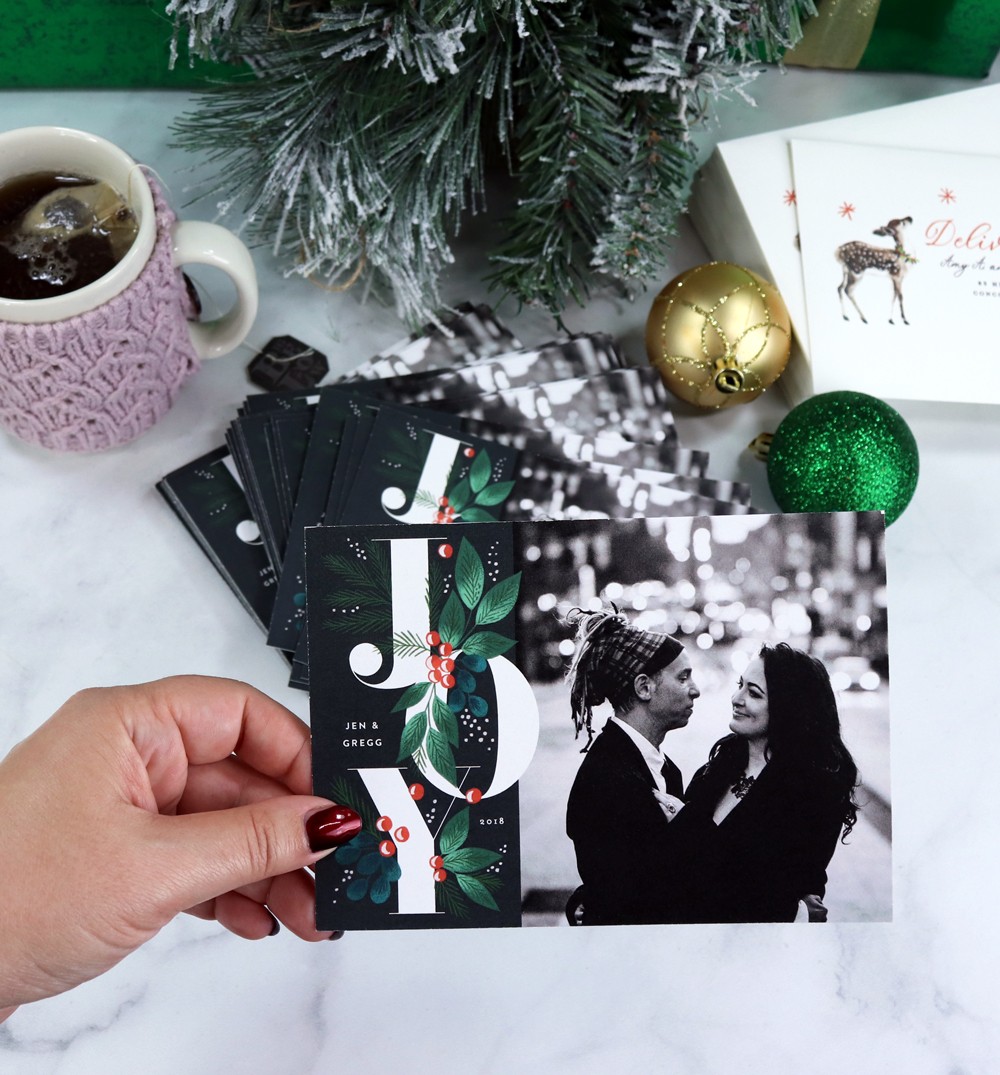 Sending Out my Minted Holiday Cards!
This post is sponsored by Minted.
I haven't sent out holiday cards to friends and family in forever! I've done it once or twice before, but never on a regular basis. I just got married in October, and we have professional photos from our destination wedding in Edinburgh, Scotland, so it seemed like a good time to send them out. I saw a lot of my friends were using Minted holiday cards, so I decided to try them.
I'll be honest though – the MAIN reason I never want to send out holiday cards is because I HATE writing! Let me clarify – I love typing, and I love sharing things (that's why I'm a blogger!), but my actual handwriting has atrophied over the years. I spend so much time typing or using my thumbs to text, that I no longer have the muscle memory to write. It literally hurts to write more than my name, and it feels like my hands no longer listen to my brain. My brain is like, "hey hand – write out this letter M please." And my hand is like, "Nah – we're gonna do this weird squiggle instead. Sucks that you messed up your card – guess you're gonna have to start over!"
I spent a loooooong time sending out thank you cards for wedding gifts and of course, I had to write them out by hand. My wrists and fingers still hurt! And my husband, Gregg's, handwriting is even worse than mine. It's pretty illegible, or at least that's what he says to get out of writing thank you cards. Hmmm… Anyway, that's why I was so excited when I saw that Minted not only lets you customize your holiday cards with photos and a message, they also PRINT YOUR ADDRESSES for you! Yes seriously – you just upload your holiday card list and they custom print your return address and recipient addresses on each envelope. So essentially, all you have to do is put the card in the envelope and throw a stamp on it. Even I can handle that!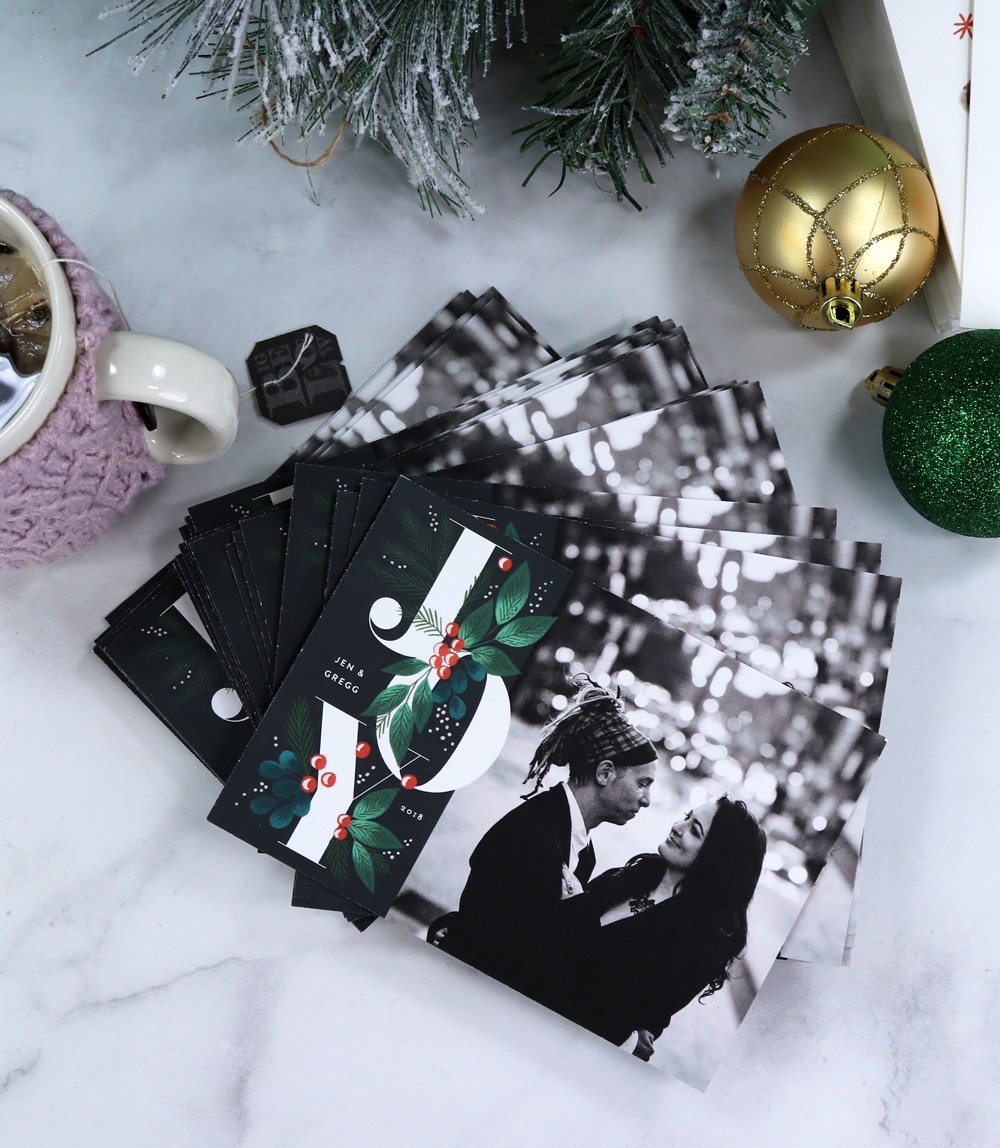 When I went to the Minted website, I saw hundreds of options for holiday card designs. And they were created by independent artists, which was kind of neat. I spent a lot of time uploading photos into each design until I realized that you can literally upload a few images and then search the site using your own images. So it essentially auto-populates your photos into the thumbnail designs as you browse. Learn from me and do that the first time so you can pick your card design easily! Just click at the top where it says "Use my photo."
After testing out many options, we went with these evergreen "Joy Letter Foliage Holiday Petite Cards" by Alethea and Ruth. I put one of our favorite black and white, pre-wedding shoot photos from Edinburgh on the front, and four color images from the wedding, along with a holiday and happy new year message, on the back. Oh – and those addressed envelopes I mentioned? You can even choose an adorable design to be printed along with the mailing addresses. I got the super cute holiday deer design. I just love it! You can also design your own stamps to match the design, but we decided to go with regular ones.
As of this writing, they are offering free rush shipping when you use their express service (which is what I did). It's not too late to get your Christmas cards out there! But, they also have New Year's cards, which is a fun idea. And there are lots of great holiday gift ideas (framed photos, notebooks, calendars, etc). I may purchase some framed photo collages with wedding photos for my family soon. Unfortunately, I don't have high resolution wedding photos back from my photographer just yet (any day now!), so those will have to wait. If you're engaged, check out their wedding invitations and thank you cards. And if you have kids, they have some great birthday and event invitation designs.