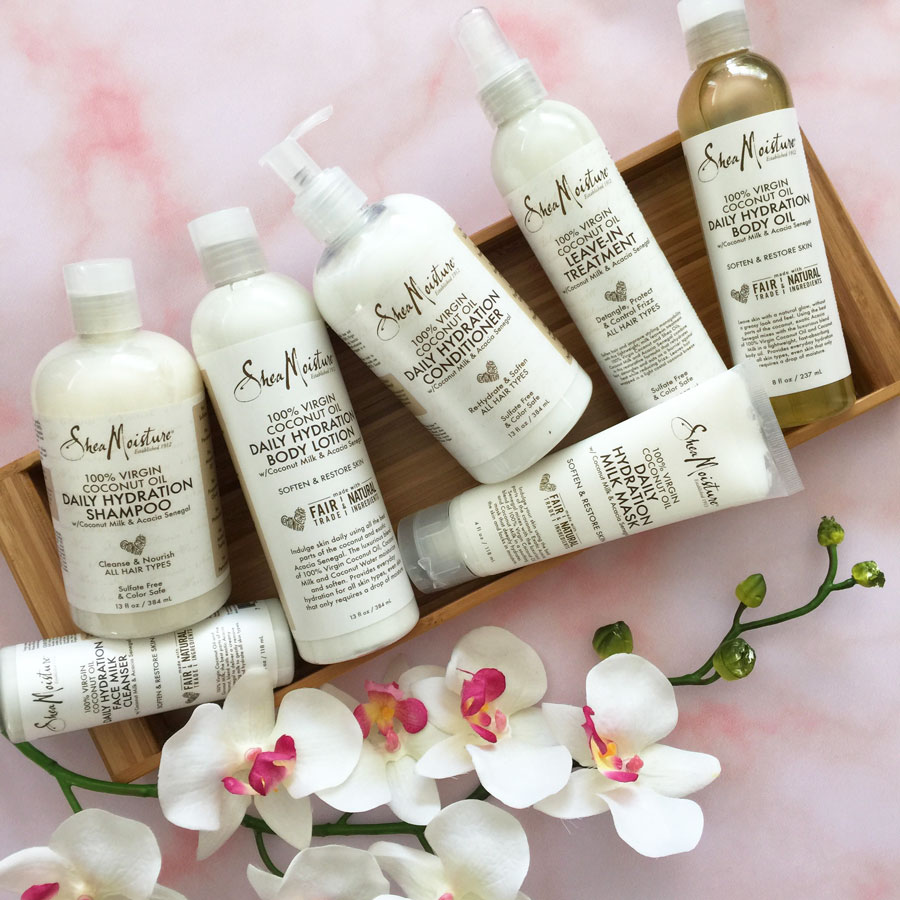 SheaMoisture Coconut Oil Skincare
Coconut oil is one of those things that has gained a lot of attention for all it's skin-loving benefits. I've always been a fan of using it straight from the tub, but when I found out that cruelty free brand SheaMoisture created a line using the miraculous ingredient, I couldn't resist asking to give it a try. I have a serious thing for anything coconut so getting my hands on a line that could be used daily was enticing to me. You're talking to a coconut fiend here!
The SheaMoisture 100% Virgin Coconut Oil Daily Hydration collection promotes healthy and balanced hair and skin with it's lightweight, daily-use formulas. The star ingredient is 100% virgin coconut oil (the best kind to use), coconut milk which conditions and soothes, organic raw shea butter which deeply moisturizes and Acacia Senegal (also known as gum acacia) that helps seal in moisture. Together, these key ingredients make for a fabulous blend that provides the much needed hydration and replenishment our hair and skin need to look great.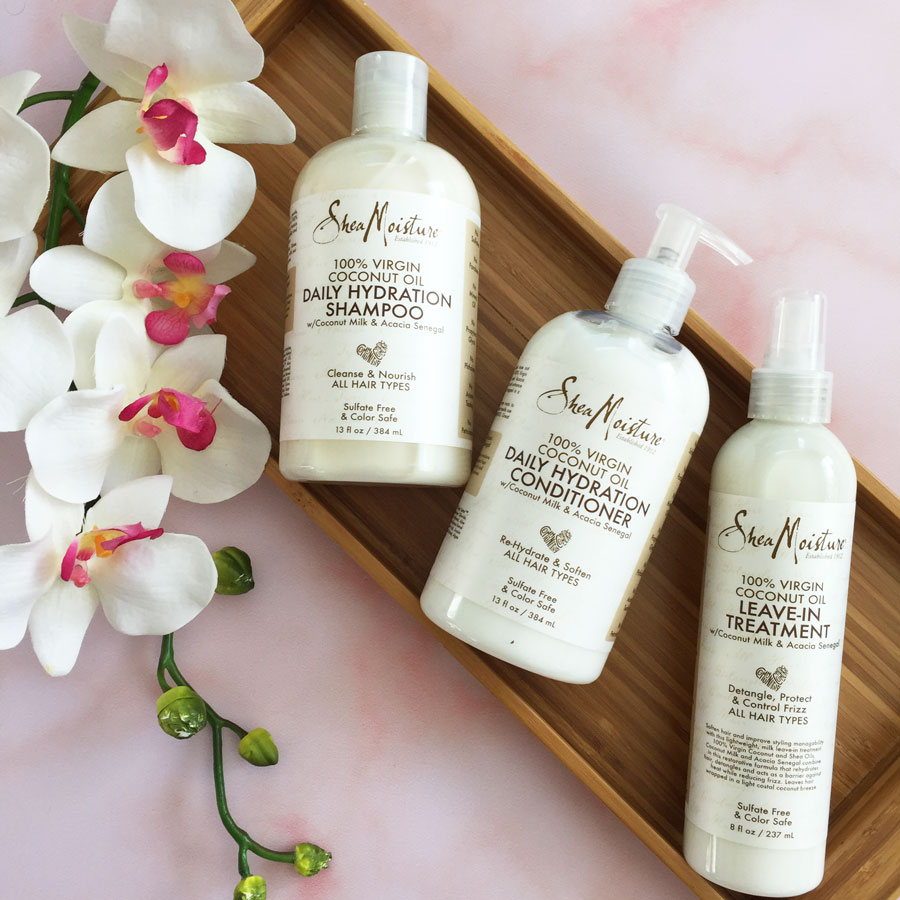 I have fine hair and as much as I love coconut oil, I've never done a coconut oil hair treatment because it's simply too heavy for my hair. But the Daily Hydration Shampoo and Conditioner works for all hair types, leaving it hydrated, smooth, and never weighed down. On days where I want to give my hair a little extra treat or need some help combing through, I spritz on the Daily Hydration Leave-In Conditioner. I even use this to help smooth out my pony tails for a sleek, clean finish. They also have a silicone free Daily Hydration Finishing Serum that would work great for the same reason, and can add a little more gloss to your strands.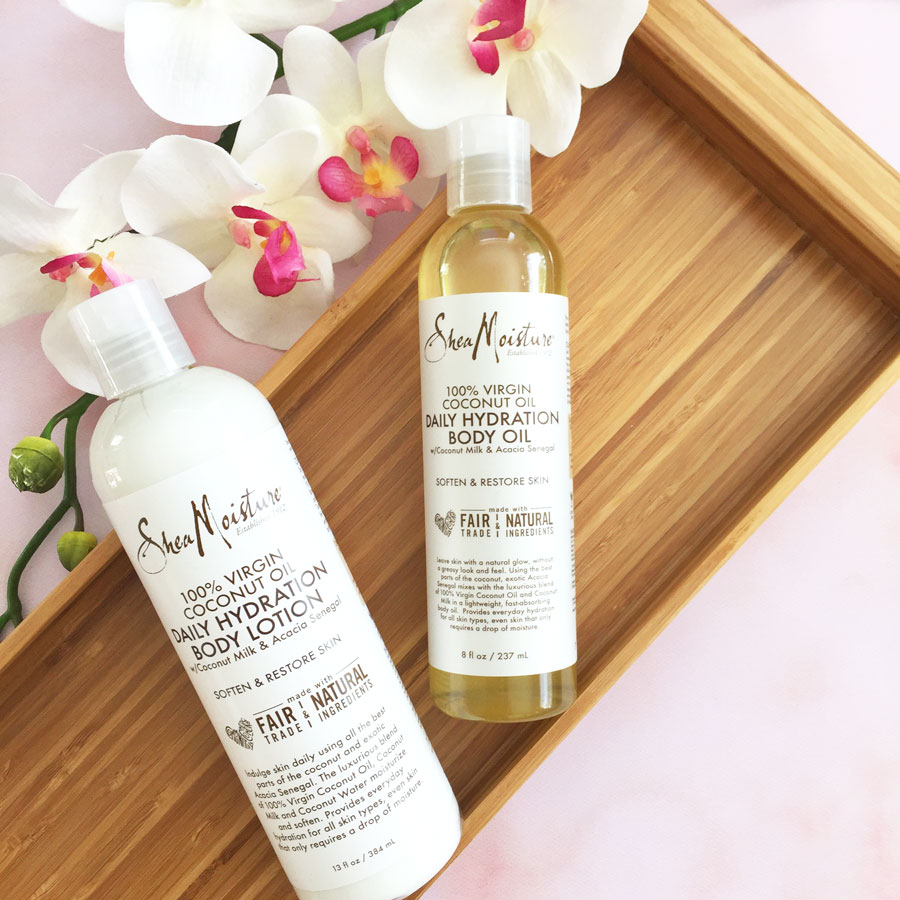 After my shower I always make sure to use a lotion and sometimes an oil to lock in moisture on damp skin. The Daily Hydrating Body Lotion and Body Oil smell fantastic and leave my skin feeling wonderful. None of the products have an overpowering artificial scent, just a pure, light coconut that my husband and I love. The lotion is thick, but spreads easily and absorbs quickly.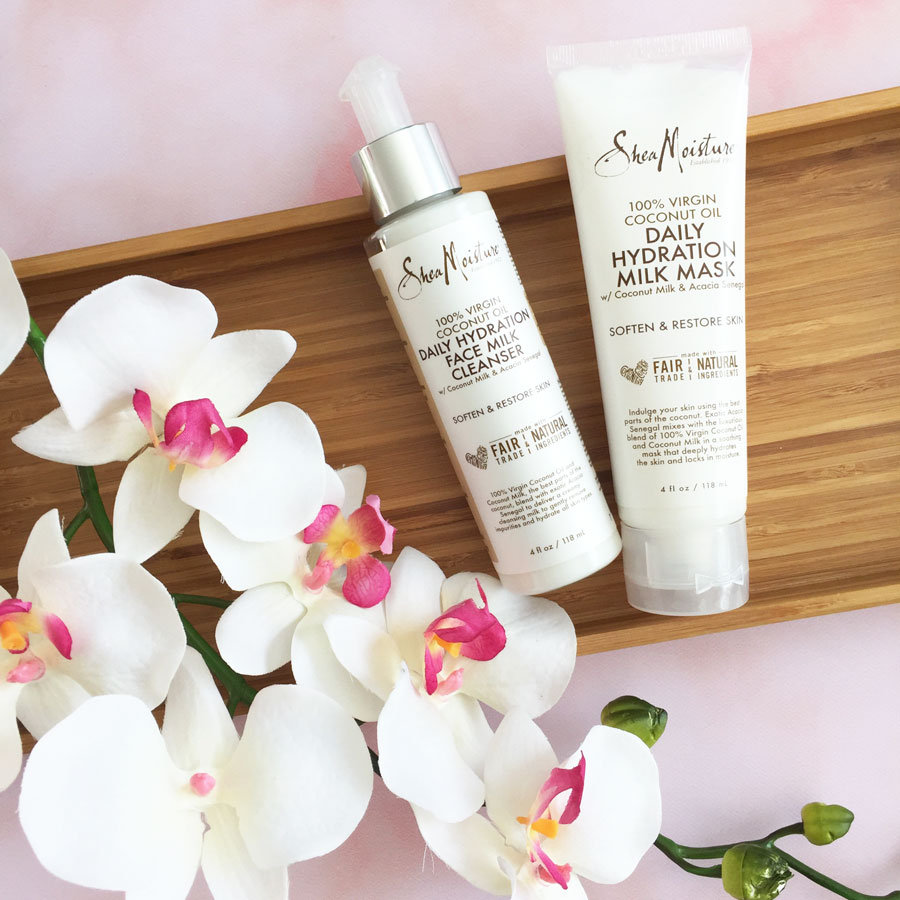 Now that I'm older and wiser, I know that gentle facial cleansers are the way to go. Luckily this line also includes an array of facial products like their creamy Daily Hydration Face Milk Cleanser which gently washes away all traces of makeup and sweat while leaving my complexion feeling soft and comfortable. Once a week I do an enzyme mask that leaves me a bit pink. I usually follow with a skin oil, but decided to use SheaMoisture's Daily Hydration Milk Mask after and my skin absolutely loved it! I'd love to see how the facial lotion feels since the other face products worked so well for me.
Out of all the products I tried my favorites were the milk mask and the body lotion. They could put that lotion in a gallon pump bottle and I'd be a happy camper! You can find the SheaMoisture 100% Virgin Coconut Oil Daily Hydration collection at your local CVS. All the products range from $5.99 to$14.99 so they are quite affordable and allow you to grab several from the same family. To find out more about SheaMoisture, you can visit their website or follow them on Instagram or Facebook.