Supplements for beauty and health – AKA confessions of a supplement hoarder!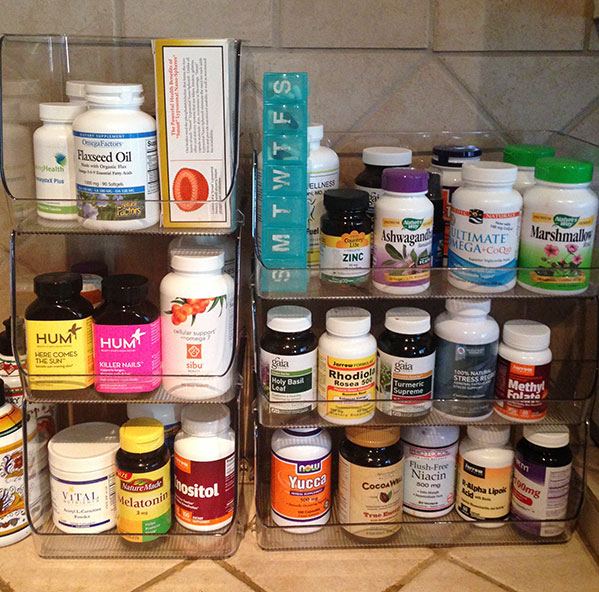 So I hear that some people don't like to take vitamins. So weird to me because I am a vitamin hoarder! I have what you see above (three cheers to The Container Store for helping me control that mess!) and that is just what I have currently rotated into my daily routine. I have 3 giant drawers filled with other supplements. Now I'm battling some unexplained health issues, but I've always been into herbs. My mom got me started on the alternative medicine path when I was a little kid. Now don't get me wrong – I'm all about Western medicine. If I break a bone, I'm not going to smear turmeric on it and call it a day! I'm not nuts.
But there are definitely some supplements I would like to share with you for specific health issues. Also – I'M NOT A DOCTOR. This ain't medical advice. This is just what works for me. Talk to your doc before starting a supplement routine – especially if you have a health condition.
NAILS and HAIR-
Biotin can really help your nails and hair. From WebMD, "Biotin is a coenzyme and a B vitamin and is also known as vitamin H. As a supplement, biotin is sometimes used for diabetes, brittle nails, and other conditions."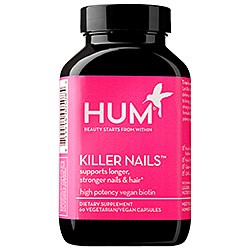 I like the adorable packaging of Hum Vitamins biotin supplements. You can find the biotin supplement at Sephora and at Hum Nutrition. There are no sulfates, parabens, phthalates, gluten, GMOs or artificial ingredients. Despite the cute packaging and cute names, this is the real deal – beauty from the inside out. "Killer Nails" that has lots of B Vitamins (all vegan).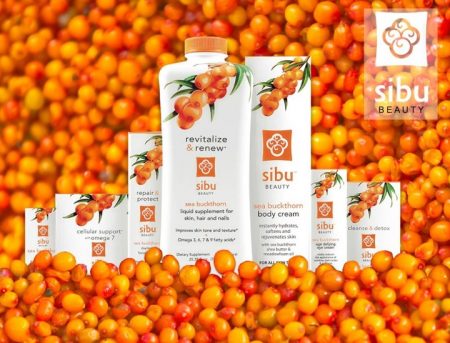 I have seen huge improvements in my nails when I take sea buckthorn oil regularly. I love Sibu Beauty for my sea buckthorn products. They have a juice (if you're not a pill fan) and they have capsules (which are now made with vegan coatings). You have to give it a few months to work, but I bet you will be astounded at the results. Harder nails with fewer ridges, and less brittle. They also grow WAY faster for me. It also helps my digestion!
High in the Tibetan Himalayas (12,000 feet above sea level) grows a tiny but resilient fruit that resists the harsh weather conditions and high altitudes. The sea buckthorn berry fortifies itself against the elements by producing an array of powerful nutrients. With over 190 bioactive compounds, sea buckthorn is an unsurpassed source of Omegas 3, 6, and 9. And it's a rich source of the elusive essential fatty acid, Omega-7, an essential fatty acid vital to collagen production and healthy skin, hair and nails.
OVERALL HEALTH and WELL-BEING –
Vitamin D is so important. Researchers are finding it acts more like a hormone than a vitamin.
WebMD says:
"Vitamin D plays several key roles in your body. Most importantly, vitamin D helps your body absorb the minerals calcium and phosphorus from the food you eat, which is important for bone health. Many Americans have been found to have low levels of vitamin D. The reasons for this include low availability of vitamin D in food sources, increased time working indoors, and possibly increased use of sunscreens (since sunlight helps the body produce vitamin D). Certain people may benefit from vitamin D supplementation. However, there is conflicting evidence about the amount of vitamin D that is safe and effective, or even necessary, to use as a supplement."
Have your Vitamin D levels checked. Especially if you work indoors all day or have darker skin (which absorbs less Vit D from the sun). If you're super pale, like me, that probably means you're not getting enough sun. Sunscreen is great, but I think people are overdoing it and making themselves deficient. If you're going to the beach, obviously slather on maximum sunscreen. If you're worried about wrinkles on your face, decollete or hands, use it daily. But do go out and get some sun. Supplements alone won't work if you never see the light of day – you have to have the sun to activate it.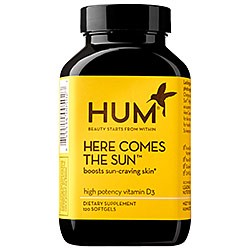 If your Vit D levels are very low (like mine and my fiance's), you might want to take 5,000 mg a day. If you're just taking it for insurance, I would suggest 1,000 mg a day. Try Hum Nutrition's "Here Comes the Sun" – 1,000 mg a day should be good for most people (unless you're deficient). Vitamin D deficiency affects many of us. Here Comes the Sun is high in Vitamin D3, which is regarded as superior to D2 by many scientists. This vitamin is considered essential for calcium absorption, skin protection, and healthy bones and teeth.
Hum Nutrition has all kinds of fun supplements on their website and Sephora – check 'em out!
I also love zinc for acne – especially before my period. And turmeric for inflammation. It really helped me get through my chin implant surgery!