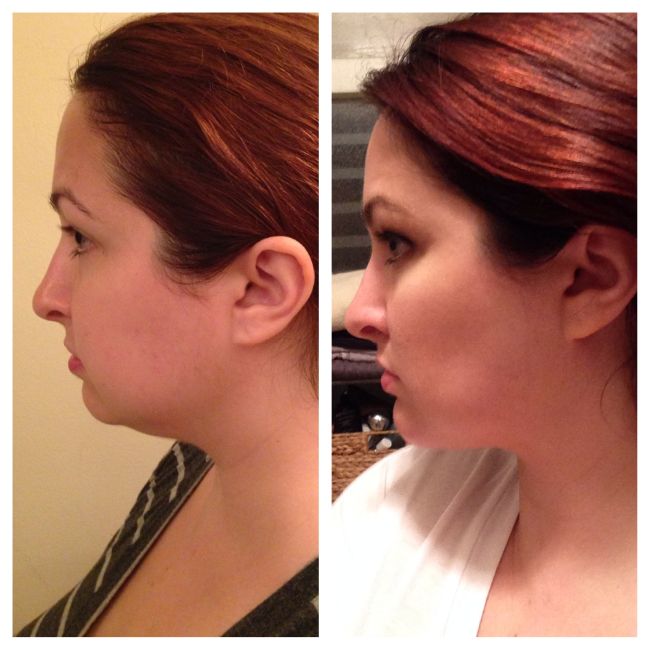 About two months ago, I had plastic surgery done. Let me start by saying that I'm a real person, and I have feelings. I'm posting this to share my experience, but I hope that, even if you disagree with my decision, you'll have the decency to be polite with your comments. It's AMAZING what people will say while hiding behind the relative anonymity of the computer. I have had people say things to me in the past that they would NEVER say to my face! So please be kind. This is my journey and I'm not saying everyone should run out and get plastic surgery (it's certainly not for everyone). Just sharing!
It's actually surprising how many people have admitted that they've had something "done" since I've openly talked about my surgery. From nose jobs to breast lifts and reductions to lipo and many other things. It's a lot more common these days – and a lot more SAFE if you choose an experienced, reputable surgeon.
So anyway…I've always been bothered by my "baby face." Round cheeks and a weak chin, plus a fat pad under my chin that had grown into something of a double chin. At age 33, my baby face features had not gone away. As the president of a social media agency that serves the beauty and fashion industry, I felt that my face didn't portray the strong, confident woman that I was (am). I wasn't trying to look like someone else – just me, but better.
Some of you might think I didn't need the surgery (fair enough), but unless you know me in person, you may not realize that I only share pictures of myself that are flattering. You've probably never, ever seen a pic of my profile/side view. And most of the time, I used certain angles or a large smile that made my chin look longer and more proportional.
After consulting with my good friend, Dr. Jon Perlman, MD, FACS, I decided to have fat removed from my neck, buccal fat pads removed from my cheeks and a chin implant added. Buccal fat pads are what give babies those huge, round cheeks. Very cute on babies, but not so much on full grown adults! The theory is that they are actually there to allow babies to breastfeed easily. The chin implant is made from hard silicone. Back when Marilyn Monroe had a chin implant, they used cartilage, which can degrade over time – yikes!
Well, I thought about it for a long time, did a lot of research, and decided I was ready. Dr. Perlman showed me pictures of his patients' before and afters. He explained the procedure and recovery in depth. He answered all my questions. His friendly, calm demeanor and 30 years of experience put me at ease. I had some blood work done to be sure I was healthy enough for the procedure and everything was normal.
I was nervous about the surgery because I had never done anything like this before (except for wisdom teeth removal). I followed protocol by avoiding alcohol, aspirin, ibuprofen, etc. for several weeks before the surgery. I starting taking bromelain, arnica and turmeric supplements before (and after) the surgery.
The night before the surgery, I didn't eat or drink after midnight. Then I got up early for my 7:30 am appointment. My boyfriend drove me, and we were both pretty nervous. After getting into the gown and hairnet, Dr. Perlman marked up my face, and then I went to the operating room. The anesthesiologist put in my IV, and the nurse put compression massagers on my legs for circulation. They told me they were giving me something to help me relax and that's all I remember. I woke up groggy and the nurse helped me to the restroom. After recovering for a bit, they let my boyfriend take me home.
I took antibiotics, pain killers for two weeks (I have a very low pain tolerance) and a sleeping aid at night. I stayed propped up at a 45 degree angle for about a week (these pillows helped SO much!), and I had to wear a very unsexy headband to keep pressure on my chin. I wasn't able to eat solid foods for a couple weeks, so I had LOTS of protein smoothies. My amazing boyfriend waited on me hand and foot (thanks Gregg!).
There was one incision under my chin and one on the inside of each cheek. All stitches were dissolvable so I didn't have to get them removed. I wore a piece of surgical tape (like a band aid) over the chin incision for 2-3 weeks. Most people didn't even notice it was there. I had NO bruising – which is crazy, because I bruise when people look at me the wrong way! I was swollen like a chipmunk for 2-3 weeks, and the swelling gradually went down day after day. But after a week, I could have gone out and people who didn't already know me wouldn't have noticed. There were times when I was scared my face would always be wide and puffy, but every morning it got a little better. Now it's been almost 3 months (will be 3 months at the end of January), and I'm so happy with the results! You can see how my chin is now in proportion to my nose (especially noticeable in the side view).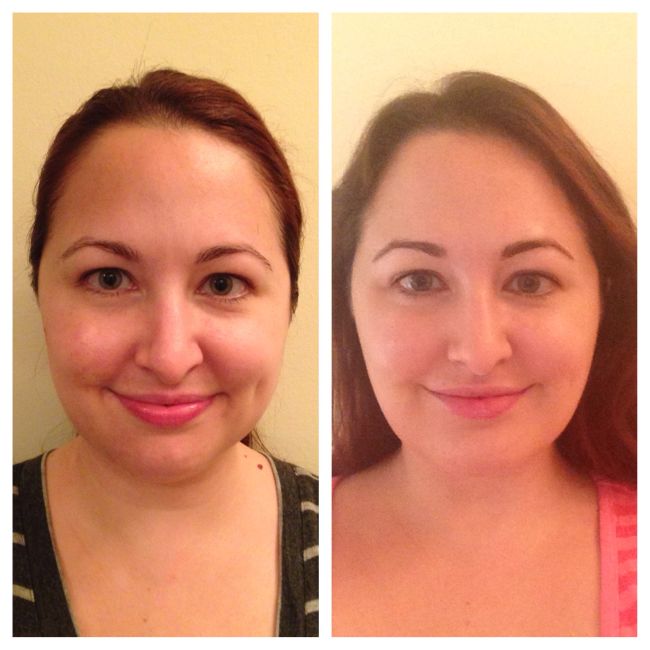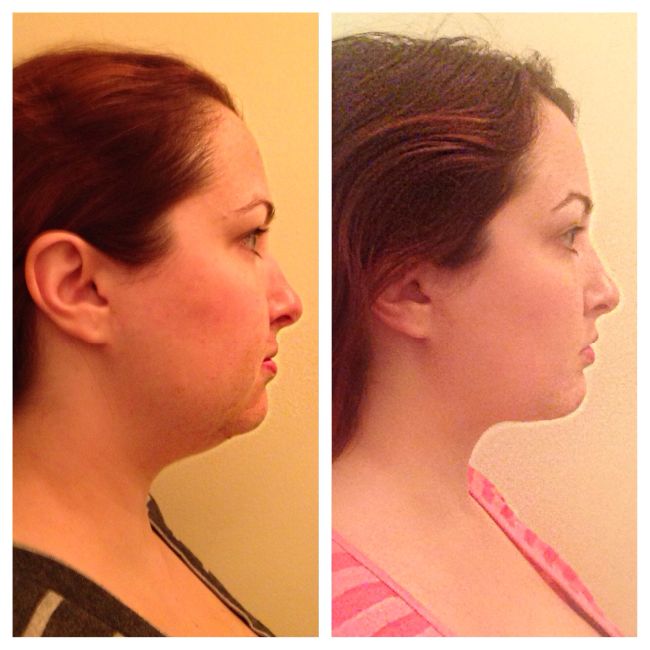 One thing that REALLY helped my swelling and recovery was good 'ole TURMERIC! I bought turmeric shots at the local health food store, Erewhon, and my boyfriend also made his own blend for me with manuka honey, aloe, turmeric and pineapple juice (which also has an enzyme called bromelain that helps swelling). Dr. Perlman was impressed with how quickly the swelling went down.
So, was the recovery easy? No. Was it tolerable? Yes. Was it worth it? Absolutely!
My mom wasn't excited about the idea, but when she saw the "after" pictures, she said I looked more like her when she was young. She was blessed with a strong chin, and now I have one too!
In my opinion, surgery is not something to be taken lightly, but if there's something that has always made you feel insecure, or kept you from enjoying life to the fullest, I think it's something to consider. Again, I'm not saying it's for everyone. Certainly not. If you are an adult, and you've weighed the pros and cons, and want to do it, don't cheap out. Go for the best surgeon you can find. I love Dr. Perlman because he's very conservative and won't make you look "done." He's very caring, and he even gives his patients his cell phone number so they can text or call him anytime during the process!
Bottom line is – I'm so happy I did it. I feel much more confident. And maybe I'll start doing more beauty videos for you guys since I don't hate seeing my face on camera anymore! 🙂
If you have any questions, let me know!