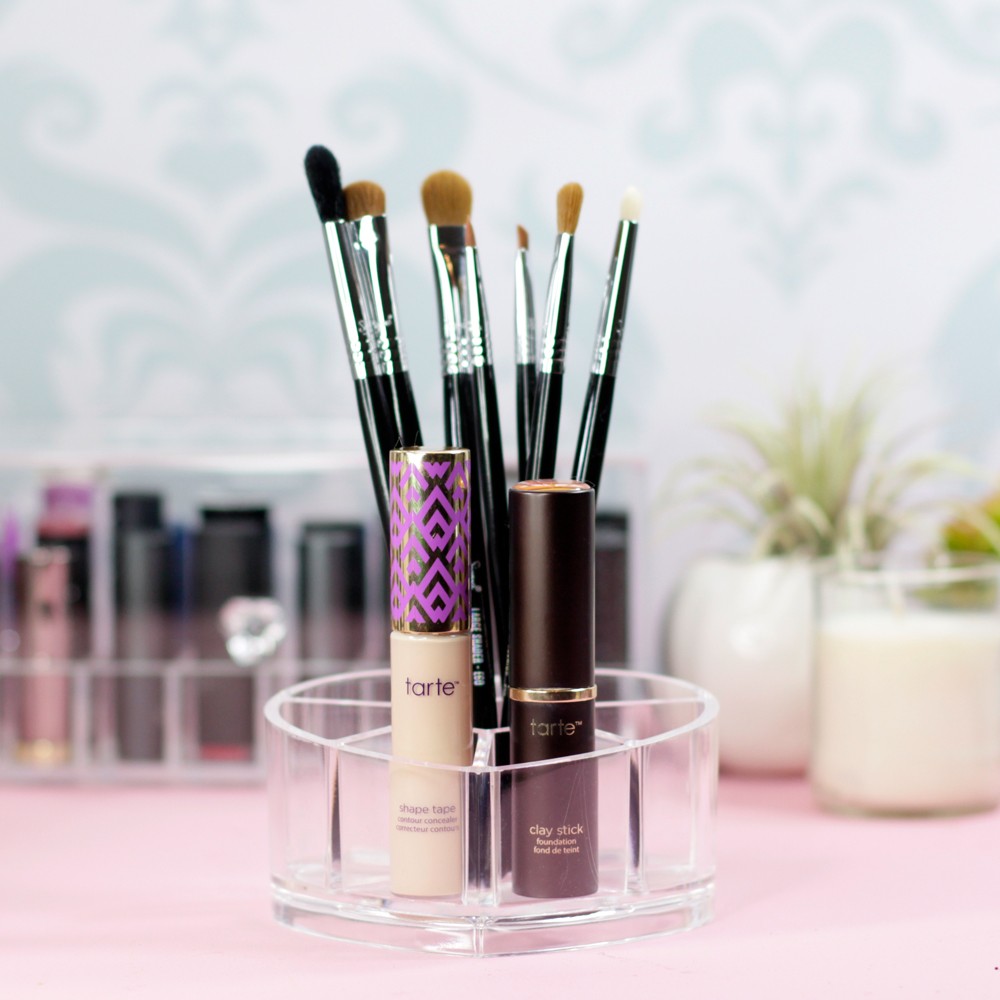 Question of the Week: If you could gift everyone 3 of your favorite beauty products, what would you give?
Wow! That's a tough question. There are so many things I would want to give you guys if I could. Let's just go with some of the cruelty free beauty basics that I think everyone should have (and are worth splurging on): a great foundation, concealer and makeup brush set.
It's important to start with a good canvas, so I would pick my current go-to foundation. I normally use Tarte Amazonian Clay Full Coverage Foundation, and I love how it covers lines and spots for a flawless finish. I don't feel like it sits IN my lines and IN my pores like other foundations do. My skin can get a little oily with this after several hours, but a little powder fixes it right up.
I recently ordered the Tarte Clay Stick Foundation (pictured) and I was impressed with how easily it was to apply. In the past, the stick foundations I've tried have been kind of dry and difficult to blend. This one has ingredients that give it that "slip" that help it go on very easily. It's kind of like if you only used eyeliner pencils all your life, and then someone introduced you to a gel eyeliner pencil – like whoa – this stuff is so easy to apply now!
Both types of foundation are good, but I'll probably stick with the Full Coverage foundation in the long run because I feel like it's slightly better for the oily parts of my face, and I prefer a non-stick method (I worry that the stick could spread bacteria).
I would also pick Tarte Shape Tape to cover blemishes, dark spots, redness and dark circles (you can also use it as a non-shimmery highlight). It's super pigmented, so a little bit goes a long way! This is my holy grail concealer. I also like Kat Von D's Lock It Concealer, and I do use it sometimes, but I think the shades are better suited for cooler skin tones.
And you really need good tools to apply your makeup. The better the tools, the easier your makeup application is going to be. It would be tough to only pick ONE makeup brush because you need different tools for different jobs. I recommend picking out a cruelty free brush set (hey that counts as one item right?), like this Basic Eyes Brush Set from Sigma. You can start with just a few essentials, or pick a face, eye, or full set. This vegan (synthetic) brush set comes with:
Sigma Basic Eyes Vegan Makeup Brush Set Includes:
E05 – Eye Liner: Create smooth and even lines. Use with gel or liquid liners.
E30 – Pencil: Soften and smoke out lines. Soften pencil liners along the top and bottom lash lines, add shadow to line the eyes, or use to highlight inner corner of eyes.
E40 – Tapered Blending: Soft blended crease. Using just the tips to apply color, sweep back and forth through the crease for a diffused and blended finish.
E55 – Eye Shading: Even application of color. Place color across the whole lid for an even and strong application of product.
E60 – Large Shader: Uniformly cover the whole lid with product. Apply cream shadow base or cream shadow for quick and even coverage.
E65 – Small Angle: Create precise lining. Moves fluidly and easily across the upper and lower lash lines. Use with gel, cream or powder liners.
E70 – Medium Angled Shading: Soft application of color. Use for brow highlighting or to blend the crease.
And because I feel like being extra, here's the FOURTH thing I would pick if I could pick one more! (Told you this is hard!): the Milk Makeup Blur Stick. I bought mine at Sephora after trying it on my hand and seeing an IMMEDIATE difference in the tiny lines. It looked like I put a Photoshop blur on my skin! I have tried a bajillion other primers and nothing has worked as well to give me that blurred effect for pores and lines, and keep my makeup from becoming an oil slick. I just wish they had a non-stick version – put it in a tube please!
I tried the Milk Makeup Blur Spray at a tester in Sephora and I just didn't see the same effect. The Blur Liquid Matte Foundation has potential, but the two fairest shades are either too pink or too yellow for me, so I haven't bit the bullet and bought it yet.
The Lipstick League – week of 8.14.17
Please note that not all Lipstick League posts are cruelty free. 
Prime Beauty – Want a quick and casual look for summer? Try the awesome 3-pc. Carefree Color Kit from Mally Beauty. It's, speedy, easy and bullet proof for summer!
we heart this – is sharing a mask for those with a need for speed; REN Glycol Lactic Radiance Renewal Mask. One use does the work of a month's worth of other products!
Beautygeeks – chats with the exec VP of R&D at EOS about the new clear Crystal Lip Balm, naturals vs synthetics challenges – and That EOS Class-Action Lawsuit.
Blushing Noir – You always remember your first…. lip pencil. Check out Brooke's favorite plus swatches of the top sellers from MAC Cosmetics.
Clumps of Mascara – Oh, what? It's weird to talk about makeup and racial injustices in the United States? Oh. Not for meeeee!
EauMG – I've tried natural, cruelty-free bath/body products from Thesis Beauty that smell like rose macarons. I've never wanted to eat a body scrub so badly in my life.
fanserviced-b – I tried products from Waso, Shiseido's new millennial-targeted skincare line, and was pretty disappointed.
Gouldylox – OMG It Cosmetics is out of control with new launches. I've got the skinny on what's a hit, what's a miss and what gives really radiant skin.
My Beauty Bunny – is giving away FIVE of her favorite Aveda products to help your hair recover from all that summer sun, salt and chlorine you've been throwing at it!
Phyrra – I've found the softest, most luxurious new makeup brushes. My Real Techniques PowderBleu Brushes Review & Demo will make you want these brushes!
(Wondering what the Lipstick League is? Find out here.)
Prime Beauty is Currently Craving: ALL the new LORAC Unzipped Sunset Palettes! These eyeshadow palettes travel to the Desert, Ocean and Mountains for the most beautiful sunset shades to adorn eyes and I want them all.