Are you ready to see a full review and swatches on the entire Too Faced Sweet Peach Collection? It's back and better than ever.
Too Faced Sweet Peach Reviews!
The new Sweet Peach collection from Too Faced has everyone talking! I went to the Too Faced Sweet Peach launch party last Thursday and was lucky enough to mingle with some of the biggest YouTube stars, bloggers, and celebrities. It was over the top in the best way possible! I went to Blushington and had them do my makeup with the Sweet Peach Eyeshadow Palette (since I was lucky enough to be able to buy one when they first launched!). I was thrilled to go home with samples to share with you – from the new line that launches on December 14th. Click here for details on the Too Faced Sweet Peach launch.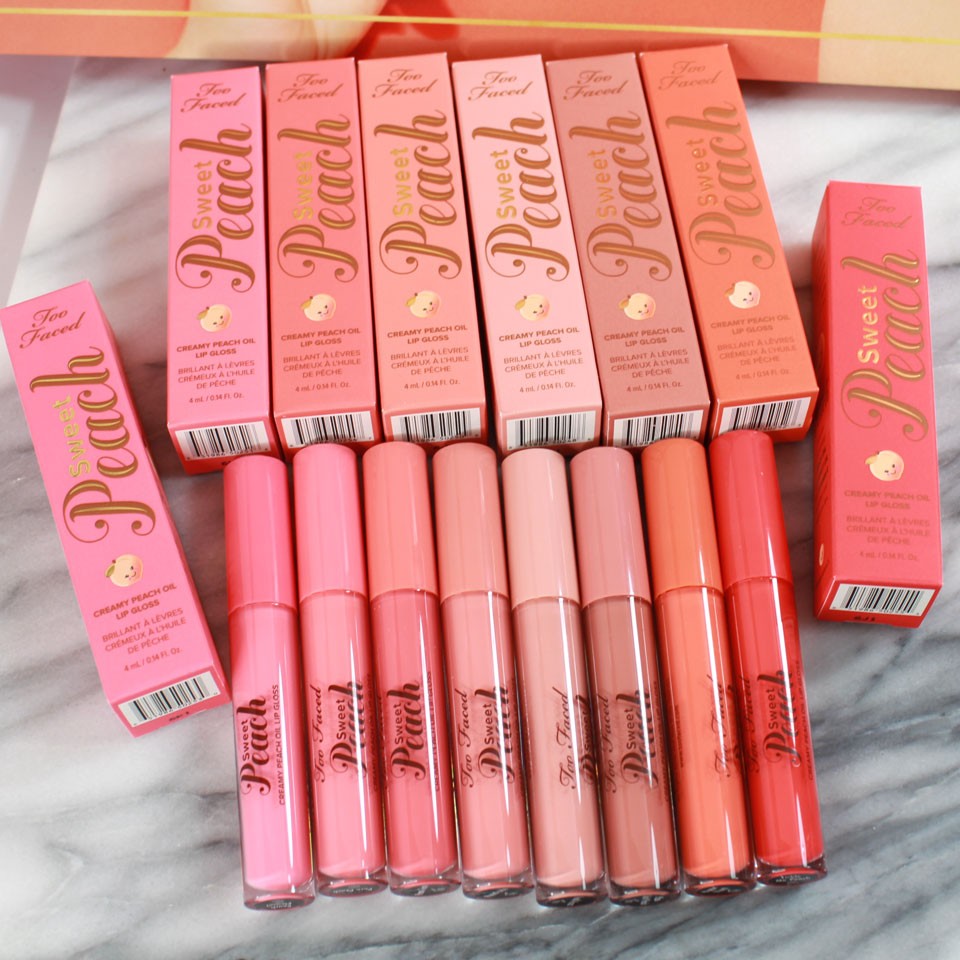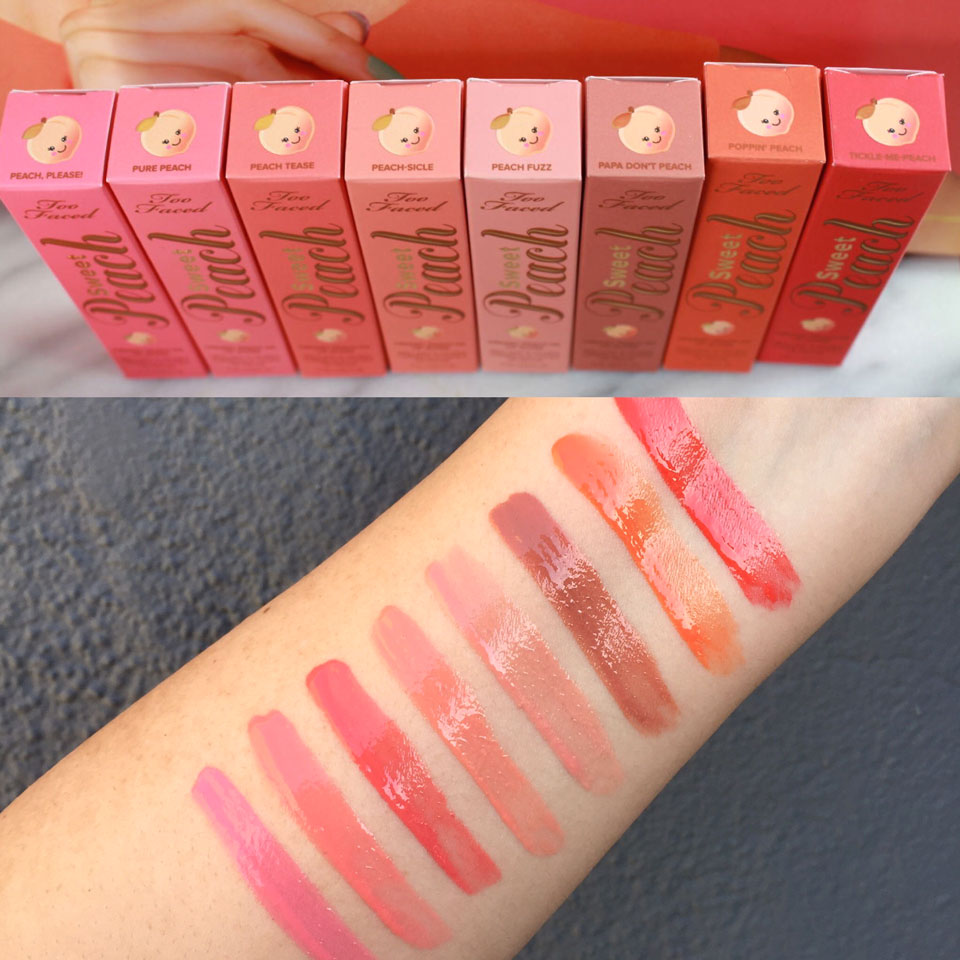 The Sweet Peach Creamy Peach Oil Lip Gloss collection is pretty amazing. Lip glosses aren't normally my jam, but these are highly pigmented, all peach-tones (my fave), super moisturizing, and they smell like peaches! Pictured above (L-R): Peach, Please!, Pure Peach, Peach Tease, Peach-Sicle, Peach Fuzz, Papa Don't Peach, Poppin' Peach and Tickle Me Peach. The Sweet Peach lip glosses are made with real peach oil, coconut oil and Vitamin E to soften and nourish lips – really great for the winter time!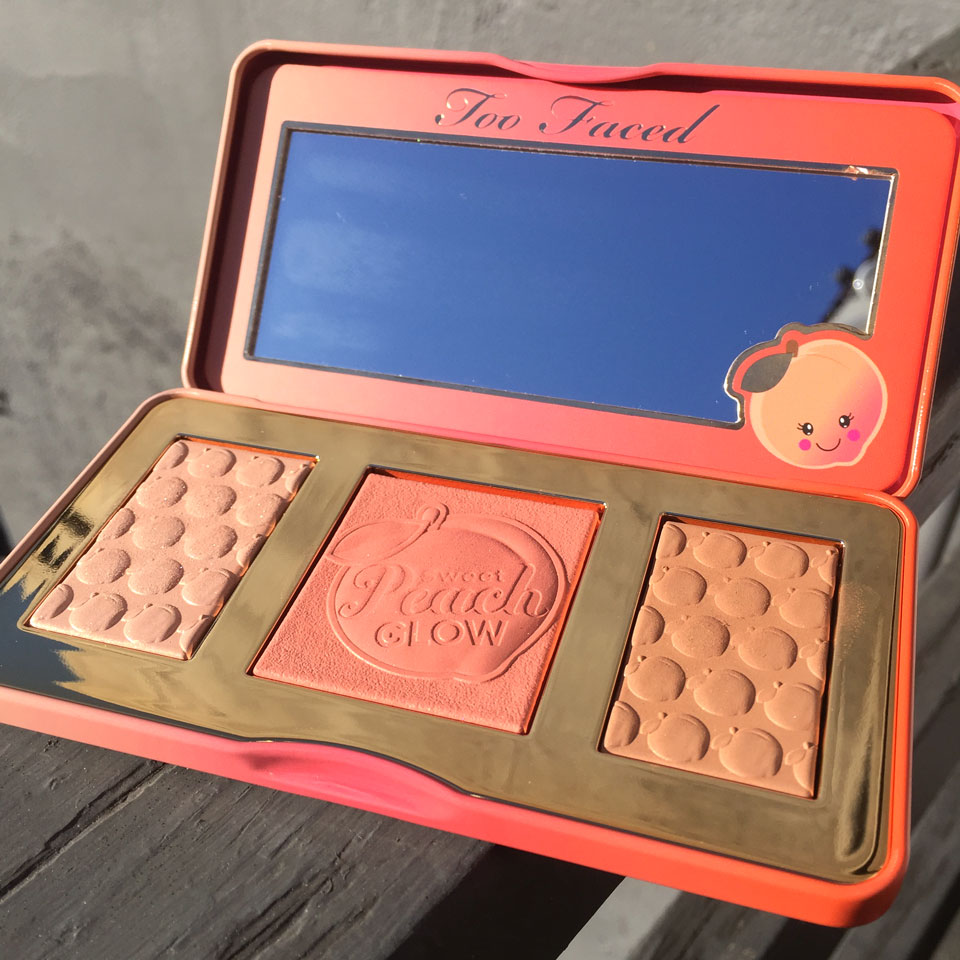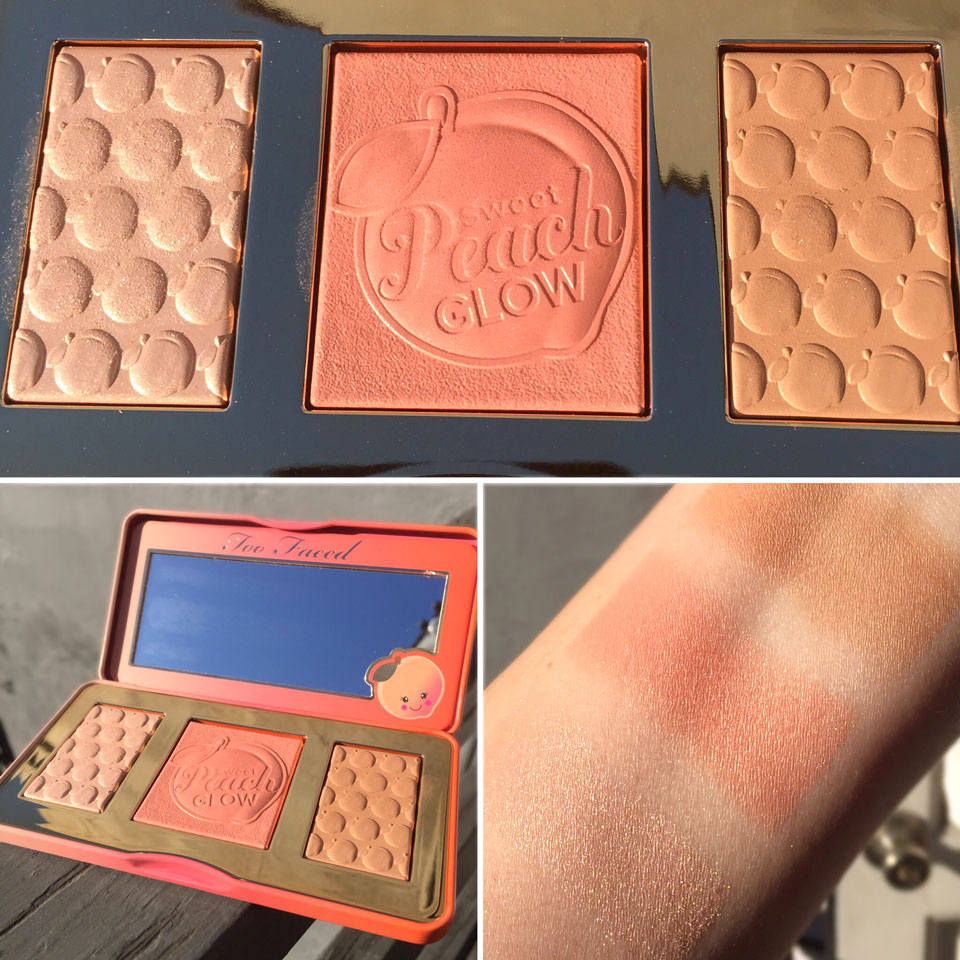 The Sweet Peach Glow Peach Infused Highlighting Palette is SO gorgeous! Of course, it smells like peaches, and it comes with three shades that can be used as highlighters, blushes and bronzers (depending on your skin tone – these could all be blushes or they could all be highlighters!).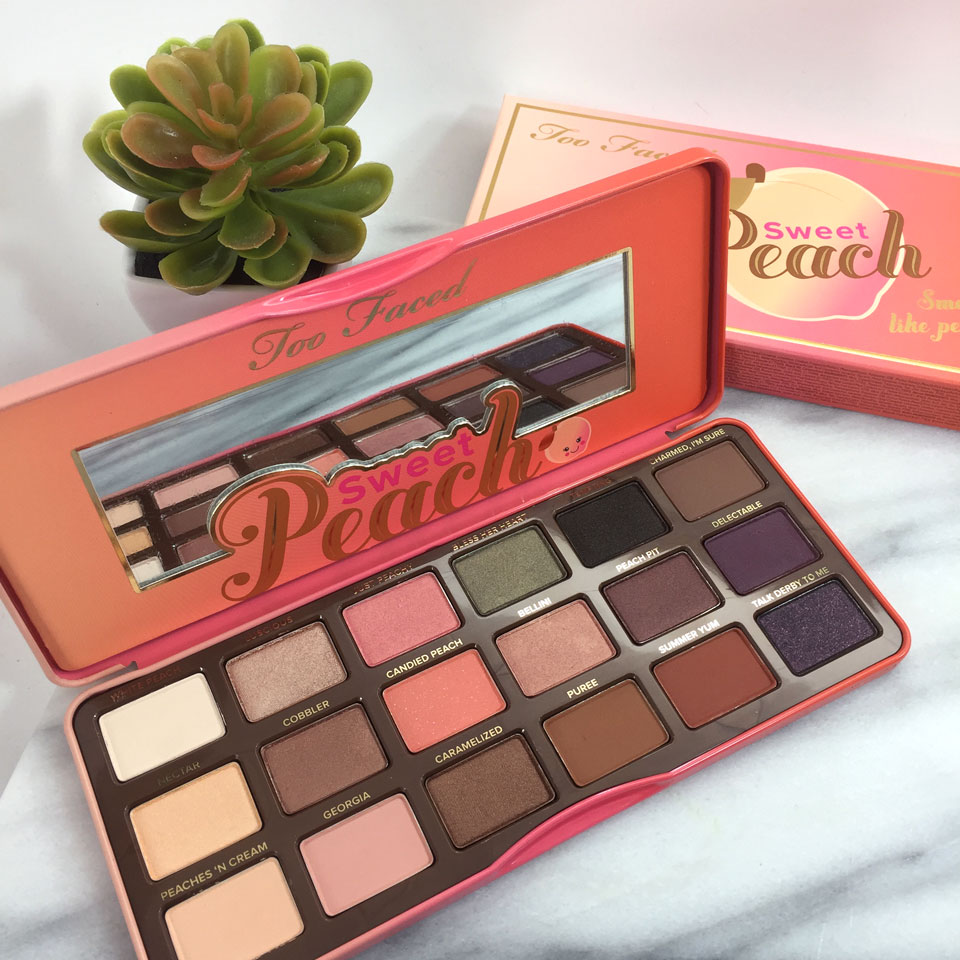 The Sweet Peach eyeshadow palette that started it all will also be coming back on Dec 14th! This is honestly one of my favorite palettes of all time. It has 18 peachy-scented shades – with a nice mix of mattes and shimmers. Bellini is such a perfect shade for an all-over glow, and Just Peachy and Candied Peach are great pops of peachy-pink color. I love Puree and Summer Yum for warm glowy-earth tones. And White Peach and Nectar are great highlight colors. There are some great purples (that go well with peachy tones), a charcoal/black, and even a green-ish shade that I haven't really experimented with yet.
The colors (L-R): White Peach, Luscious, Just Peachy, Bless Her Heart, Tempting, Charmed I'm Sure, Nectar, Cobbler, Candied Peach, Bellini, Peach Pit, Delectable, Peaches N Cream, Georgia, Carmelized, Puree, Summer Yum and Talk Derby To Me.
The collection also includes a Papa Don't Beach blush – look for a review and swatches of the blush coming soon! Plus visit my Instagram page for a Sweet Peach Eyeshadow Palette giveaway!
Too Faced was recently purchased by Estee Lauder (not cruelty free), but they have promised to remain cruelty free and NOT to sell in mainland China (where animal testing is required by law). They have also promised to keep all of their formulas the same.