Urban Decay Born to Run Palette Swatches and Review
I'm a little late to the party on this one because many of you have already seen this gorgeous Urban Decay Born to Run summer makeup collection. But there are some gems in this collection, and I didn't want to let it slip by without showing you some swatches and letting you know what I think!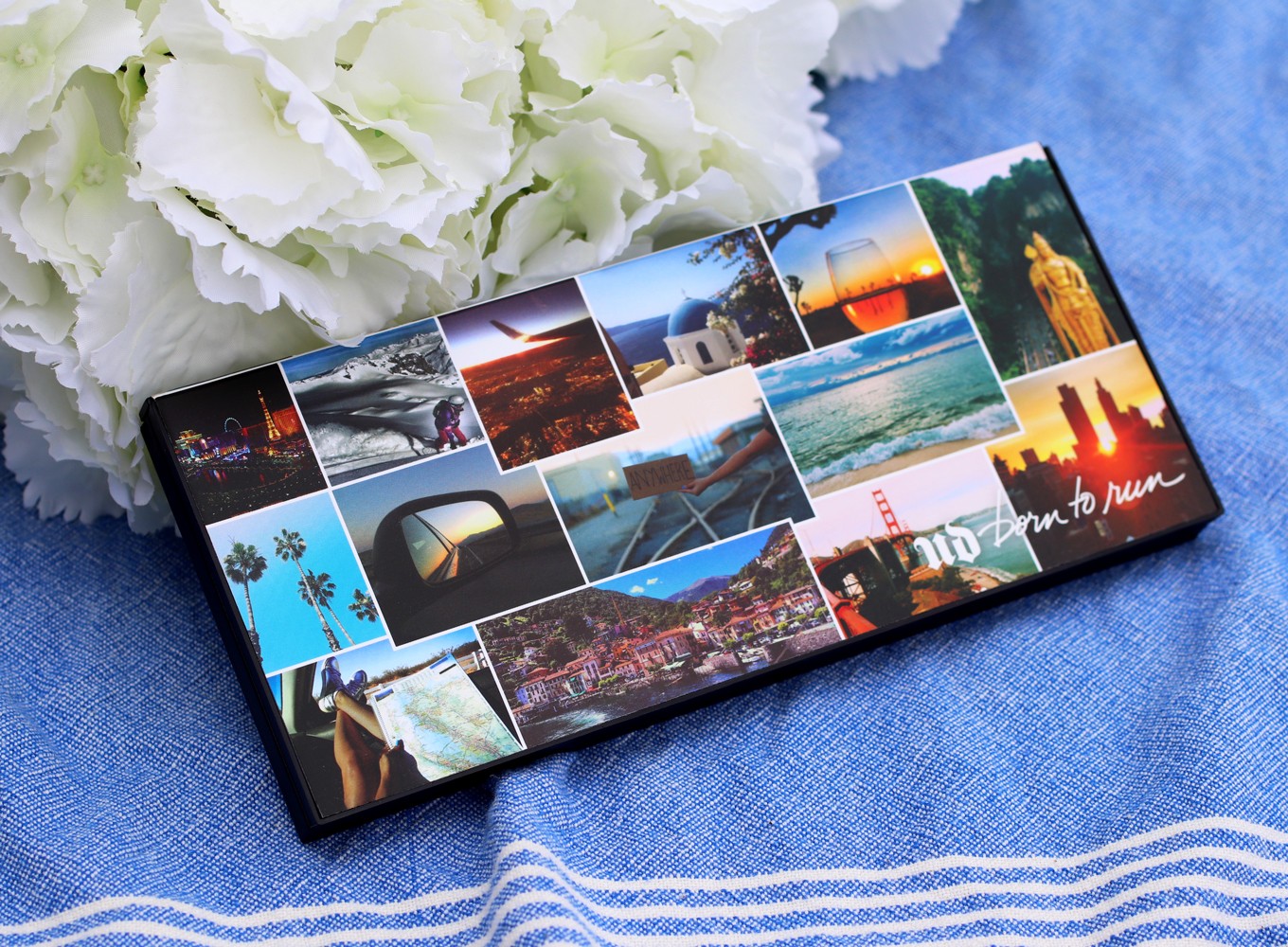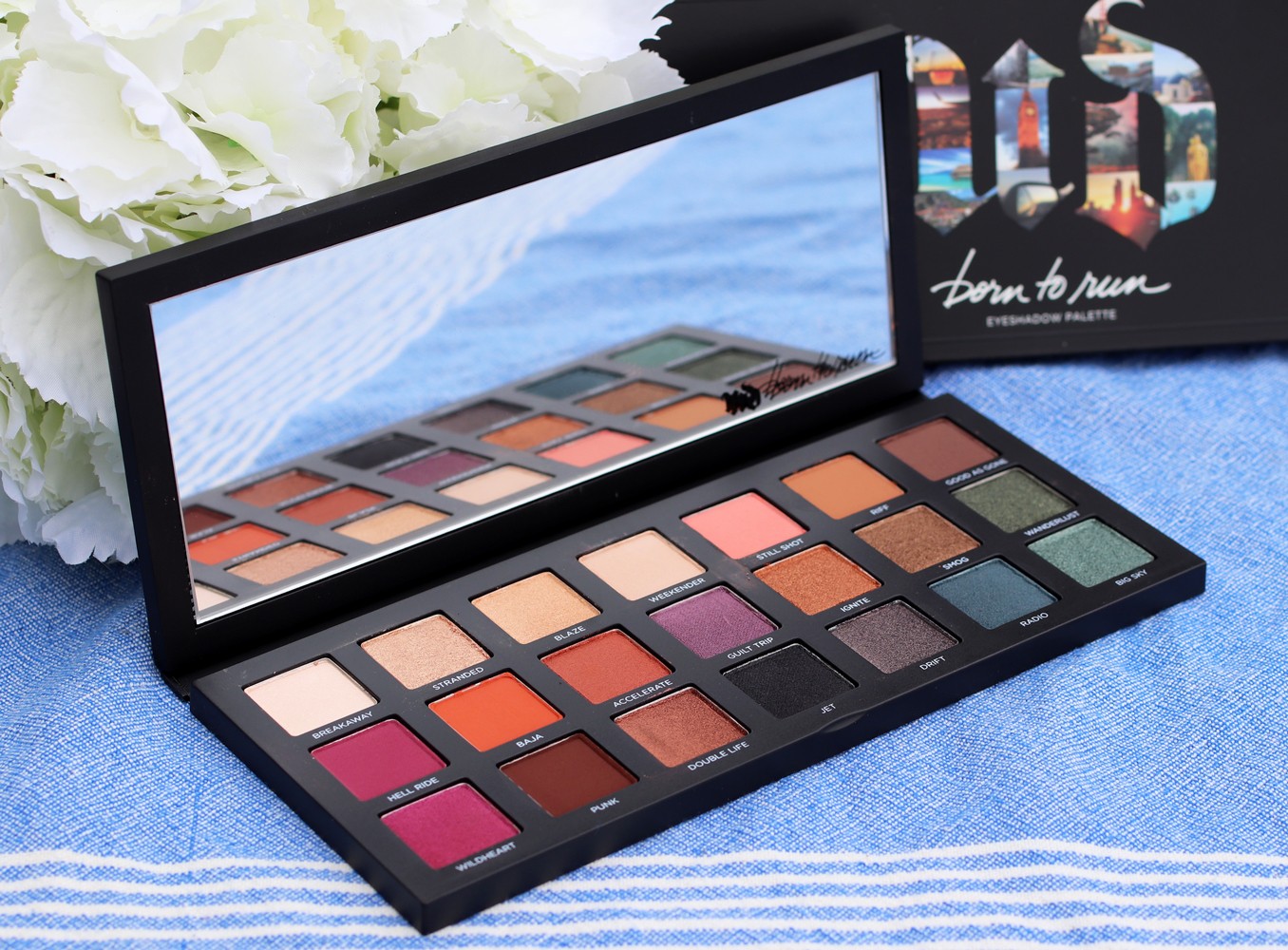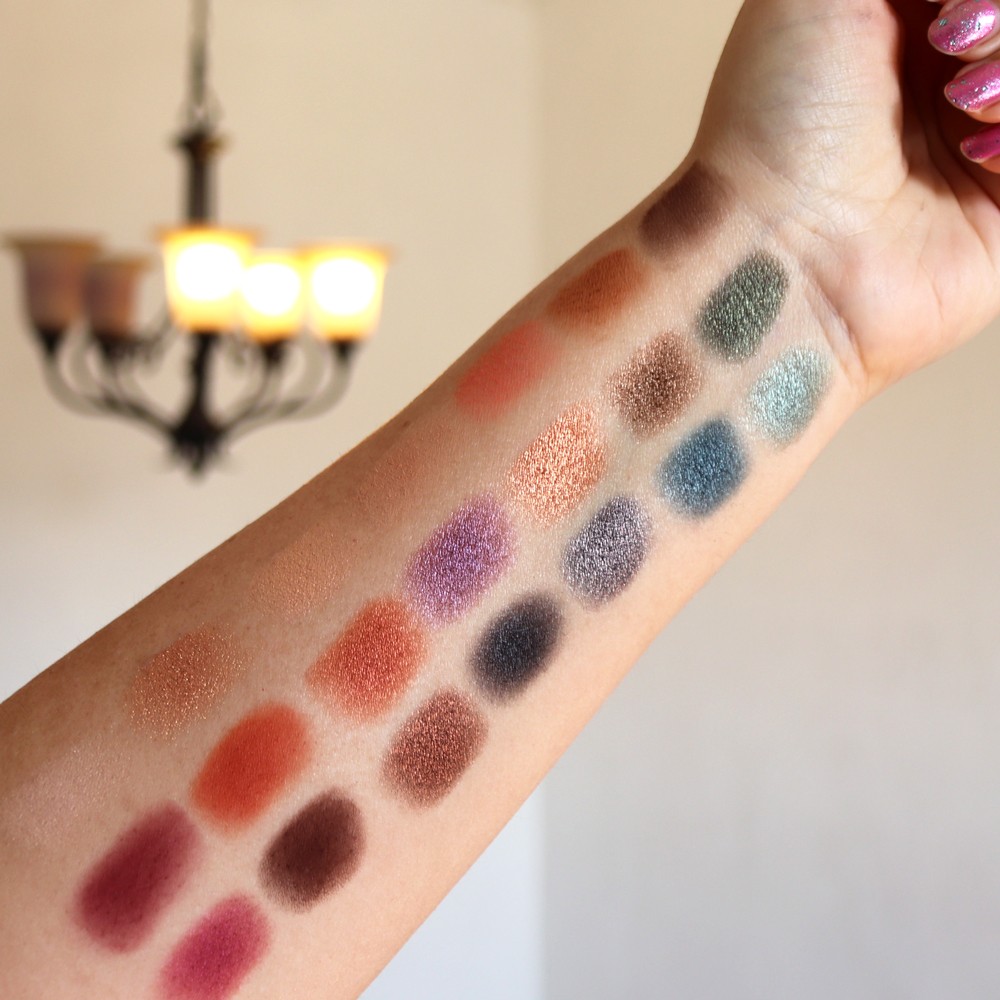 Let's start with the Urban Decay Born to Run eyeshadow palette. The idea behind this new Urban Decay palette is obviously "summer" and "travel", and I've been having a bit of wanderlust myself lately, so I'm already on board with the cute travel-themed packaging. But beyond that concept, the palette was designed to be an all-in-one, something you can take on a trip without having to pack multiple palettes. There is a mix of warm and cool tones, some earthy tones and some brights. There's a mix of shimmers and mattes, which is a must for a palette that is going on vacation with me. The only complaint I have is that I'd like to see fewer of these bright orangey earth tone shades. I LOVE copper shades but for some reason the super orange brights are not great for me. I know they are super popular right now, but I feel like I have too many of them, and they can look clownish or muddy on my super pale olive skin tone. If there were a few darker browns in here, I'd be happy. Overall, I really like this palette, and I'm really impressed that there are fun colors mixed in – like purples, pinks, blues and even a mermaid turquoise shimmer.
The Urban Decay Born to Run eyeshadow shades:
Breakaway (warm ivory shimmer)
Stranded (pale rose gold with tonal micro-shimmer)
Blaze (light metallic peach with pink shift)
Weekender (light neutral beige matte)
Still Shot (bright peach)
Riff (brown-nude matte with floating micro-sparkle)
Good As Gone (deep brown with iridescent micro-shimmer)
Hell Ride (deep fuchsia matte)
Baja (burnt orange matte)
Accelerate (reddish copper metallic)
Guilt Trip (smoky purple shimmer)
Ignite (rose gold metallic)
Smog (deep coppery bronze shimmer)
Wanderlust (forest green with gold micro-shimmer)
Wildheart (bright fuchsia)
Punk (red-brown matte)
Double Life (metallic rust)
Jet (black with deep shimmering purple shift)
Drift (charcoal satin with tonal micro-sparkle)
Radio (deep emerald satin)
Big Sky (frosted green shimmer with iridescent micro-sparkle)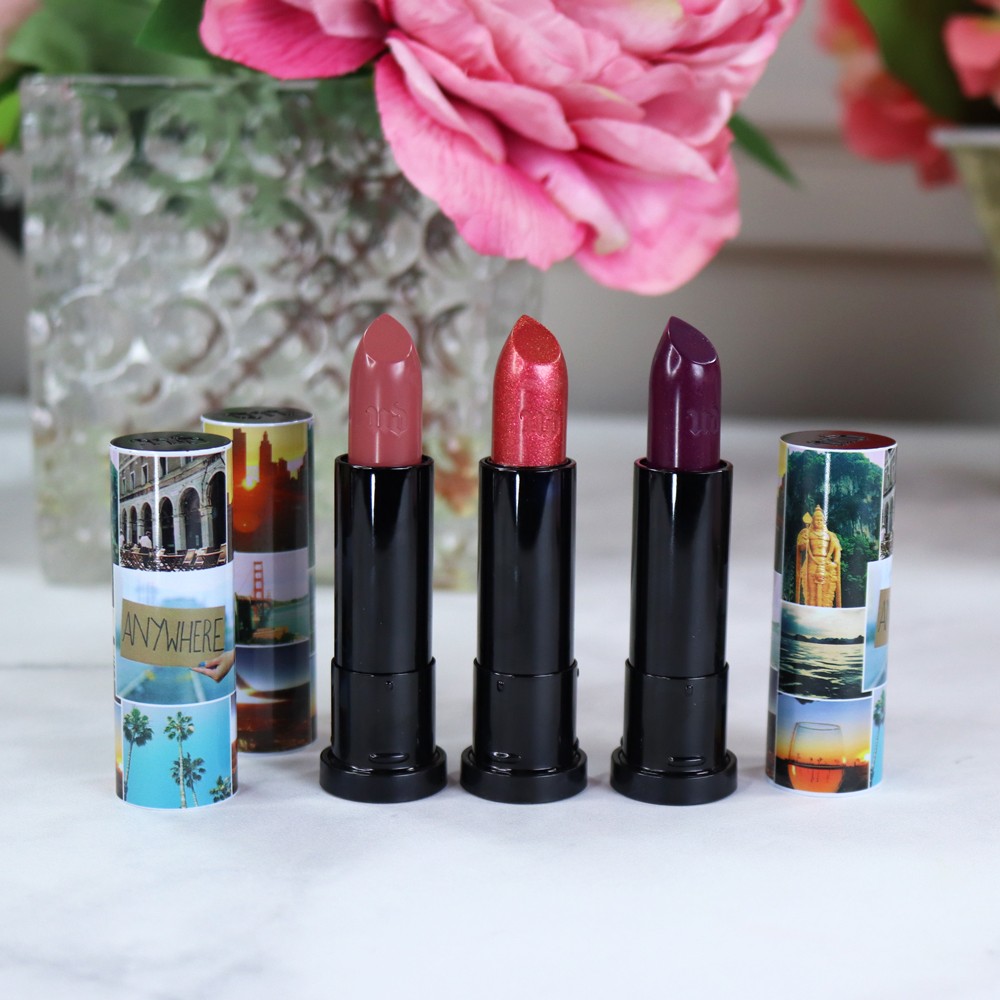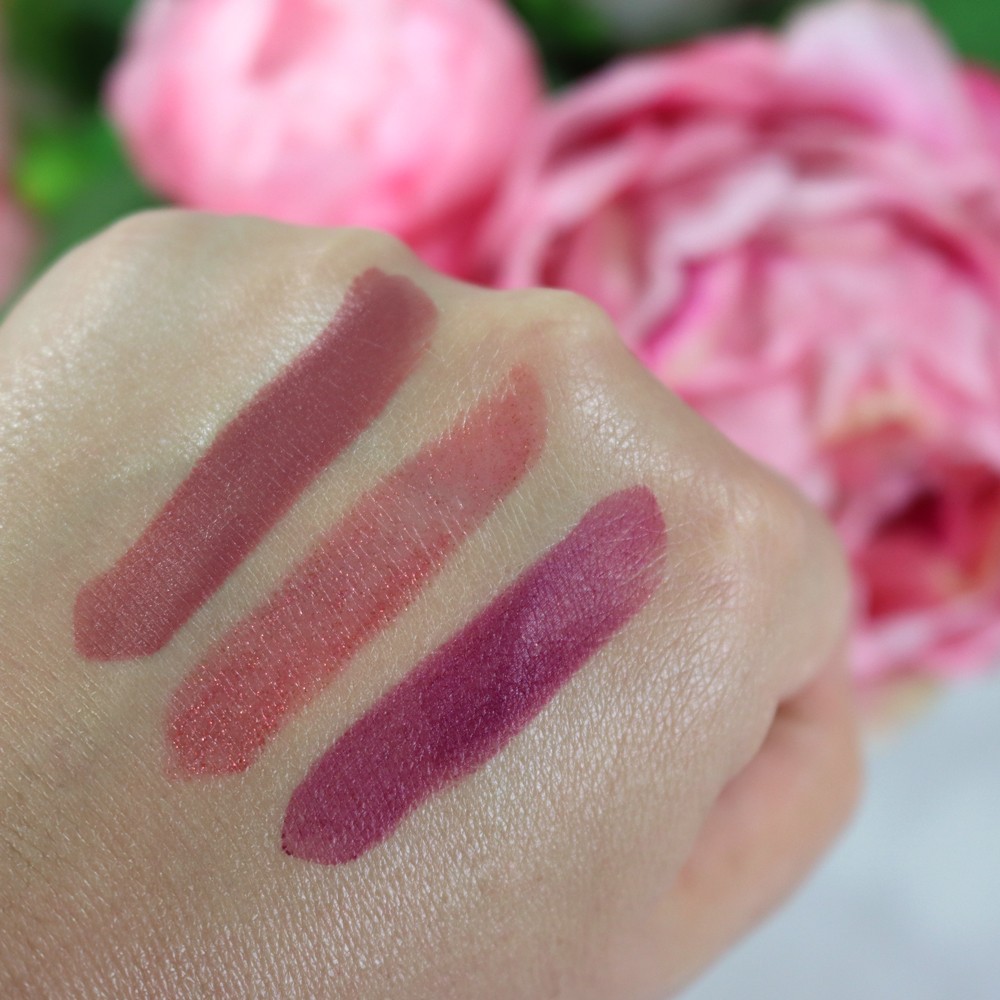 There are three Vice lipsticks in the UR Born to Run collection: 66, Ready?, and Marfa. 66 is my favorite -a rich mauve-nude matte. You really can't go wrong with a cool toned mauve pink like this. Ready? is a bright rose metallized sparkle which is fine on it's own for a barely there makeup look, or as a topper with another lipstick. And Marfa is a dark berry matte with pink micro shimmer.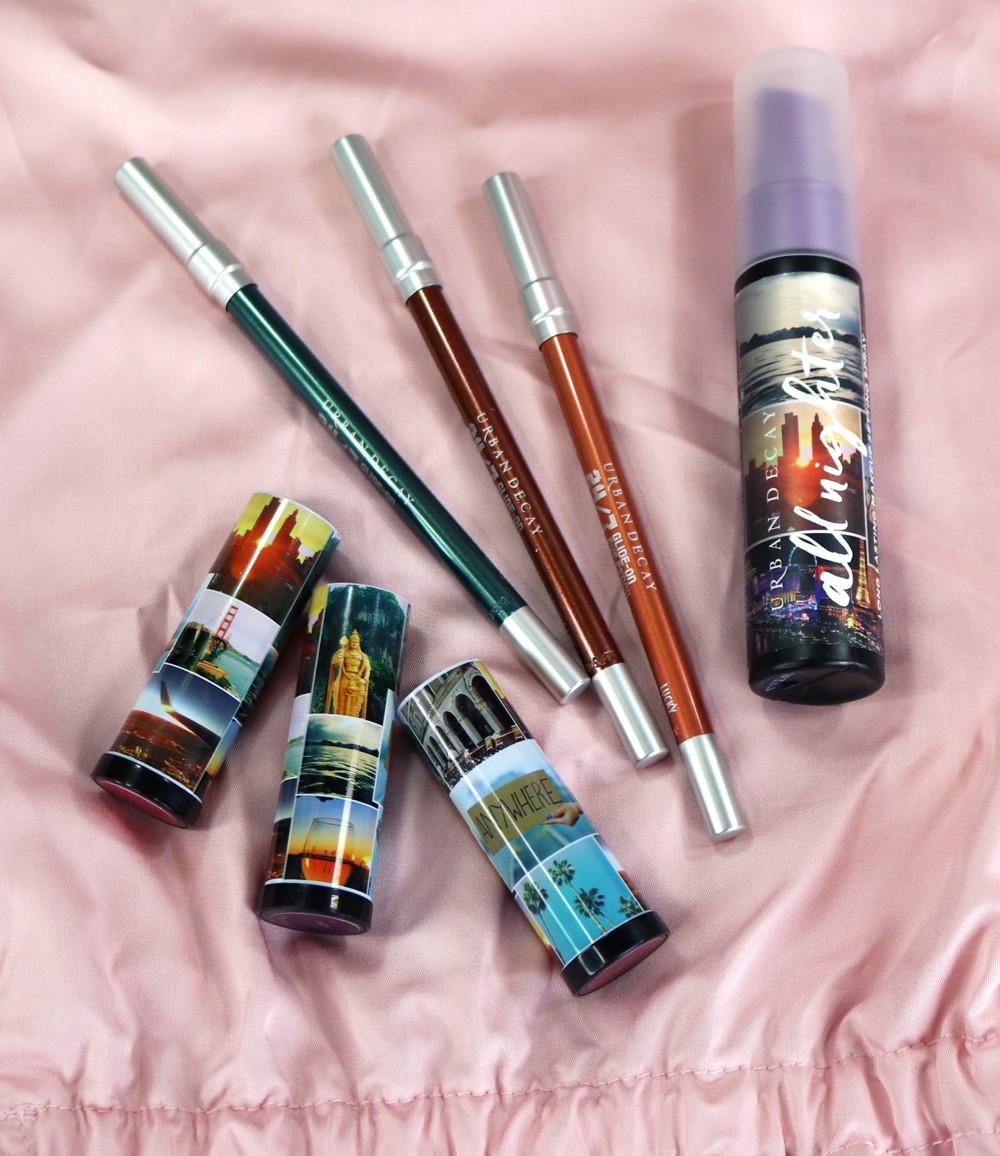 There's also a travel sized version of the All Nighter Setting Spray in the collection, which I'm actually pretty excited about! I plan to take it to Scotland with me for my wedding this fall, so I can make sure my makeup stays ALL night! It's oil free and paraben free.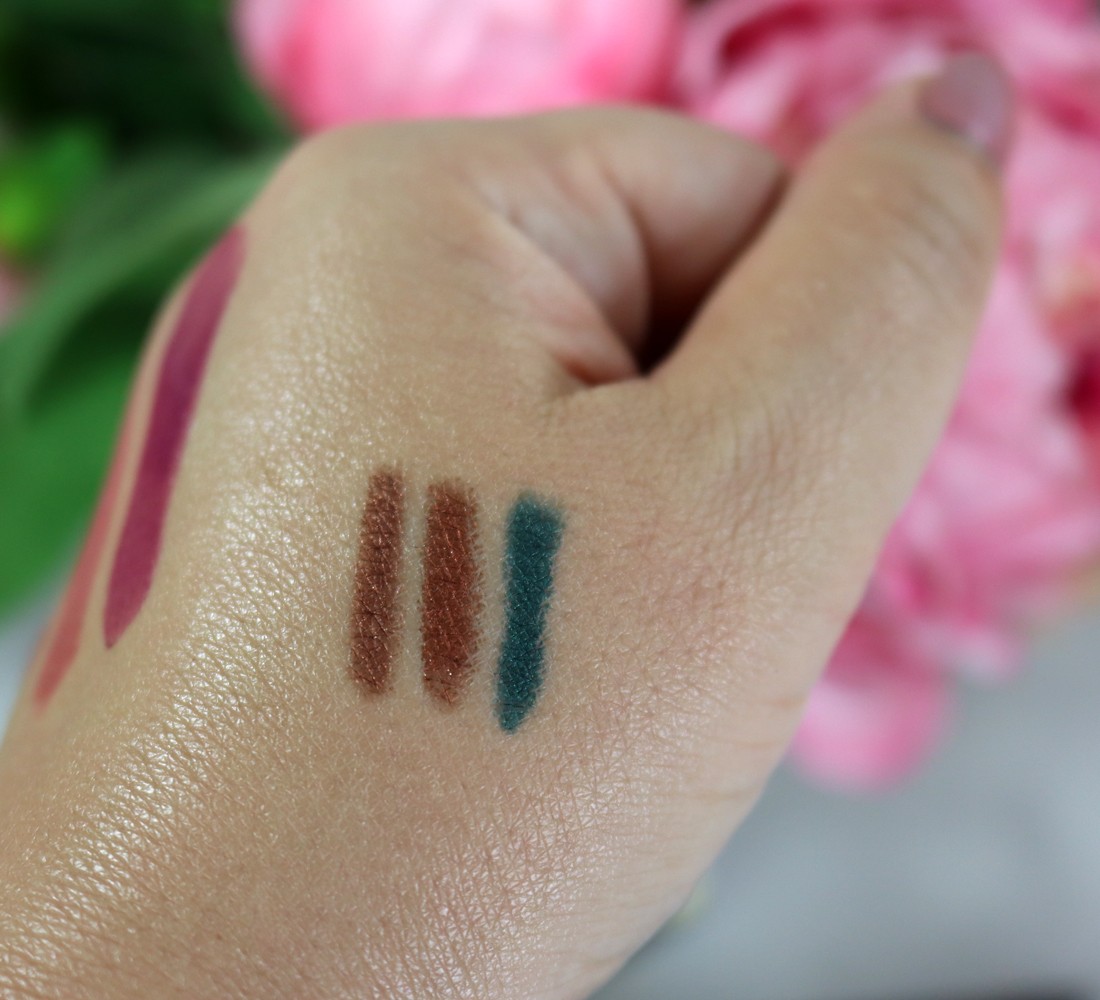 And last but not least, there are three new 24/7 Glide On Eye Pencils to match up with the Born to Run eyeshadow palette: Lucky (metallic burnt orange), Double Life (reddish brown copper metallic), and Overdrive (emerald metallic green) and. These are really pretty, super wearable, and waterproof!