Urban Decay Hi Fi Shine Ultra Cushion Lip Gloss Review
Beauty Review by Morgan McCann
This past Saturday the weather was absolutely Southern California perfect—the high was 87 degrees and the sun was out in full glory! It felt like summer had begun and it put me in the mood to wear bright, vivid colors.
The timing was thus perfect for me to sample Urban Decay's new Hi-Fi Shine Ultra Comfort Lip Gloss in all 20 of their vibrant, rich shades. I've been an Urban Decay fan for years—I ADORE their eyeshadows and glosses. My most recent favorite from their team is Naked Lip Gloss in Streak.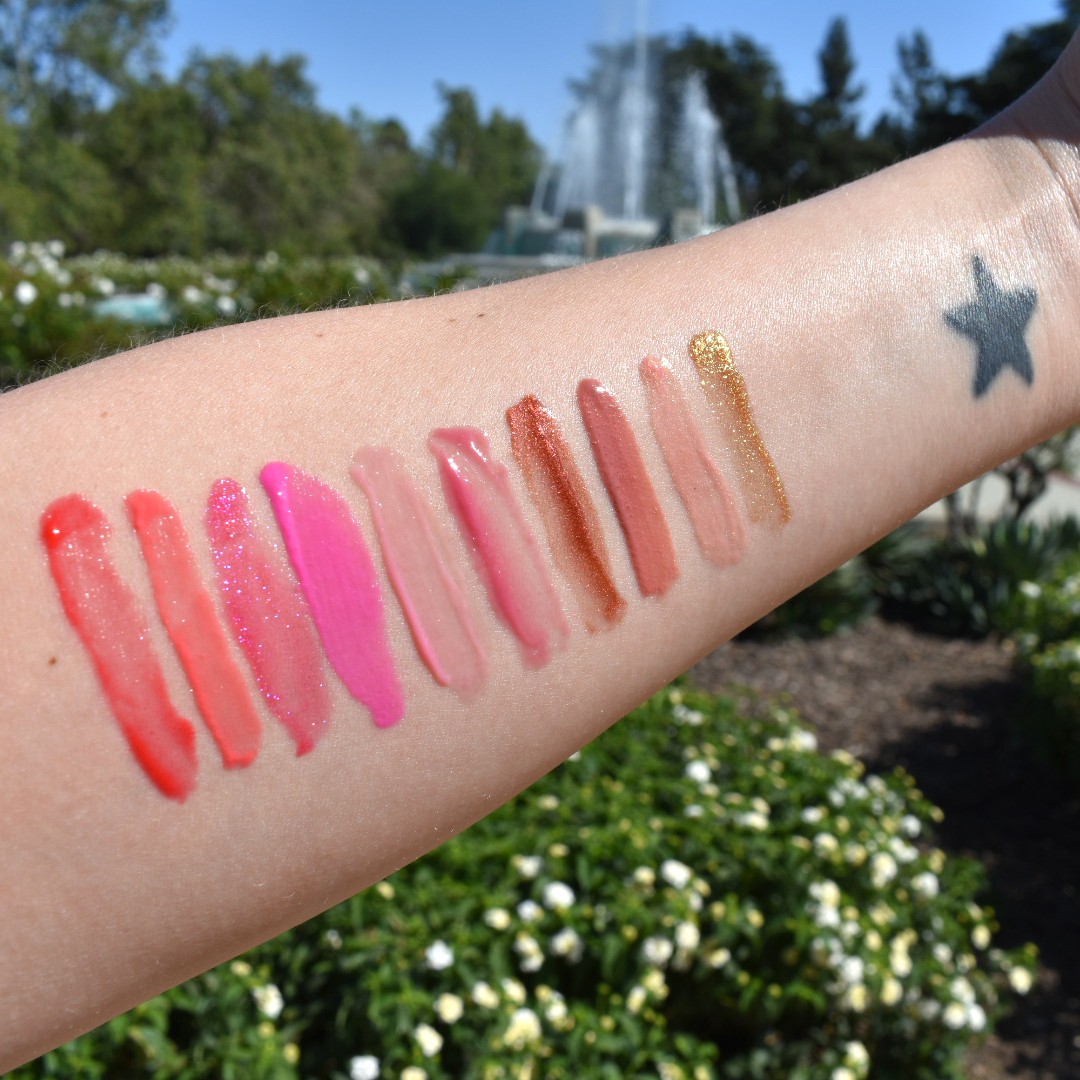 Swatches – Left arm: Bang, Snitch, Big Bang, Savage, Obsessed, Rapture, Dirty Talk, Fuel, Midnight Cowgirl, Goldmine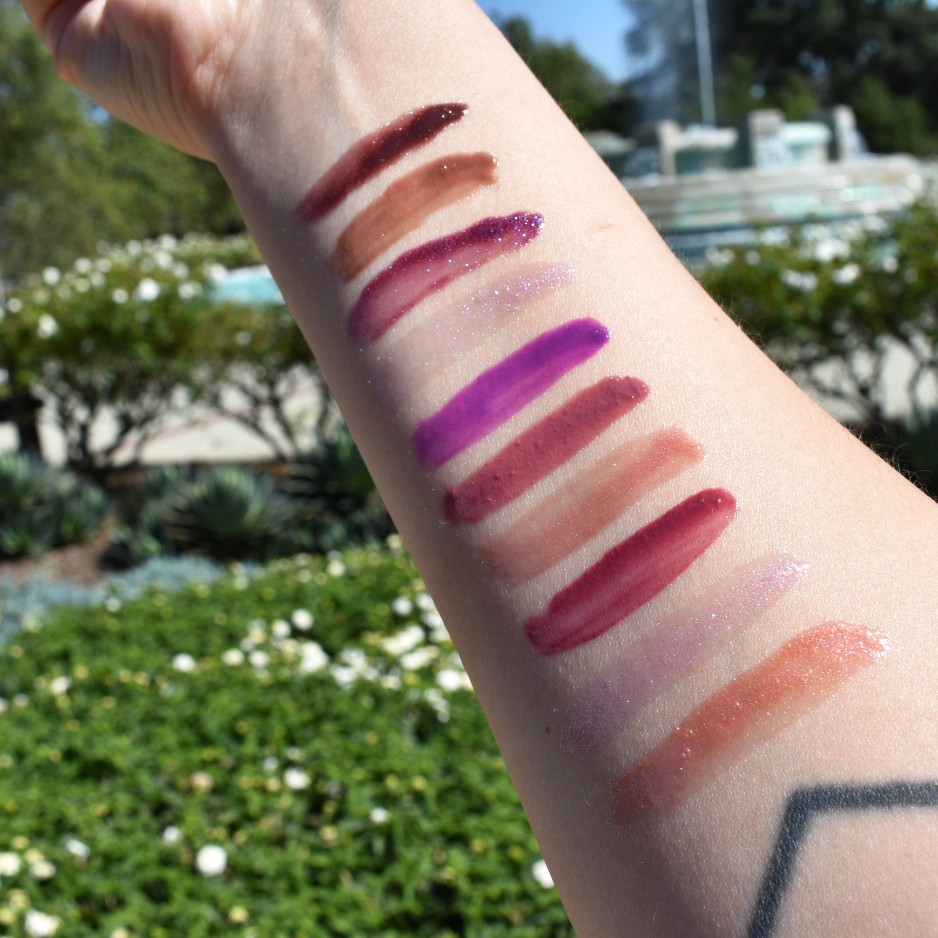 Swatches – Right arm: Fireball, SPL, Beso, Naked, Backtalk, Jawbreaker, Candy Flip, Snapped, 1993, Shadowheart
I also am 100% a lip gloss over lipstick girl due to both how it feels on my lips and the shiny appearance, so I was really looking forward to giving these a go. I have tried some glosses in the past that had more of a matte or drying effect because of the products' ingredients and/or how they wore once applied, but my overall preference is lip gloss that stays shiny and slick without being clumpy and sticky. These did not disappoint!
The gloss slides on smoothly and has both a cooling feel and a slightly minty smell and taste (extra bonus from the peppermint oil) which I remember enjoying from a past Urban Decay lip gloss I used to LOVE (XXX Shine in Carney). I also appreciate the Ultra Cushion aspect enhanced by the ingredient Vitamin E. It's SO comfortable to wear—not tacky or clumpy at all.
As you know if you're an Urban Decay fan, their colors can range from the everyday wearable to the intense. I am on the lighter side of the skin tone spectrum and I feel most comfortable in more of a natural look when it comes to makeup, so I tend to more frequently opt for pink/peach/reddish orange shades of lip gloss (with bright red on rare special occasions). Thus, my favorites from this batch not-so-shockingly were Obsessed, Rapture, Bang, and Fireball. Many of the shades look bolder in the tube than they do going on—most of them ended up more sheer than I anticipated, particularly the glittery ones, with the exception of Goldmine.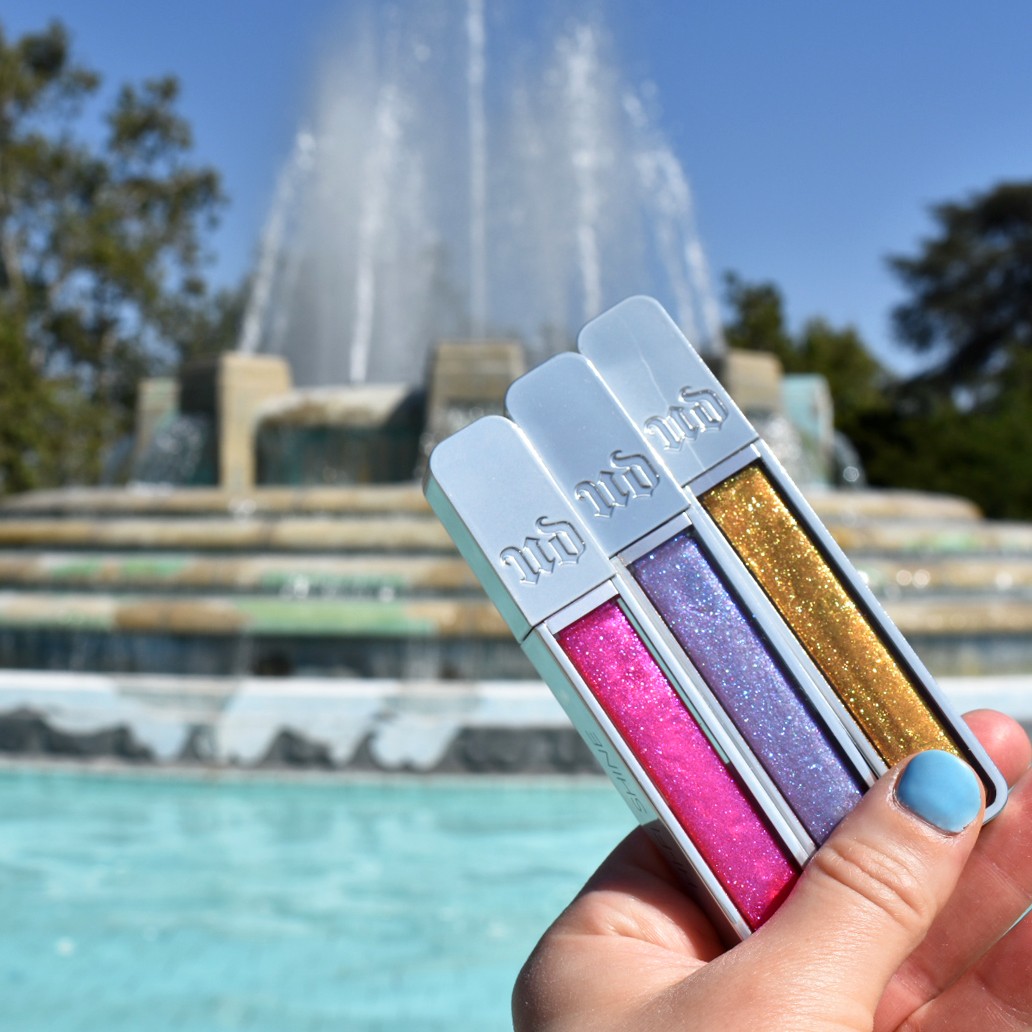 Overall awards are…
My personal favorite: Fireball—glittery, girly, and sassy, but not too over-the-top for everyday wear; this one is going directly into my purse!
Best name: 1993
Best to wear if you're going to a concert and want to look punk rock/Debbie Harry: Savage
Best to wear if you're an extra in Velvet Goldmine: Goldmine (fittingly so)
Best for a date: Bang (pun unintended)
Hi-Fi Shine lip gloss is available for purchase at Urban Decay's online store and cosmetic retailers such as Sephora, Ulta, and Nordstrom.