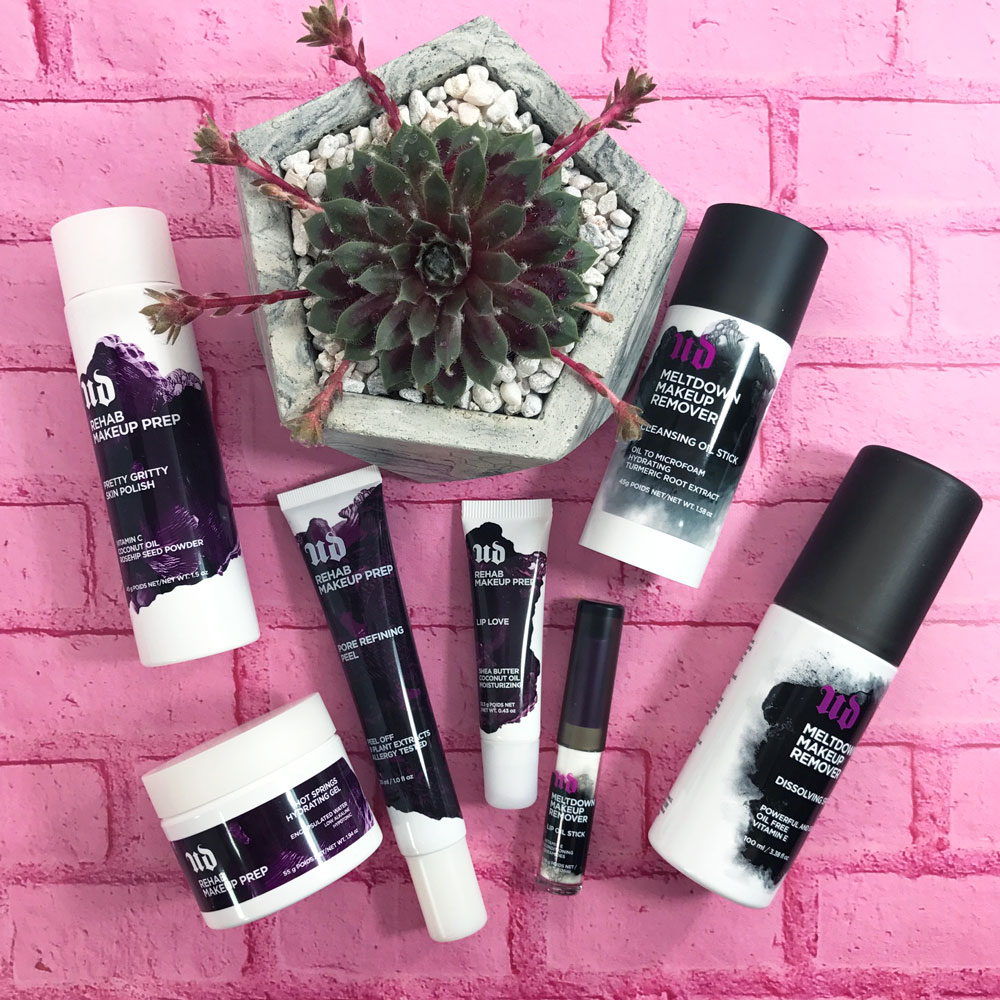 Urban Decay Rehab Makeup Prep and Meltdown Makeup Remover Review
Urban Decay is known for its bold, non-traditional colors and great long-wearing cosmetics. UD teamed up with Skindinavia recently to create a line of primers for every skin type. But now, they have another brand spankin' new line of cruelty free skincare products designed to prep skin for makeup AND remove the makeup at the end of the day!
You can find the Urban Decay Rehab Makeup Prep line at Ulta Beauty stores. The products are designed to prep your skin for the best possible makeup application.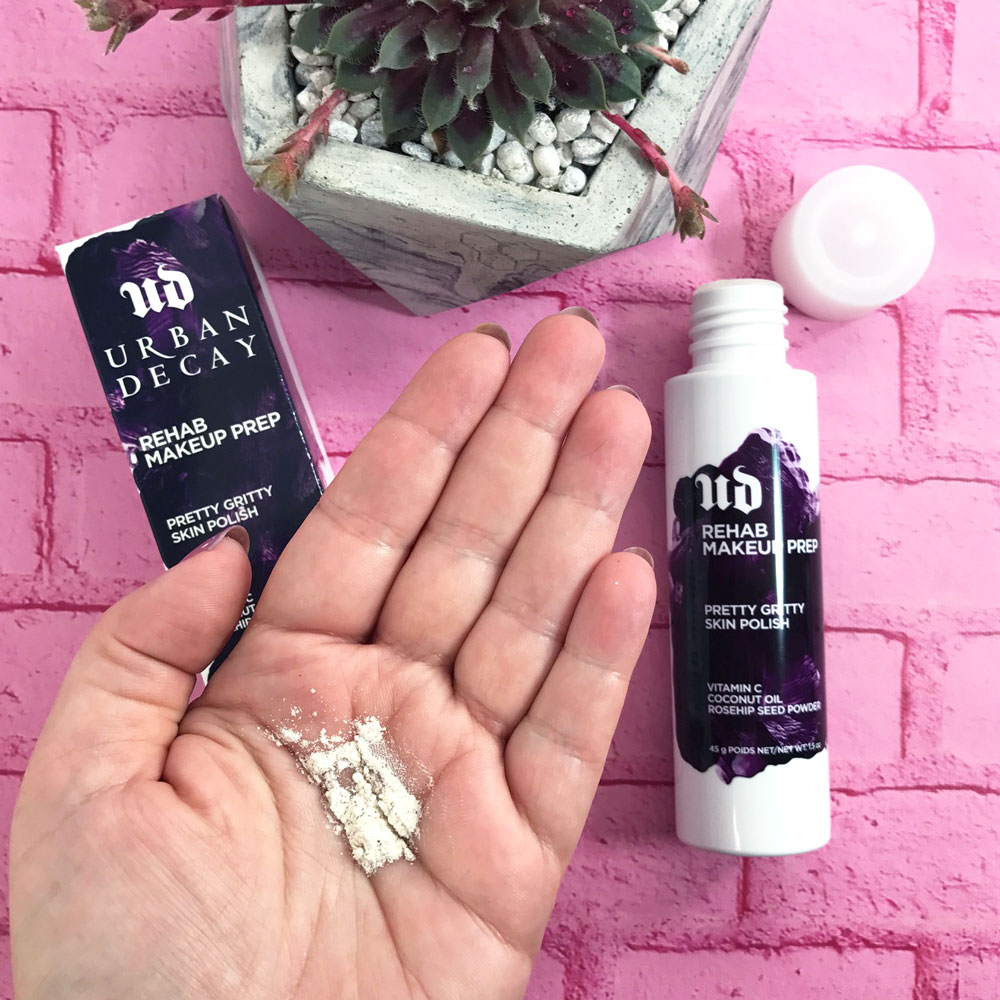 The Urban Decay Pretty Gritty Skin Polish is my kind of cleanser. I prefer to have some sort of exfoliation when I cleanse my face – even if it's gentle. The exception would be if I had just done a laser treatment or peel, or if my skin was irritated or sunburned in any way. But most of the time, I feel like I need a little something-something to clean out those pores. Pretty Gritty is a powder that you mix with water to make a paste. They say to use a dime-sized amount, but I usually need more than that (more powder and less water = more exfoliation). It's made with Vit C, coconut oil, rosehip seed powder and vanilla. It smells good and it's TSA approved if you're flying with just a carry-on. This one is vegan.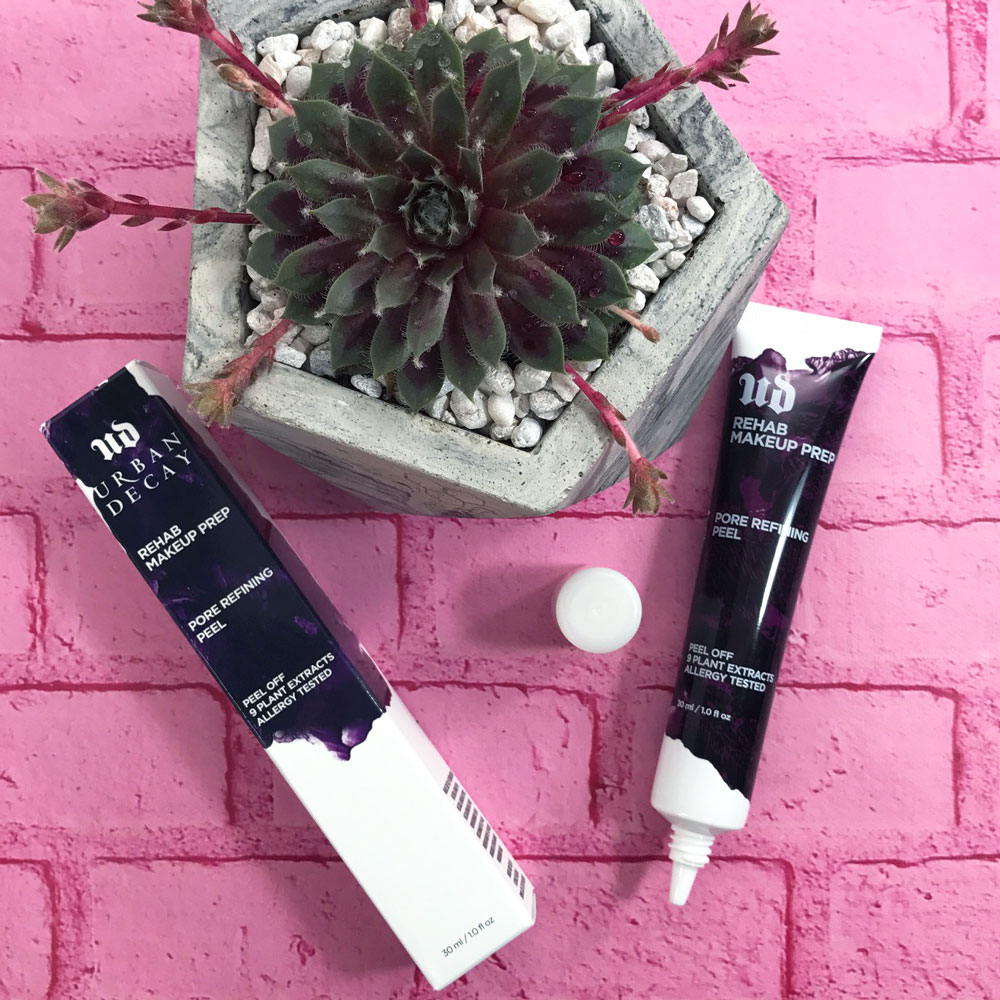 The Urban Decay Pore Refining Peel is like a pore strip, but without the strip. It's a peel off, exfoliating mask made with sugarcane extract (a natural form of glycolic acid), Irish moss, St. John's Wort, burdock root, lemon balm and peppermint. The ingredients exfoliate, calm skin and boost cell renewal. You shouldn't apply this to your whole face – only the areas that need attention – like your nose and t-zone. Avoid any areas with peach fuzz or it will be painful to remove. You can remove any excess with warm water. It contains honey extract (vegetarian but not vegan).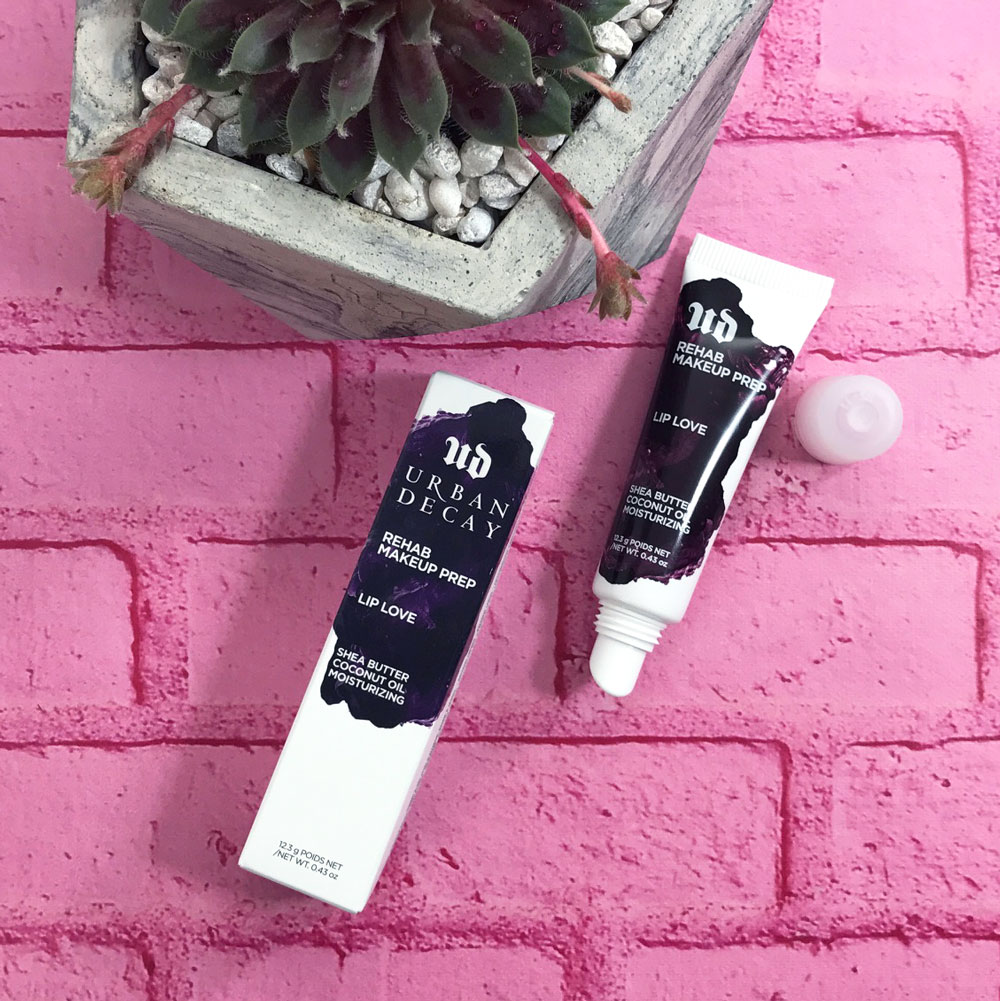 Urban Decay Lip Love is one of my favorites from the line. It's a little pricy for a lip treatment ($15) and you're probably thinking, "what's the big deal – isn't it just a lip balm?" Okay yes, it's a lip balm. But, I have tried SO MANY freaking lip balms over the years (companies like to send those to me for some reason), and this is one of the best lip balms I've ever tried. If you're not vegan, lanolin-based lip balms are the only formulas I have found that are better at treating dry, cracked, long-wear-lipstick-tortured lips. It's super thick and moisturizing but doesn't feel greasy. It has a coconut mint flavor. Contains beeswax (veg but not vegan).
The Urban Decay Hot Springs Hydrating Gel is a light moisturizer to use under makeup. It gives you moisture to clear up any dry spots without using oil, which helps foundation go on smoothly. It does contain dimethicone and other silicones, which isn't for everybody, so be aware of that. If you're using a dimethicone-based foundation, this will pair nicely. It contains collagen, so it's not vegetarian or vegan. Normally I wouldn't include anything non-veg on the blog, but since they sent me a sample, and I'm going over all the other products in the line, I thought I would give a brief mention. You can choose whether or not to purchase this one. It should be noted that Urban Decay is not entirely veg or vegan, but they told me they are working on creating more vegan products, because they know it's important to their customers.
You can find the Urban Decay Meltdown Makeup Remover products at Sephora. They are designed to take off makeup, which sounds simple, but with the long-wear makeup we have today, you really have to use more products than you used to back in the day! An oil-based pre-cleanse is more important than ever to really get everything off. These are all paraben-free.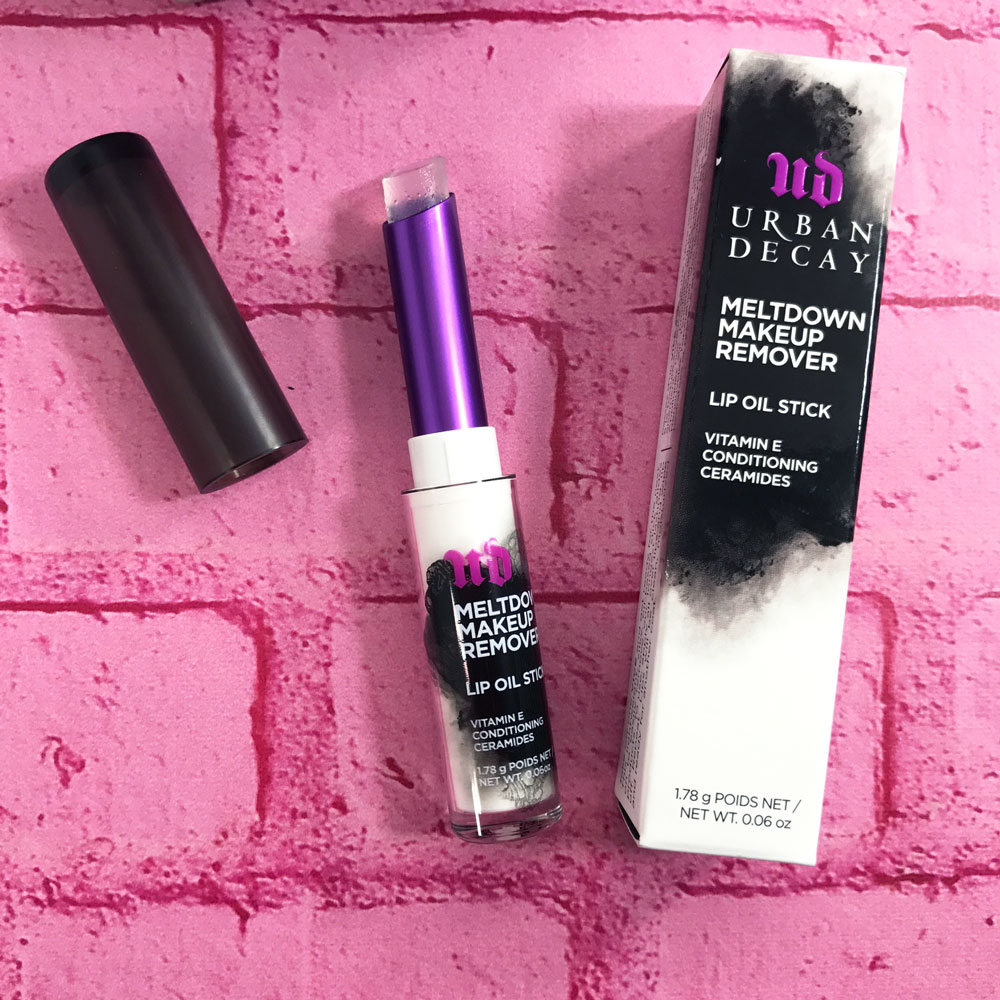 The Urban Decay Lip Oil Stick is one of my favorites from the line. It's near impossible to take some lipsticks off these days (including the UD Vice Lipsticks), and having an oil-based remover is essential. This one is in an easy to use, wax-free stick enhanced with Vitamin E and ceramides. It's hydrating and doesn't leave a greasy residue. My only complaint is that because it's a stick, the lipstick gets all over it, which is kind of gross. I wish they had this in a tube instead. It's TSA friendly, and you can even use it as a lip balm (although I prefer Lip Love for that).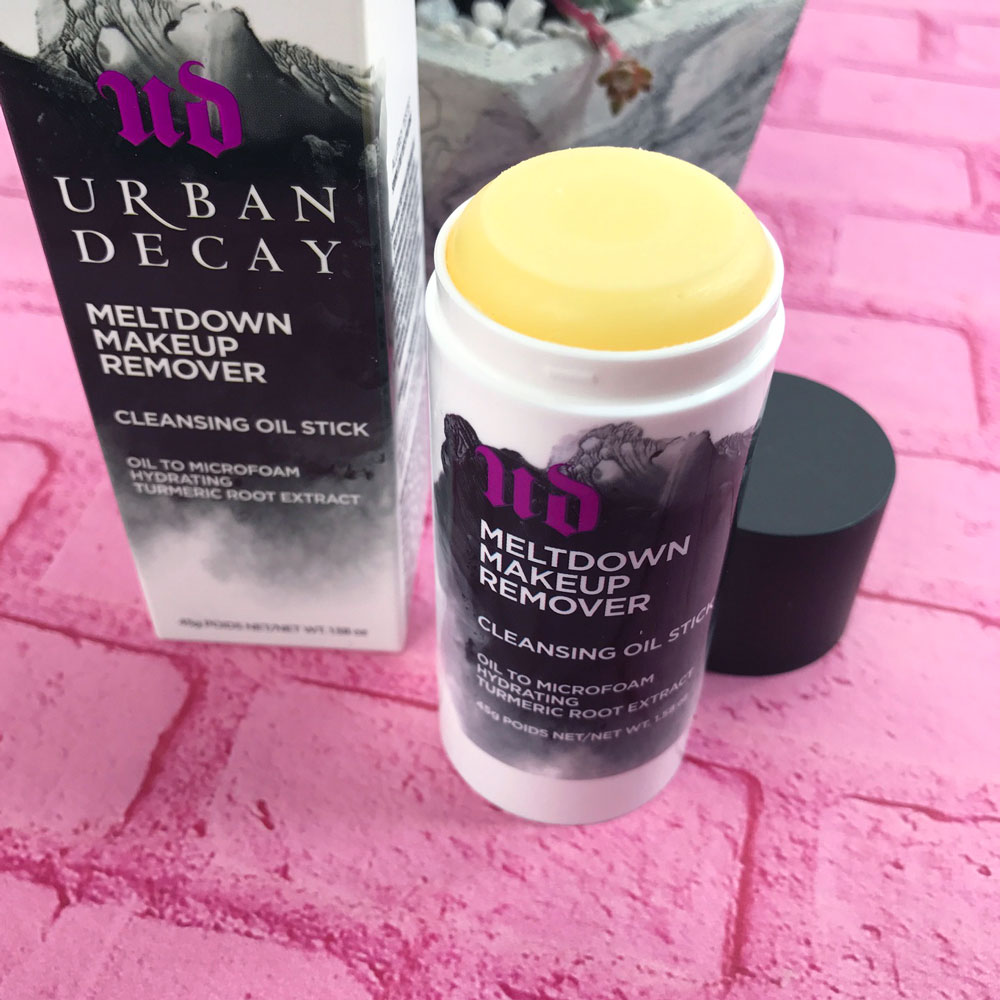 The Urban Decay Cleansing Oil Stick is a three-phase, oil-based remover that takes off all makeup – including waterproof and long-wear.It's made with turmeric root extract, sunflower seed oil and Vitamin E to soothe and moisturize. You can rub it on your fingers or apply directly to your face to transform the balm into a liquid oil. Massage it into dry skin, then add a small amount of water to create a foam. After rinsing, you can follow up with your favorite facial cleanser if you have combo or oily skin. If you have dry skin, you may not need any additional cleansing. It's a solid until you melt it on skin, so it's also TSA friendly for travel.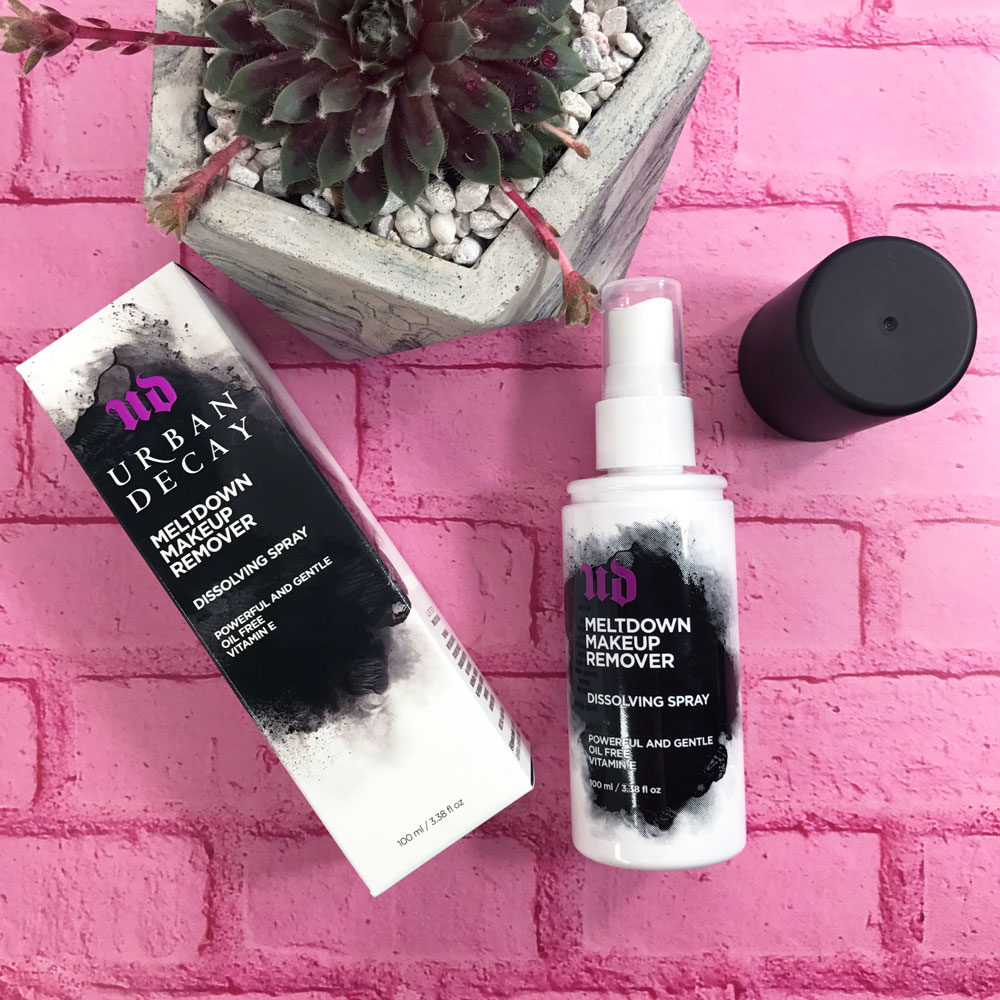 The Urban Decay Dissolving Spray removes regular and waterproof or long-wear makeup easily. You probably can spray it directly onto your face, but since I wear lash extensions, I prefer to spray it onto a cotton pad. It's made with only three ingredients: two types of silicone and Vitamin E. It's technically oil-free and while they say it doesn't leave a greasy residue, the silicones have an oily feel and I only use this if I'm going to follow up with a face cleanser or micellar water.
You can find these products at Ulta, Sephora, UrbanDecay.com or select Macy's stores. Which ones will you be picking up?