Cruelty Free Highlighters and Illuminators
One part of putting on my makeup that I enjoy is adding a little highlight to my look. No matter what your taste is, you can either get your full shine on, or add just a little hint of it where you like. There are SO many options out there to choose from, but I thought I'd bring out some of my favorite cruelty free highlighters and illuminators options to share with you guys.
You may be wondering what the difference is between a highlighter and illuminator and I've even wondered it myself at one time. Both can give you a glow, but I find the application of each can vary. For example, you can use illuminators underneath or with your foundation, but you wouldn't typically use a highlighter under foundation. You may also be inclined to want to use a little bit of it all over the face whereas highlighters you choose areas you'd like to apply. Highlighters are usually the last touch I add to my look, like the highpoints of my cheekbones, brows and down the ridge of my nose.
So let's take a look as some of the latest ones I've been playing with lately!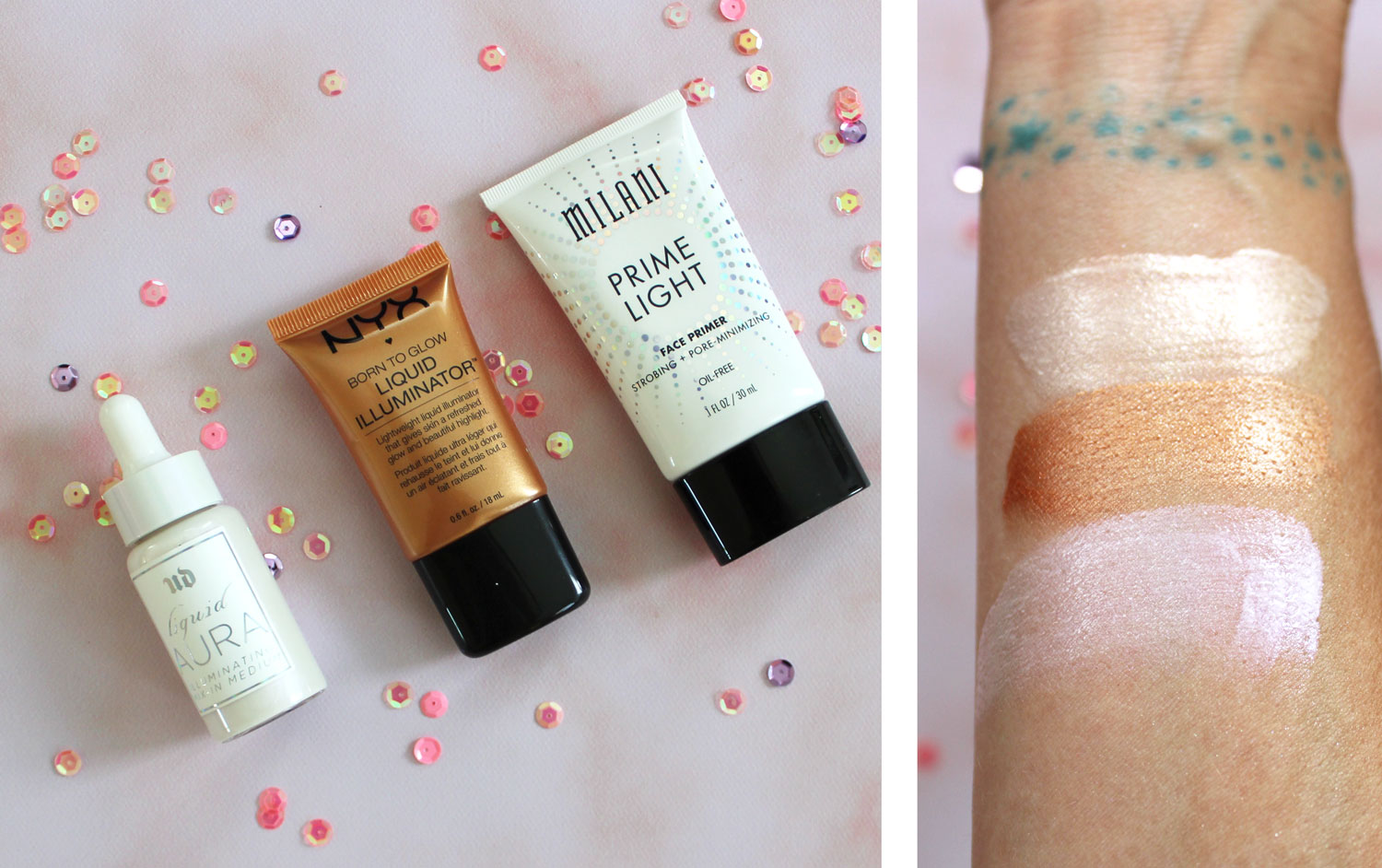 Milani Prime Light Face Primer – one of my favorites to use at the moment. While the swatch I provided is fairly heavy this can really blend out to give you the perfect glow from within. It can go on very translucent and give you that perfect sheen while blurring pores which is always a bonus for me. FYI, this is an oil-free option.
NYX Born To Glow Liquid Illuminator (Pure Gold) – There are four colors total in the Born To Glow product family, but pure gold suites me for a nice summery glow. So does bronze pearl (not pictured). Because this has more "color" to it, I try to go easy and mix it in with a foundation. I suggest working the tiniest dab about your cupid's bow. It looks awesome.
Urban Decay Liquid Aura Illuminator – The minute I saw this, I knew I needed it. It's like bottled up unicorn essence. I find this has the least "sparkle" factor to it compared to the previous two, and gives off the perfect amount of opal radiance when mixed in with your favorite foundation. I'm not fond of the large dropper in the bottle, but still a great product worth buying!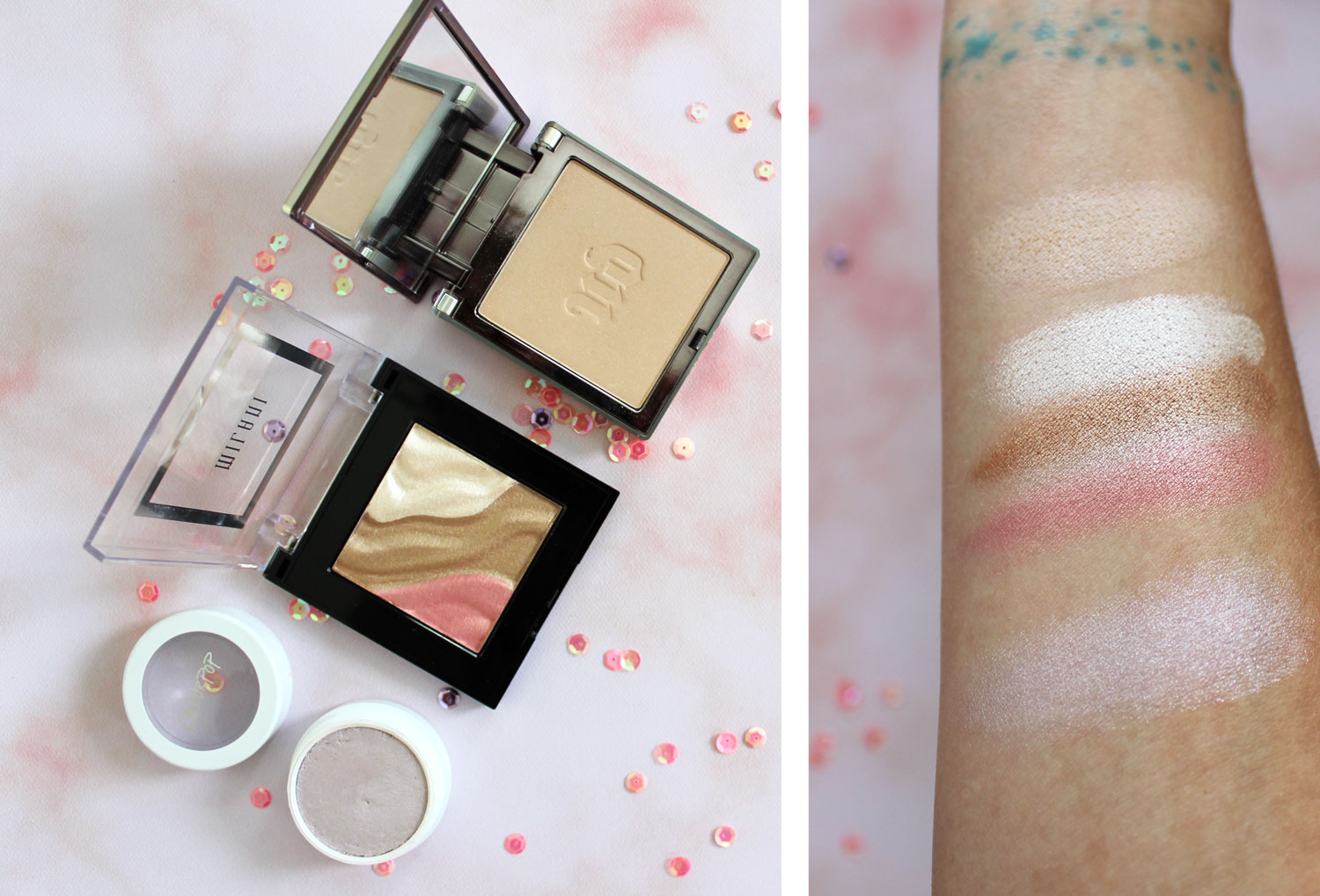 Urban Decay Illuminizer – Now I know I said that usually you use illuminators underneath or with foundation, but this IS one you would wear on top. I find it to be the softest option I have. This is a listed as translucent and I do find that it does blend beautifully with my skintone. Not really sure how this would work for WOC.  Somehow this is able to fight shine while still adding the most natural, smooth glow to the skin.
Milani Spotlight Face & Eye Strobe Palette (Candle Light)– This my friends is not for the timid. Just a soft sweep of my finger across the pressed powder and bam! That's some shine, baby! The colors look gorgeous on and work well for all over the face whether it be the light color for brow bones, or the bronzer and blush colors for the cheeks. I actually love to dab the lightest color in the center of my lids for an eye-brightening effect. There are three palettes in the Spotlight family, if this one doesn't suit one, maybe one of other will!
ColourPop Super Shock Cheek (Hippo) – This brand is known for it's almost spongy-like feel with some of its products and the Super Shock Cheek definitely has that creamy, soft feel to it. I've never taken a brush to this little pot – I think it works best with finger tips. Hippo is a gorgeous pearly, icy lavender color that I love using on the brow bones. I even use it as a straight up eyelid color because I love it so much.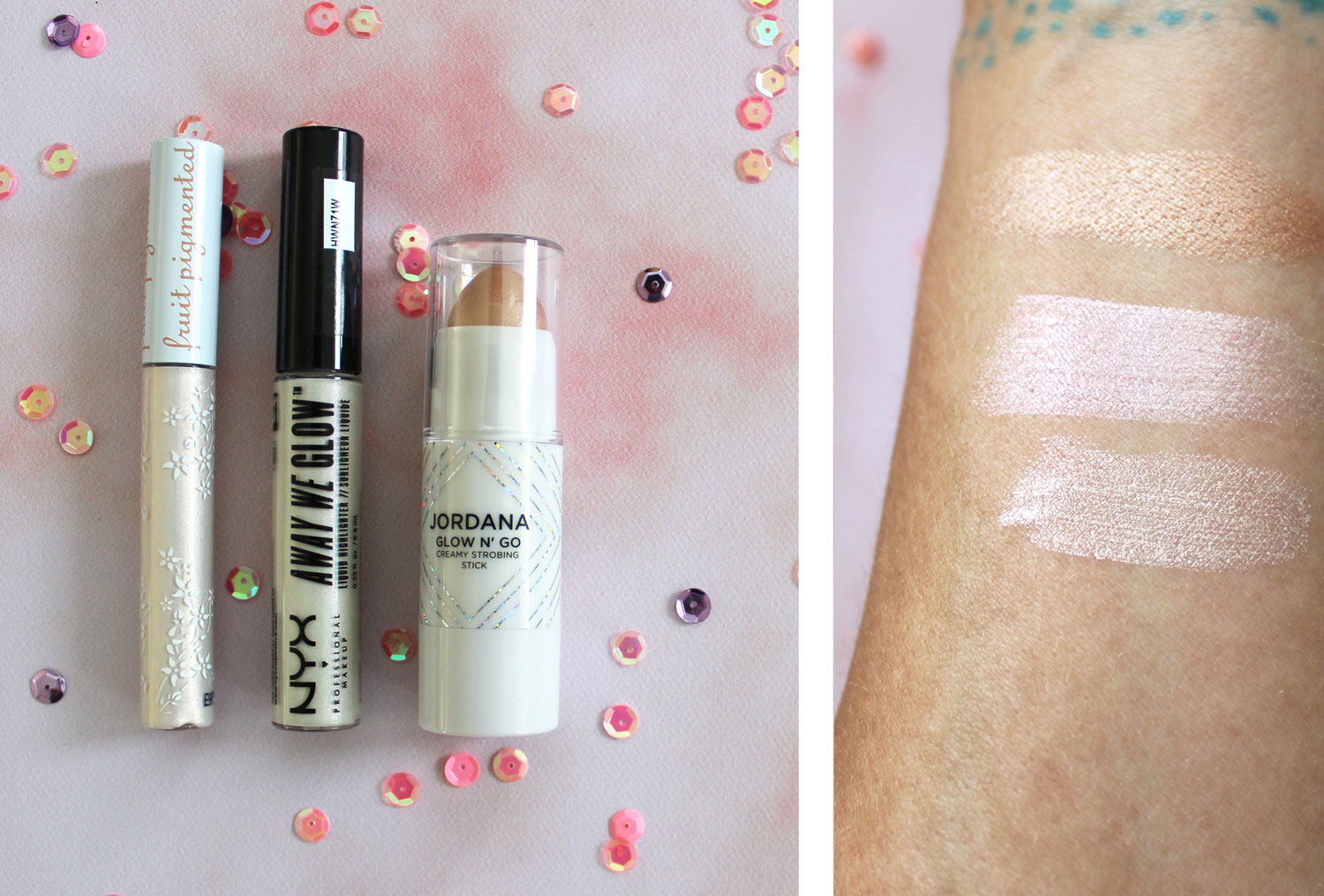 Jordana Glow'n'Go Strobing Stick (Radiant Glow) – There are three options of Glow'n'go sticks but the light champagne gold color suits me best. This chubby stick is easy to apply wherever you like and doesn't feel heavy on. They also have accompanying contour sticks that make it super easy to highlight and contour quickly without the need for many tools.
NYX Away We Glow Liquid Highlighter (Liquid Prism) – I'm kinda obsessed with all the opal-ish, unicorn-ish highlighters out there. While I can't just paint my entire face with it all the time, I do like to find ways to add it to my look when I can. P.S Away We Glow has nine colors, but my opal highlighters are tight. I love the applicator wand and tip of this one. It's super soft and applies precisely where you want it.
100% Pure Luminating Creme (Northern Light) – Another unicorn highlighter with a great wand applicator – a bit more precise that the NYX one. They look almost identical in the tube, but when applied this one has a pink/gold shift while the NYX one is more of a pink/purple shift. The 100% Pure Luminating Creme is a vegan option.
Did you find any new products you plan to try? Are there any that I MUST add to my collection? Share in the comment section below!