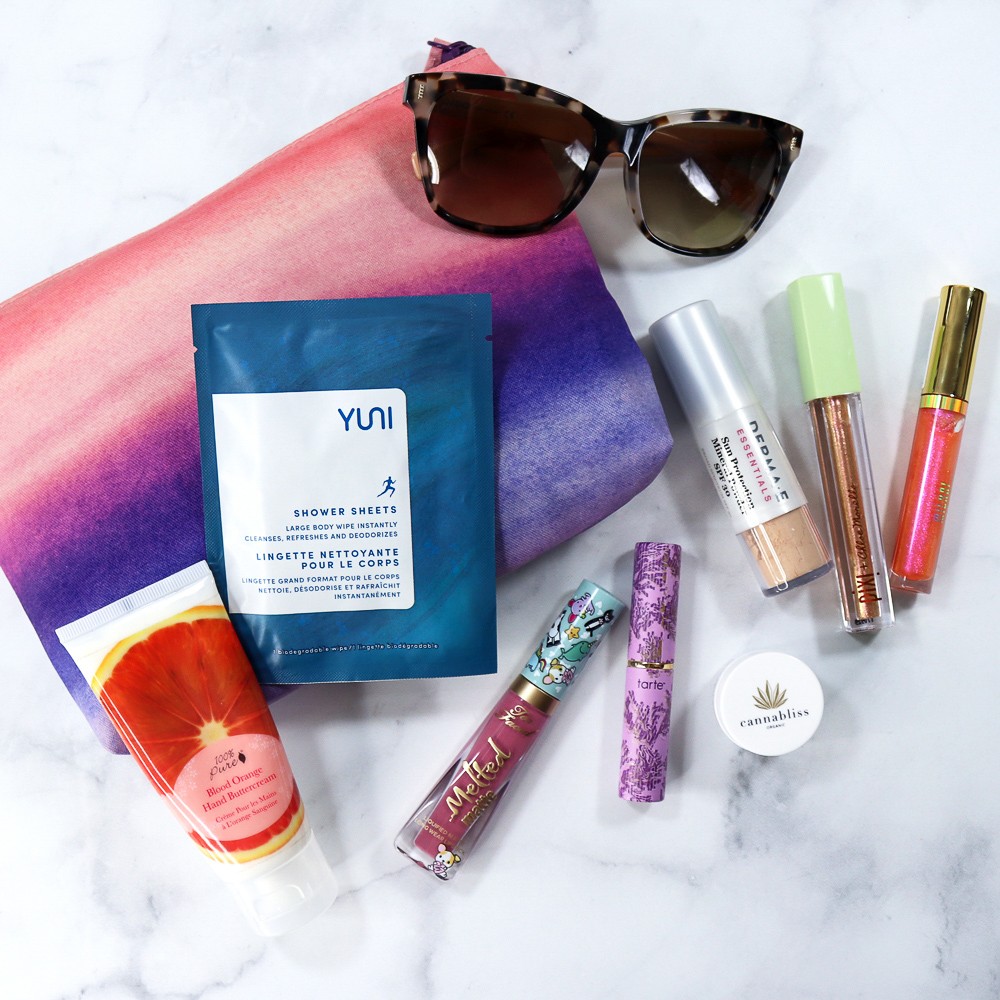 Question of the Week: Spill it; what beauty products are in your purse right now?
Let's take a look at the cruelty free beauty products in my bag! I hope there's no embarrassing stuff in there! First of all, the sheer number of lipsticks in my bag is staggering. Maybe THAT'S why it's always so darn heavy! I didn't include all of them here because there are just too many. But I did dig out the new Melted Clover lipstick by Too Faced. It's a shade I ADORE and I have been wearing it frequently.
I also never leave the house without a Tarte Quench Lip Rescue tinted lip balm. This one is in the shade Rose. The packaging is gorgeous and it gives me a hint of color that hydrates AND covers up any dry, chapped skin on my lips.
I also have a couple of fun lip toppers – the new Pixi Beauty + Chloe Morello Lip Icing in "Cake" which is a beautiful gold shimmer, and the new Milani Stellar Lights Holographic Lip Gloss in Luminous Peach, which is a beautiful peachy rose gold shimmer.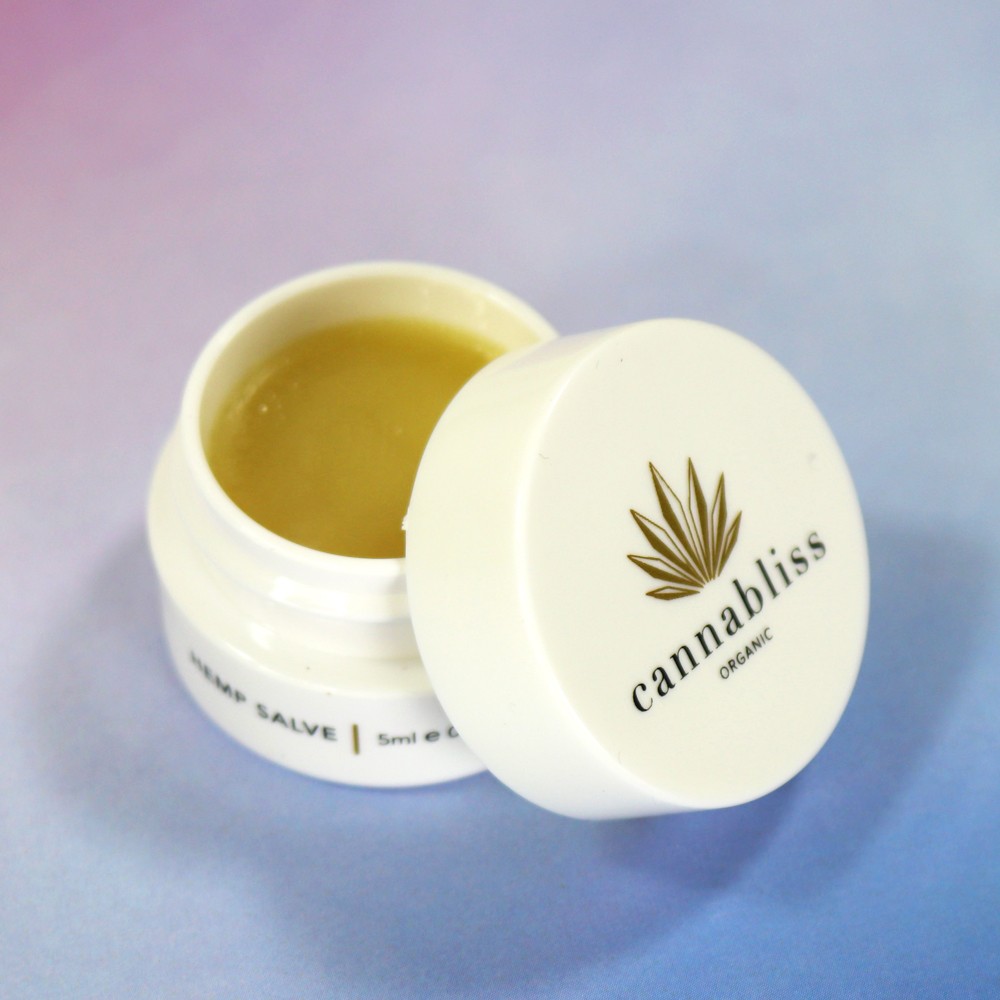 And, I'm OBSESSED with the Hemp Salve I got recently from Cannabliss Organic and now I can't ever be without it! It's in a pot (no pun intended!), and I normally prefer a stick or tube, but it's so worth it, because my lips have never felt so soft (and I am VERY picky when it comes to lip treatments). The hemp oil in this stuff is perfect for dry lips, cuticles, or wayward eyebrows. It's also got a cooling peppermint feel, which I think is sorely missing from a lot of similar products. It's made with hemp, and it won't get you high (sorry!) but it does have an earthy, medicinal scent that you may have to explain to your significant other when you kiss them. #sorrynotsorry! The salve came in this little starter kit that is totally worth checking out. You also get travel sizes of the Revitalizing Serum and Age Defying Moisturizing Lotion. Great little travel kit!
I also can't go anywhere without hand cream, and lately I've been loving the Blood Orange Hand Buttercream from 100% Pure. I wrote about several cruelty free hand creams for dry skin recently, and this is a good non-greasy purse cream. Great size for my bag too!
I also want to keep my skin protected from the sun at all times. Especially since I'm getting melasma laser treatments from Moy Fincher and Chipps Dermatology. Dr. Herrmann also gave me a very potent brightening cream to use during my treatments with the PiQo4 laser, so my skin is more sensitive than usual. With melasma, you REALLY have to be diligent about using sunscreen too, or it will come right back. So I've been using my regular Emme Diane Tinted Mineral Sunscreen and I top it off with the new Derma E Sun Protection Mineral Powder SPF 30. It comes with a built-in brush and it's easy to swipe on every couple of hours (or to be honest – when I think about it!).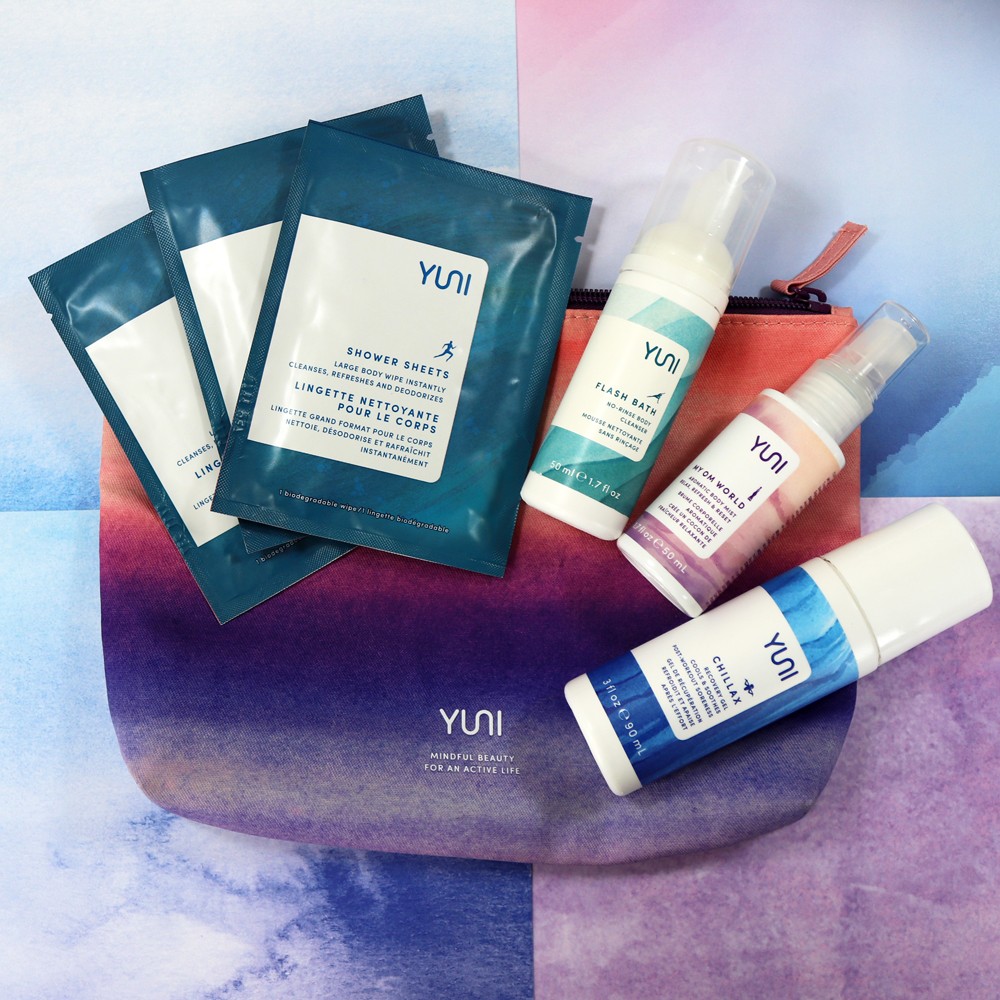 And last but not least, I've got my Yuni Beauty products. Long time readers know I'm a huge fan of Chillax Muscle Recovery Gel, the "cruelty free Icy Hot". It has a roll-on ball so I don't have to get my hands dirty. I actually don't keep this one in my bag except when I'm traveling. It's perfect for sore muscles when you're on-the-go or working hard (back pain anyone?) at your desk, and it's also great for migraines. I do keep a Yuni Beauty Shower Sheet in my purse and workout bag – it's a large body wipe that is great if you unexpectedly get sweaty during the day (does this only happen to me?). Or, if you take an after-work yoga class and you need to wash off some of that "glow" before drinks and dinner. You can get a full sized Chillax, 3 Shower Sheets, a No Rinse Body Cleanser and My Om World Aromatic Body Mist (great for meditation or for spraying down your yoga mat), PLUS the adorable travel bag pictured above in the Yuni Beauty Sweat, Refresh, Go gift set. It's $32 for a $50 value – not bad!
The Lipstick League – week of 4.2.18
Please note that not all Lipstick League posts are cruelty free.
Realizing Beauty – Are you ready for summer beauty? Christa shares her review and swatches of the new Dior Cool Wave Summer 2018 Collection.
Slashed Beauty – Trying to plan a wedding on a budget? Miranda's sharing 6 creative ways to save money on your wedding that she used on hers!
we heart this – We've found the very first entry in our Skincare Hall of Fame. And it's a blackhead-busting, baby skin-making powerhouse…
Blushing Noir – One of the most important things to keep in your beauty arsenal is an all matte eyeshadow palette. For every look you'll ALWAYS need at least one matte shade. The >Milani Most Loved Mattes Eyeshadow Palette is my current favorite because it checks all of the boxes!
EauMG – European bath products, moss-y perfume samples, natural-ish body products and more of my March 2018 Empties here!
My Beauty Bunny – has a review of the new Becca Ocean Jewels mermaid makeup collection for all you Mermaidians out there!
Painted Ladies – Pixi By Petra has collaborated with three beauty influencers on new a new makeup collection. Sheila's pick of the bunch is the Pixi x Weylie Hoang set – it's a win!
Phyrra – Want to know what's new in the makeup world? Check out my New Makeup Releases: Going on the Wishlist or No? video!
(Wondering what the Lipstick League is? Find out here.)
Realizing Beauty is Currently Craving: As a sufferer of dry skin, Christa has long struggled to find a setting powder that doesn't leave her skin looking and feeling dry. The new BECCA Hydra-Mist Set & Refresh Powder sounds like the perfect solution with it's formulation of 50% water and glycerin.