Top Instagram Friendly Los Angeles Photo Spots
Finding the perfect place to snap your next best Instagram pic can be tough, but if you're in Los Angeles, you're in luck! Looking for the most Instagram Friendly Los Angeles photo spots? Here are some that you can't miss whether you're visiting LA or a native. Do it for the gram!
From incredible architecture and amazing restaurants to the city's many painted walls, it isn't hard to find a great place for your next photo shoot – if anything, it can be tough to narrow down your options! Lucky for you, I've got you covered. If you're on the hunt for some Instagram-worthy Los Angeles photo spots, these won't let you down!
Commissary at The LINE LA
If you're going to take a picture of your meal, do it at The Commissary. This popular restaurant serves up lots of veggie-inspired meals, which makes sense – it's situated in a greenhouse on the second floor at the Line Hotel. Surrounded by greenery and bathed in natural light, you won't be the only one taking photos in this gorgeous restaurant.
Bradbury Building
Built in the late 1800's, this old office building might not look like much from the outside, but you'll understand why it makes this list the moment you step indoors. Stand in the center of the interior courtyard and gaze up at the natural light that floods the building through the glass ceiling, five stories above you. Admire the marble stairs and intricate metal railings – and snap a few photos to capture the artistry.
Paul Smith Pink Wall
Looking for a pop of color for your next photo shoot? The Paul Smith store on Melrose Avenue has you covered. This bright pink wall has become something of a celebrity in L.A., and on a nice day, you'll find plenty of fashion bloggers, tourists and families snapping selfies in front of the painted facade. You'll find it at 8221 Melrose Avenue, West Hollywood.
Carrera Cafe
If you visit the pink wall, stop by the Carrera Cafe at the corner of Melrose and Harper for another perfect photo op – and a boost of caffeine! Once you've got the perfect shot, step inside and order a latte topped with custom foam art, made possible through the Ripple Maker, a device that can essentially print a photo onto your latte foam. You'll find it here: Carrera Cafe, 8251 Melrose Avenue, Los Angeles.
Santa Monica Pier
This iconic landmark is a great place to capture the colors and the energy that make L.A. what it is. Take a spin on the Ferris wheel in Pacific Park and pull out your camera to capture the view from above, or find a vantage point that lets you capture the wheel's silhouette against the setting sun. Find it at 200 Santa Monica Pier, Santa Monica. 
The Polka Dot Wall
For another fun backdrop to add a splash of color to your shots, find the Polka Dot Wall in the DTLA Arts District on Mateo Street at The Springs. Painted with lots of perfectly-spaced, brightly-colored spots, it's the perfect location for a lighthearted spring photo shoot or a few well-timed selfies! The Springs, 608 Mateo Street, Los Angeles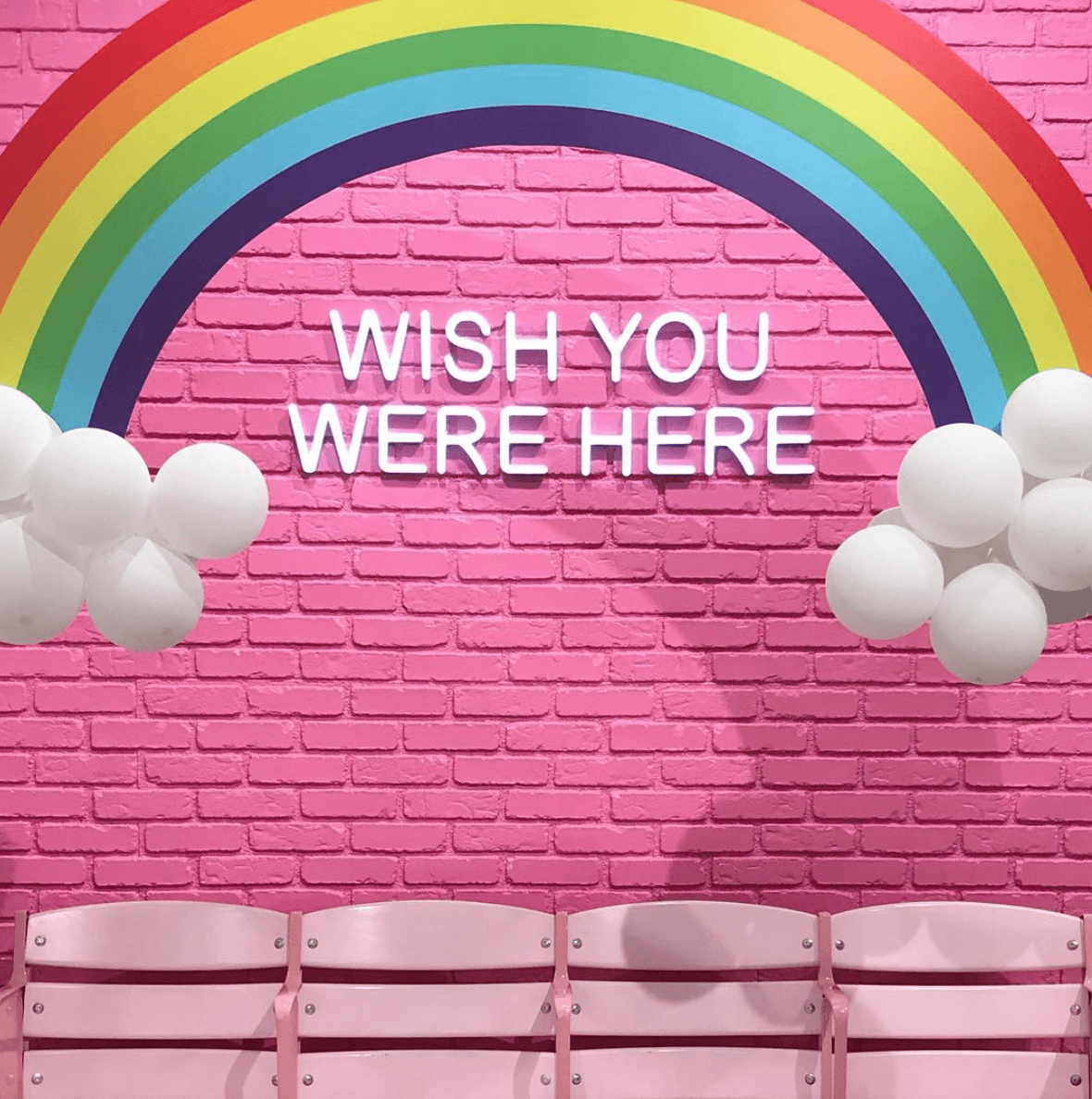 If you're a beauty lover, you definitely need to stop by this amazing makeup, skincare, hair care and sweet treat mecca at the Glendale Galleria. There are lots of Instagram friendly photo opps here! Find it here.
What are your favorite places to take amazing pictures in L.A.? What did I miss? Leave a comment and let me know!
Looking for more things to do in Los Angeles?
10 Totally Free Things To Do in Los Angeles
Best Places for a Relaxing Weekend Staycation Near Los Angeles
Best Rooftop Bars To Grab A Cocktail In Los Angeles